There will be wireless speakers in the future. Whether they will use DLNA, AirPlay, or Bluetooth isn't certain—none of those technologies are quite perfect yet. But some, like Libratone's new Zipp AirPlay speaker, are very close. And it's better the previous Libratone Live in nearly every way.
What Is It?
A $400 battery-powered AirPlay speaker that can connect to phones without the need for a separate wi-fi network.
Who's it For?
People who want to stream music from a good-looking object at home—or outside the bounds of a wi-fi network.
G/O Media may get a commission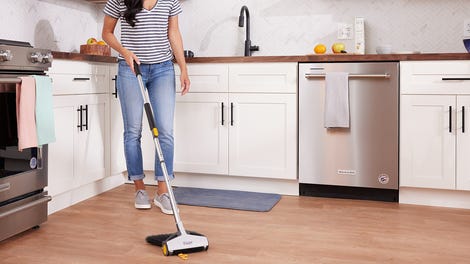 BOGO 50% Off
Flippr - BOGO 50% Off
Design
A cylinder wrapped in a coarse wool jacket, which allows the soundwaves to pass through unmuffled. I wouldn't hide it behind a plant—even in spite of its shiny plastic top.
Using It
You turn it on, press a single button, wait a few seconds—or 30—and the speaker creates its own wi-fi hotspot. Then, you connect wirelessly.
The Best Part
Pairing without a router. Listening to music in a far corner of the house, or out in the yard. And having it sound fantastic.
Tragic Flaw
When you use the Play Direct feature—in which it creates its own wi-fi network—the Libratone's wireless mode takes over an iPhone's wi-fi network and shuts down its 3G radio. That means you can't stream anything from a service like Spotify or iCloud. You can't use your phone for anything internetty at all. This isn't Libratone's fault—if Apple enables a 3G+Wi-Fi feature, problem solved. And if you're in range of your wi-fi network, this is a moot point anyway. Correction: If you tinker with the hotspot settings—with directions provided by Libratone—you can enable your 3G connection. Not frictionless, but not a deal breaker either.
This Is Weird...
Strangely fussy when connecting to a Time Capsule router using the iPhone app. You can plug in your iPhone via USB, and transfer over network settings—even then, it still wouldn't work. In a manual setup mode, it connected via a PC web browser. But this is a product designed to work with other Apple products.
Test Notes
Used with an iPhone 4S and a MacBook Pro.
Tested the DirectPlay, network AirPlay and wired audio options. Audio quality was more or less the same across the three.
Connected to a Time Capsule router, and a more industrial-grade office router. It worked fine with routers other than the Time Capsule.
The difference in sound quality with the jacket on or off was negligible. That's impressive, considering the thickness of the sleeve.
The last Libratone Airplay speaker didn't sound nearly this good, which was possibly due to its triangluar design. The circular Zipp has speakers arranged in a near 360-degree, omnidirectional configuration. Sound is clear, detailed, and lively.
It won't fill up a room with sound, and quality starts to take a nosedive when you crank up the volume, but this wasn't meant for more than a pretty small area anyway.
Though portable and built with a handle, it's easier to move around the house than it would be to carry to the beach.
Jackets come in 8 colors, ranging from neutral to garish.

Should You Buy It?
Yes. $400 for an AirPlay speaker isn't all that bad (in our test of the best Airplay speakers, the prices ran $400 to $800). Plus, this one not only pairs easily and independently, but it also looks great and sounds wonderful.
Whatever major issues Libratone had last time around seem to have been worked out, and now the manufacturer is gunning for a wider audience. AirPlay speakers are likely a product Apple is going to push over speaker docks in the future, which makes this thing somewhat future-proof.
If you mostly use AirPlay speakers around the home (or in the backyard), the Libratone Zipp is definitely worth the extra cash. If you're someone who plans to primarily use the speaker at the beach or in the great outdoors, you might be better served by one of the best $100 Bluetooth speakers.
• Price: $400
• Speakers: 1 x 4" woofer, 2 x 1" ribbon tweeter.
• Power: 60 watts
• Battery Life: 4-8 hours
• Size: 10.2 inches high, 4.8-inch diameter
• Weight: 4 pounds
• Giz Rank: 4.0 stars