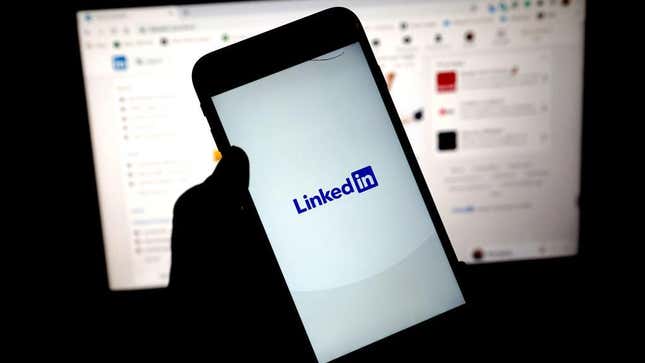 LinkedIn is using generative AI to simplify the process of writing job listings, filling out resumes, and updating your profile, the company announced on Wednesday. The new feature will be similar to ChatGPT and the company said in a press release that it will "unlock opportunities" and "elevate your career."
Warning! Microsoft Wants ChatGPT to Control Robots Next
The AI option will provide suggestions in the "About" section and the "Headline" section on each profile, taking over for the user who would otherwise likely spend ample time trying to best describe their accomplishments. Although the new AI tool is meant to streamline the writing process, the company still recommends reading through the generated information and fact-checking it to ensure it reflects the intended theme and style.
LinkedIn is testing the AI tool with premium subscribers, consisting of "some of LinkedIn's most active members," a LinkedIn spokesperson said in an email to Gizmodo. She added the members "can provide feedback as we continue to iterate and evolve the tool" and will continue to roll out to the remaining premium user base over the next several months.
For premium subscribers who are listing job postings, the company will also make it easier to write and upload the job description. The process is marketed as a fairly simple one, requiring the user to provide basic information about the position, including the job title and the name of the company. The AI tool will then generate a job description based on the prompts provided and will allow the user to review and edit before posting the job listing.
Tomer Cohen, the Chief Product Officer at LinkedIn, said in the release, "I am excited to introduce new AI-powered experiences, leveraging the most advanced OpenAI GPT models, as we continue to look for ways to create more value for our members and customers."
Cohen said the company is introducing a surprising addition to the company's AI-themed news, saying the site will now offer more than 100 AI classes. The classes will be available to all LinkedIn users, free of charge, until June 15, 2023, and will include "What is Generative AI," "Introduction to Prompt Engineering for Generative AI," "Introduction to Conversational AI," and Cohen's course, "Generative AI for Business Leaders."
The LinkedIn spokesperson said the courses will remain "available and free to all, regardless of if you subscribe to LinkedIn Learning or even have a LinkedIn profile." However, after the period ends, the classes will continue to be available to LinkedIn Learning subscribers and will be included in the Premium subscription.
Cohen confirmed in the press release that the company will also roll out an additional 20 Generative AI courses to help users "stay ahead of the curve and acquire the skills needed to succeed in today's job market," and said LinkedIn will continue to learn, grow, and leverage AI and other technologies based on the user's needs.
Want to know more about AI, chatbots, and the future of machine learning? Check out our full coverage of artificial intelligence, or browse our guides to The Best Free AI Art Generators and Everything We Know About OpenAI's ChatGPT.