A batch of criminals have run off with this poor girl's TARDIS. Watch in horror/hilarity as the local news crew tries to come to terms with a "bus stop" time machine.
The crime happened in Little Ave, Oklahoma. The victim: just a couple of Doctor Who fans with the creative juice to build their own TARDIS.
[A] 6-foot, 300-pound school bus shelter built by Kaitlyn and her father, Tom. Kaitlyn says, "It just peeved me to see that it was gone." The big, heavy bus stop is blue, designed to look like a part of the popular British show, Dr. Who. Kaitlyn says, "It's a time machine that takes them to different worlds and different paradoxes."
First off, well done Kaitlyn, with the mention of paradoxes.
How can we all help? Let's band together and find the missing TARDIS! Or build her another! BBC, fly Matt Smith out there to help her construct a new TARDIS, (these seem like reasonable requests). You will be avenged, Kaitlyn. GERONIMO!
In related news, BBC America announced the winner of their Where's the TARDIS contest: the TARDIS ice shanty!
G/O Media may get a commission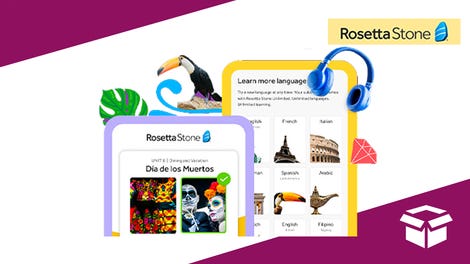 Extra 20% off
Rosetta Stone Lifetime Subscription - All Languages
[KFOR via Think Geek]