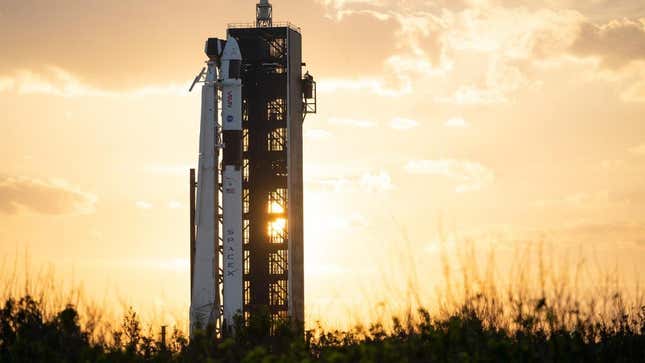 Following a last-minute scrub early Monday morning, SpaceX successfully launched four astronauts on a one-day trek to the International Space Station.
Astronomers Could Soon Get Warnings When SpaceX Satellites Threaten Their View
Update: Thursday, March 2, 8:59 a.m. ET: The Falcon 9 carrying SpaceX's Dragon Endeavor took flight at 12:34 a.m. ET this morning. The first staged stuck the landing, marking the 101st time that the Falcon 9 first stage has managed to do so. Crew-6, consisting of NASA astronauts Stephen Bowen and Warren Hoburg, along with United Arab Emirates astronaut Sultan Al Neyadi and Roscosmos cosmonaut Andrey Fedyaev, are now en route to the ISS, where they're expected to arrive on Friday, March 3 at 1:17 a.m. ET.
Original article follows. 

The four astronauts, two from NASA and the others from Russia and the United Arab Emirates, were all set to go earlier this week, but a problem with the Falcon 9's engine ignition system forced controllers to issue a scrub with a little over two minutes left in the countdown clock. The issue apparently resolved, SpaceX is ready to try once more, with the rocket set to blast off from Launch Complex 39A at Kennedy Space Center in Florida.
The Crew-6 mission—SpaceX's sixth operational mission for NASA—is scheduled to launch on Thursday, March 2 at 12:34 a.m. ET. NASA's coverage of the launch is set to begin at 8:45 p.m. ET on Wednesday and can be viewed at NASA TV, the agency's website, the NASA app, and at the live feed provided below. SpaceX will also carry the launch, with its coverage beginning at 11:30 p.m. ET.
The Space Force's 45th Weather Squadron is predicting a 95% chance of favorable weather for the launch. Should the launch have to be rescheduled, SpaceX can try again on Friday at 12:11 a.m. ET.
The reason for the Sunday scrub had to do with weird data readings associated with the flow of ignition fluid, namely triethylaluminum triethylboron (TEA-TEB), used to start the Falcon 9's nine first stage Merlin engines. A clogged ground filter was deemed responsible. "SpaceX teams replaced the filter, purged the TEA-TEB line with nitrogen, and verified the lines are clean and ready for launch," NASA explained in a statement.
SpaceX's droneship Just Read the Instructions in the Atlantic Ocean will await the landing of this Falcon 9 first stage, which is performing its inaugural flight. The Dragon Endeavour spacecraft has flown several times before, including for NASA's Crew-2 mission and Axiom Space's Ax-1 mission. Docking at the ISS is scheduled for 1:17 a.m. ET on Friday, with hatch opening scheduled for around 3:27 a.m. ET.
Headed to the ISS are NASA astronauts Stephen Bowen and Warren "Woody" Hoburg, Roscosmos cosmonaut Andrey Fedyaev, and United Arab Emirates astronaut Sultan Al Neyadi. They'll spend the next six months aboard the orbiting lab, where they will conduct over 200 science and research activities, in addition to performing routine maintenance tasks.
Once at the ISS, the four astronauts will join ISS Expedition 69, bringing the total number of crew members aboard the station to 11. Crew-5, consisting of NASA astronauts Nicole Mann and Josh Cassada, JAXA's Koichi Wakata, and Roscosmos cosmonaut Anna Kikina, will return home aboard the docked SpaceX Endurance spacecraft in a few days from now.