Michael Hindes of West Springfield, MA, was sorting through boxes of his grandparents' old photographs when he happened upon 26 harrowing photos of the Space Shuttle Challenger Disaster of 1986. To his knowledge, these photos have never been publicly released.
All photos featured with permission from Michael Hindes.
Hindes had been searching for photographs to include in a memorial service for his grandmother, who passed away last week. "We were all going through boxes and boxes of photos to find pictures to display," Hindes wrote in the reddit thread where he originally posted the photos. "I just happened to get the box with the Challenger pictures at the bottom, which was kind of special for me because I am the biggest NASA fan in the family."
In an e-mail to io9, Hindes clarified that the photographs had been captured the morning of January 28th, 1986 by a friend of his grandfather, who worked for NASA as an electrician on the Agency's hulking, spacecraft-schlepping crawler transporters. "The man who took the pictures was part of [my grandfather's crew]," Hindes told io9. "He gave a copy of the set to my grandfather." The photos later became jumbled up with others, and were forgotten about for years – until Hindes came upon them just a few days ago.
To Hinde's knowledge, these photos have gone unseen for years, and have never been published. As for the identity of the original photographer, he says his grandfather "simply does not remember the name anymore, as it was so long ago," though he hopes that he will be able to come forward as news of these newly discovered photographs spreads. Hindes tells io9 that he has reached out to NASA to see whether the Agency has copies of these images on file, but has yet to hear back.
G/O Media may get a commission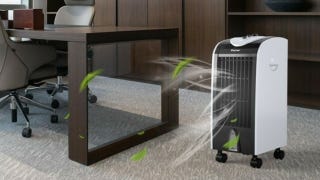 Save $10
Evaporative Portable Air Conditioner Cooler with Filter Knob
Below you will find all 26x photos; a composite image of the first 19 photos, assembled by redditor llort_gnik; and a stabilized GIF, compiled by redditor MisterCommodore.
"I'd like to mention that the Reddit thread was really quite moving," Hindes included in his email to io9. "I'd invite people to read the hundreds of stories that so many people took the time to share. It's nice to know that the Challenger disaster is still such a part of people's hearts and minds."
---
GIF by redditor MisterCommodore.
---
Composite image by redditor llort_gnik.