Previewing his new movie Valerian and the City of a Thousand Planets, Luc Besson gave an interview where he talked about the source of his inspiration. It's one of best things anyone has ever said.
Asked by Entertainment Weekly if it's difficult to work with so much blue screening and visual effects. Besson basically said that it would be a failure of imagination if that were so:
Honestly for me, no. When I started to write this at 13 years old, I was living in the country of cheese, and I wanted to make movies. But when I open my windows I see cows, so believe me, that pushes your imagination. Because you want to escape. I start to read Valerian when I was 10. At the time there was no Internet; there wasn't even a TV at home. So I read and just had my imagination. So when I look at bluescreen, I see everything. My imagination is very comfortable with bluescreen.
It would be so easy to be cynical about things, but I honestly love this answer. Besson saw nothing but cows in his future and went "No." That's amazing and truly inspiring.
And Valerian looks like it is perfectly suited to Besson's endless imagination. Here are a number of new images from Valerian, all of which are fairly ridiculous. This one, for example:
G/O Media may get a commission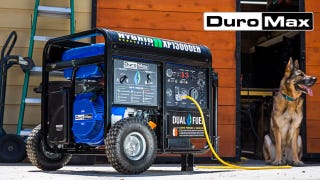 Black Friday Sale
DuroMax Generator Sale
The faces and costumes are on point here. There's also K-Tron, the robot police officer, who is honestly quite terrifying:
You can read the rest of the interview and see more images in the Entertainment Weekly article here.