People have been binging Luke Cage all weekend, except during those few hours when Netflix was down and we were all freaking out. Naturally, fans have been pointing out some of the show's clever Easter eggs, and one of them is real heavy. Great Scott.

A Reddit user has pointed out a microfilm newspaper clip from Episode 10, "Take It Personal," when Misty Knight is digging more into Luke Cage's past. On the right side of the newspaper in a single column, there's an article about a scientist being commended at some benefactor's ball. However, if you look closely: It's Doc Brown.

G/O Media may get a commission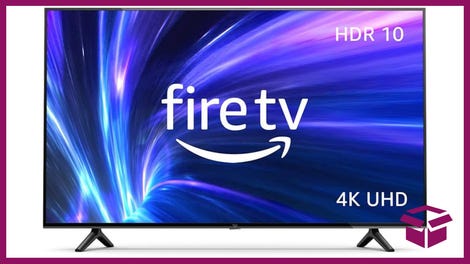 42% Off
Amazon Fire TV 50" 4K Smart TV
Well, not officially— probably because of licensing concerns. The article talks about a scientist named Martin Brown who invented the "Thrust Capacitor," which could be the key to time travel. However, Brown's experiments, which took place in 1985, were controversial because they involved a teenage boy named Mac Fly from Mill Valley. Brown even said he'd be able to achieve time travel "when plutonium is available at every corner drugstore." That's some solid Easter egging right there, Luke Cage.

We've seen a few other fun Easter eggs popping up, like a flyer for Colleen Wing's self-defense classes and a Stan Lee cameo. However, the Back To The Future nod definitely ranks up there as one of the coolest. Bonus: It's not the first time Marvel's paid homage to BTTF. Last year, they celebrated "Back To The Future Day" with a variant cover starring Deadpool and Cable as the time-traveling duo.
Does this mean Back To The Future is now officially part of the Marvel Universe? Probably not, but that's not going to stop me from believing it. In my mind, this is an alternate BTTF timeline where Brown never made a deal with the Libyan terrorists, therefore he hasn't built his first successful time machine yet. Keep dreaming, Doc, you'll get there.
[Reddit]