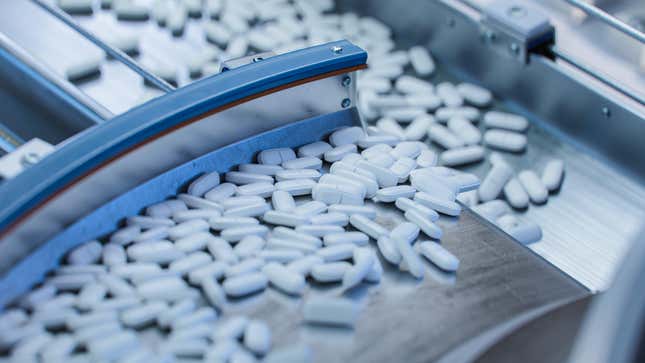 A pill for lung cancer has delivered impressive results in newly published research over the weekend. The pill, called osimertinib, was found to cut the risk of dying in half over a five-year span in those who received it alongside surgery. The treatment is intended for patients whose tumors carry a relatively common type of mutation.
Vizio's Latest TVs Go All Quantum
Osimertinib was developed by the company AstraZeneca and is sold under the brand name Tagrisso. It belongs to a class of drugs that inhibit a protein called epidermal growth factor receptor, or EGFR. EGFR is used by normal cells, but certain cancers produce much higher levels of it, which fuels their growth. In 2015, the Food and Drug Administration approved osimertinib to treat advanced non-small cell lung cancers (NSCLCs) that carried one specific EGFR-related mutation. Since then, AstraZeneca has sought to show that its drug can broadly treat these cancers linked to EGFR.
The new research was published over the weekend in the New England Journal of Medicine. It looks at long-term data from the company's ADAURA Phase III trial. The trial involved 682 patients diagnosed with early-stage EGFR-mutated NSCLCs who had their tumors completely removed with surgery. The patients were randomized to receive osimertinib or a placebo.
The patients had their tumors detected early enough that they could possibly be cured with surgery alone. But these cancers frequently recur and often become fatal. In this trial, however, those taking osimertinib had a noticeably higher chance of survival. Across both the primary analysis (covering a subset of patients) and secondary analysis (everyone in the trial), the drug was found to reduce the risk of dying five years after treatment by 51%. Overall, 88% of patients in the osimertinib group were still alive five years later, compared to 78% in the placebo group.
Rates of lung cancer have dropped substantially over the past several decades, thanks largely to fewer people smoking. But lung cancer is still the leading cause of cancer death and the odds of surviving it remain low with current treatments (the overall five-year survival rate is around 25%). NSCLC is the most common form of lung cancer, and a quarter of these cases worldwide involve EGFR-mutated cancers (in Asian populations, up to 40% of cases involve EGFR). So these results seem to represent a major step forward in treating these particular cancers.
AstraZeneca plans to release more data showing the effectiveness of using osimertinib in combination with standard chemotherapy to treat advanced EGFR-mutated lung cancers later this year. But outside researchers and advocates are already excited about the drug's potential to become a frontline treatment for these patients.
"It is hard to convey how important this finding is and how long it's taken to get here," Nathan Pennell, a member of the American Society of Clinical Oncology who was not involved with the study, told the Guardian. "This shows an unequivocal, highly significant improvement in survival."