It's been a long time coming, but Apple finally has a 15-inch version of the classic MacBook Air. I say a long time because I recall covering rumors of a 15-inch Air more than 10 years ago. This time around, however, the rumors were correct – at its annual WWDC event in June, the 15-inch Air debuted alongside the Apple Vision Pro headset.

Of those two, the 15-inch Air is clearly the more practical and more affordable. In fact, out of all the products Apple announced at WWDC, the $1,299 15-inch MacBook Air 15 was the least expensive. And its practicality comes from being a near-exact clone of the excellent 13-inch Macbook Air, just slightly embiggened.
There are a very small handful of differences between the two versions. The 15-inch is 3.3 pounds, vs. 2.7 pounds for the 13-inch, but the bigger footprint still makes it feel very light for its size. The screen resolution jumps slightly, from 2,560x1,664 to 2,880x1,864, and the audio system has four speakers total instead of just two.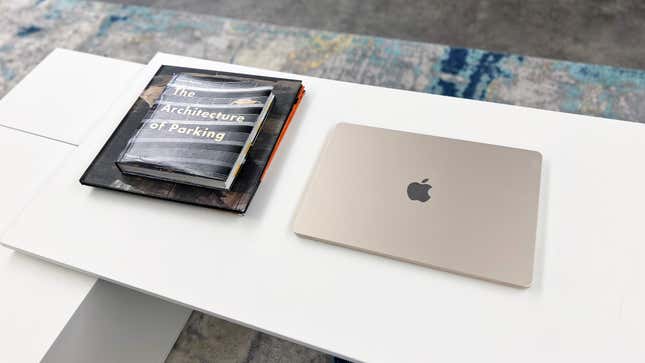 Other than that, it's mostly identical to the 13-inch Air, with two USB-C ports and a MagSafe connection on the left side, an audio jack on the right. Both 13-inch and 15-inch models have the iPhone-inspired notch on the top edge of the display to accommodate the full HD webcam. Both sizes also come in the same Starlight, Midnight, Space Gray, and Silver color options. I'm testing the Starlight version but I prefer the bolder, darker Midnight color overall.

Screen size: Bigger is better, mostly
Taking the near-perfect portability of the 13-inch MacBook Air and making its screen slightly bigger may seem like a minor upgrade. Why would anyone need that? I blame the shift to hybrid and work-from-home jobs. While the 13-inch laptop in your home office may be fine for casual use or as a work computer when hooked up to an external monitor, it's a little small for using as your all-day, everyday productivity machine.
Apple's Bigger-Screen 15-inch MacBook Air | Gizmodo Review
Apple's Bigger-Screen 15-inch MacBook Air | Gizmodo Review
Especially if you wear glasses, or, like me, you wear progressive lenses and still need to bump the zoom on your Google Docs up to 125% or even 150%, the bigger screen on the new Air is fantastic. In the past few days, I've subbed the 15-inch Air for my usual 13–inch machine. Since doing so, I have completely ignored the larger monitor that I occasionally plug the 13-inch into on my desk. The Retina screen isn't an OLED or mini LED panel, but it's still bright and clear—equally capable at both spreadsheet viewing and streaming TV binges.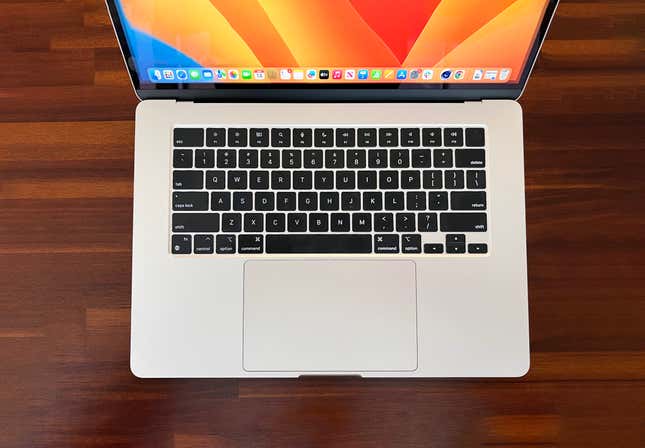 The keyboard, always a MacBook highlight (at least since the end of the butterfly keyboard era), is the same size and functionality as the 13-inch Air, just with more dead space on the left and right edges. But the touchpad is larger, similar to the ones on the current bigger MacBook Pro models.

One of the only ways in which the bigger size suffers from its clone-like nature is that pairing the two USB-C/Thunderbolt ports on a single side, along with the MagSafe connection, means the laptop can only be plugged in on its left side, either to power or to accessories. For a larger laptop body like this, that can be inconvenient and lead to some awkward cable routing.
More on MacBooks:
Different size, same performance
In my initial hands-on testing, I ran a few benchmarks on this machine and last year's M2 13-inch MacBook Air. The two systems scored nearly identically in apps like GeekBench, Cinebench and 3DMark.
For everyday use, mid-level Photoshopping and even playing games, the M2 chip in the current MacBook Air models is more than powerful enough. I've also done plenty of light video editing on both M1 and M2 systems.
The more advanced chips, the M2 Pro and the M2 Max, are only found in much more expensive Macs, including the Mac Studio and Mac Pro desktops and the 14-inch and 16-inch MacBook Pro laptops. And while the larger screens in the MacBook Pro models are great, starting at $2,000 for the 14-inch and $2,500 for the 16-inch, that's a big investment if you're just looking for more screen real estate.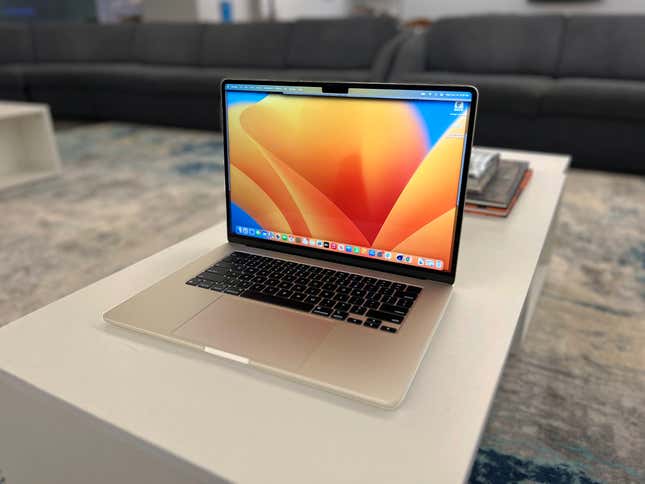 Of course, with a bigger screen like the new Air's, you should try some games (although your Mac gaming options are…limited). Resident Evil Village and No Man's Sky are some good examples of (relatively) recent, high-end games that run well on M2 Macs. And with a bigger screen, the 15-inch Mac has a great screen for cloud gaming, using services like GeForce Now from Nvidia. Many of my favorite gaming laptops are 15-inch models these days. The screen size works well without the overall form factor becoming overbearing; that is to say, it's still easily portable.
If you're a dedicated MacBook owner with a relatively recent M1 or M2 13-inch MacBook Air, it is a tough to justify the 15-inch as an additional purchase. But if you're replacing or trading in an older Air or even an older MacBook Pro, like an outdated Intel model, then the 15-inch Air would be my choice for a laptop that stays in the same place most days. For frequent or daily travel, the 13-inch Air is still my top choice, even if that means I still have to bump up the zoom level on my docs.