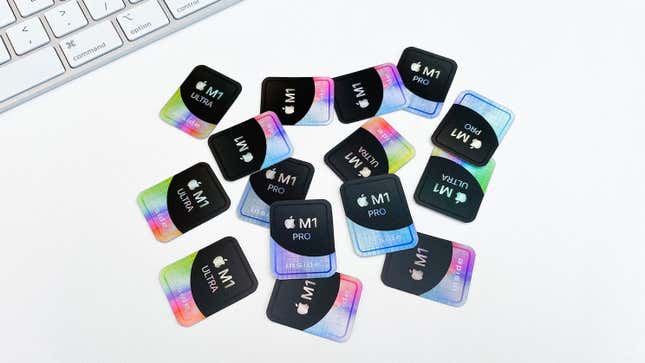 The easiest way to differentiate a Windows laptop from an Apple one is to either check the logo on the lid, or find the collection of Intel, AMD, Microsoft, and Nvidia stickers near the keyboard: the telltale branding of the PC world. If, for some reason, you feel your MacBook's clean finish would be better off with stickers prominently promoting the hardware inside it, there's an Etsy shop that can help you out.
Vinoth Ragunathan, a Toronto-based designer, is the owner of InsideSticker, an Etsy shop that currently sells just one thing: recreations of the holographic stickers that are generously plastered across Windows-based laptops, but customized to promote Apple's processors, which the company has been putting in its computers since late 2020 (iPhones and iPads have been using Apple-developed processors since 2010).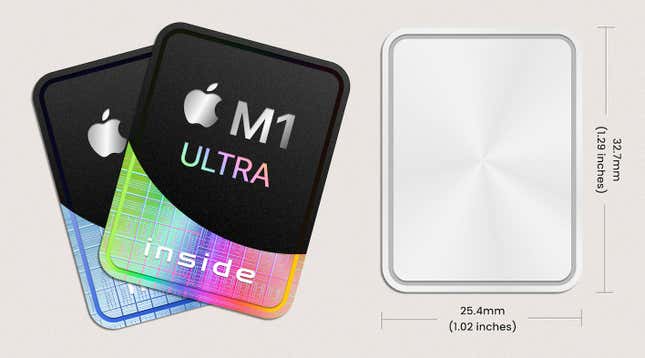 Measuring an inch wide and about 1.3-inches tall, the stickers are die cut from a "premium vinyl material" with a "glossy finish" and use actual holographic paper to mimic the eye-catching designs that Intel has used for years as a symbol of authenticity. Seven versions of the stickers are currently available, covering the entire lineup of Apple silicon: M1, M1 Pro, M1 Max, M1 Ultra, M2, M2 Pro, and the M2 Max. You'll also want to avoid spills (which you should already be doing around your laptop), because while these stickers will resist some liquids, they're not "100% waterproof."
The Apple Inside stickers are available individually for around $6.13 each (US pricing may fluctuate due to the exchange rate since this is a Canadian-based Etsy shop) but there are discounts for buying more than one at a time. A two-pack currently sells for $10.73, while a three-pack is $15.33.