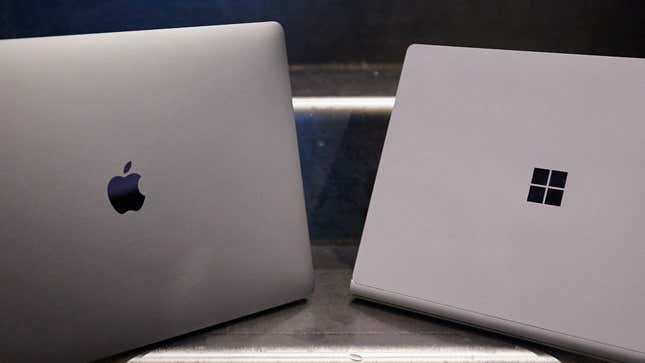 Late last month, Microsoft fired a shot across Apple's bow. With the Surface Studio and Dial and an updated Surface Book, Microsoft mace clear its plans to woo Apple's old core audience of creative professionals—a group Apple has seemingly forgotten in favor of a more mainstream target. Apple fired back with the Touch Bar on the new MacBook Pro, but unfortunately, the OLED touchscreen that replaces the function keys feels more like a gimmick than a game changer. Has Apple lost its old base? A peek under the hood of both Apple and Microsoft's $2400 laptops tells the real story: When it comes to a mobile workhorse, at least, Apple still reigns supreme.
Boogeyman Star Sophie Thatcher Wrote Howl's Moving Castle Fan Fiction | io9 Interview
The top model Surface Book, just updated with a new processor, video card, and improved battery life, seems like a creative's dream. As with last year's model, the new Surface Book is a revolutionary piece of hardware. The super responsive touchscreen display holds most of the device's guts so it can be detached and used like a tablet, making illustration and image manipulation easier. Microsoft's portable will also work with the company's new Dial, which could become a fantastic tool for anyone who needs to quickly control settings—such as video editors or CAD designers.
The new 15-inch MacBook Pro, apart from the Touch Bar, doesn't seem quite as friendly for lovers of Photoshop, Premiere, and AutoCAD. It behaves more like a traditional laptop. There's no crazy cool hinge or detachable display. Just that glowing OLED strip, which makes some menu options and app features easier to access.
Beneath the surface hardware, both laptops have discrete graphics cards, but they're different in ways that matter. The MacBook Pro rocks an AMD Radeon Pro 450 with 2GB of RAM while the Surface Book has a Nvidia 965M with 2GB of RAM. Both video cards are super thin and low powered to minimize impact on battery life. Yet the Radeon Pro 450 is specifically built for improving speeds when rendering 3D objects in CAD software, and the Nvidia 965M is more an everyman video card—useful for CAD rendering, but also gaming.
That's the primary reason the Surface Book thoroughly schools the MacBook Pro on our gaming benchmark. We set both laptop displays to as close to 1080p as they could go (the MacBook Pro had to be set at 1680 x 1050), upped the graphics to High, and ran the benchmark found on the new game Civilization VI, noting the average time between frames after 750 frames. The Surface Book rendered frames at a speedy 59.4ms, while the MacBook Pro took nearly twice as long, averaging 98.8ms between frames.
Most of that can be blamed on Apple's discrete graphics card choice—which is built for work rather than play. But a little blame goes to Civilization VI itself—which is a port on the Mac, and thus doesn't enjoy the speed it would running on its native OS.
The MacBook Pro might be a big loser for gaming (please do not buy a Mac to game), but its professional performance wowed us. We benchmarked both the MacBook and the Surface Book using the number one software choice for artists and photographers, Photoshop. We batch processed two dozen RAW image files, cropping and resizing them. The MacBook Pro's quad-core 6700 HQ Core i7 Skylake processor scorches compared to the dual-core 6600U Core i7 Skylake processor in the Surface Book. It accomplished the batch process in just 49 seconds. The Surface Book took 66 seconds to do the same.
The MacBook Pro's quad-core processor excelled in the web benchmark, too. A lot of work now happens in browsers, so we ran the WebXPRT benchmark. It's got an awful mouthful of a name, but the benchmark tests a computer's ability to render images, process big chunks of numbers , and even analyze DNA sequences. As with the Photoshop test, the MacBook Pro really shined with WebXPRT, scoring a speedy 449. The Surface Book didn't bomb the benchmark, but its score of 395 wasn't exceptional either.
Kicking the Surface Book's butt on two out of three benchmarks isn't bad, especially when the benchmarks it excels at are the ones that test the MacBook Pro in traditional work settings. And it means that if you're one of those creatives who have patiently been waiting for Apple to upgrade the MacBook Pro then your wait hasn't been in vain. The best competitor might have really cool features like a detachable hinge and a touchscreen, but it can't trump Apple where it counts—in the speed department. If you've already blown your $2400 on the new MacBook Pro than rest easy, it's still faster than the other ridiculously overpriced $2400 laptop.