Mark Millar adds another comic book movie adaptation to his collection. Legends of Tomorrow casts more heroes for season two. Les Moonves talks about the Star Trek TV show's release schedule. Kevin Smith will return to The Flash. Plus new images from X-Men Apocalypse, and Melissa McCarthy on Ghostbusters. Spoilers Now!
Rogue One: A Star Wars Story
Following his recent admission that he's playing Felicity Jones' father in the film, Mads Mikkelsen has told the Evening Standard a few more tidbits about the film and the part he plays. Firstly, he promises "iconic" Star Wars characters appearing in the film, initially responding to the question as to whether or not figures on the same level as Luke Skywalker or Princess Leia appear:
Some of them – but I would reveal too much. There are iconic characters in our film and also characters you have never heard of. It's a mix.
And secondly he adds more about his role as Jyn's father, stating his character appears in both flashbacks to her younger self and the "present" incarnation of Jyn, played by Jones:
I spend a lot of time with [Jones] and she's a wonderful actress. I play her dad at the time of Felicity and I play her dad when she's younger, so we jump back and forth in time.
G/O Media may get a commission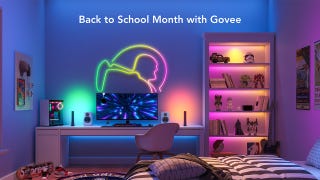 Back to School
Back to School Month with Govee Sale
---
Empress
Comics writer Mark Millar has another of his works up for adaptation: this time, his latest scifi series about the wife of an evil dictator who chooses to flee her life with her family and rebel against her husband's rule. Millar has tapped producers Joe Roth and Jeff Kirschenbaum to bring the new series to the big screen. [THR]
---
Universal Monsters
Universal has slotted an as-yet-untitled movie in its Universal Monsters shared universe into a February 15, 2019, release date.
---
Suicide Squad
Adewale Akinnuoye-Agbaje discusses his take on Killer Croc in the movie:
At the time you meet him in this film, he's a fully-fledged criminal. He's really one of the baddest criminals known to be roaming in Gotham, hence his lockup in Arkham. He's tangled with the Batman and here he is amongst these other foes. He's very much a formidable force at the time that you meet him.

...I looked at all of it, I went back to the young Waylon Jones. The animated series. I had my own take, too. I researched cannibalism. I actually went out and watched real crocodiles, too. We incorporated some of the real life fight techniques that crocodiles do when they kill their prey. The death roll.
---
Ghostbusters
Melissa McCarthy clarifies the movie's status as a reboot, despite the fact that the trailer refers to the events of "30 years ago":
It's a reboot, not a remake. I know it's weird that they say [in the trailer] "30 years ago," but in this movie it's like the first one didn't happen.

It's a great story but told totally differently. It's the same thing of four unlikely heroes, it's in New York city, ghosts are taking over. It's the same classic story, but it's not a '30 years later'.
[THR]
---
Captain America: Civil War
Steve McFeely discusses T'Challa's role in the film:
We needed a character that sat outside of the Avengers who was wronged by their actions and could take party in the festivities, if you will, and not have the same agenda to either side of the Avengers. By the same token we needed another fresh face — an ingénue — who would work with the Avengers and his arc would be something like, 'Look I am playing on the big team!' We needed those different perspectives on the same conflict, people who didn't have the same angst about everything because they hadn't shared five movies with these people.
[CBR]
The cast and crew set up the basic premise of the film in a new featurette.
---
Neon Demon
Here's a new poster for Nicholas Winding Refn's new horror movie about a young model whose vitality is devoured by a group of mysterious socialites.
---
X-Men: Apocalypse
Some new stills from the film have been released—go to the link to see more. [Comicbook.com]
---
Star Trek (TV Show)
CBS president Les Moonves has confirmed that the show will be released on a weekly basis, rather than all at once á la Netflix. He also further clarifies the show's availability on CBS's "All Access" streaming service:
["Star Trek"] will be episodic, week by week. It won't be the Netflix [way]. CBS All Access is the only place to get the entire 'stack' of CBS shows, and this January, we will begin streaming our first original series. All Access will be the home of the first original "Star Trek" series in eleven years.

[The premiere episode of] "Star Trek" will debut simultaneously on All Access and the CBS television network, with subsequent episodes exclusively on All Access. We have one of the best creative teams behind this show, and we're confident that its large, passionate fan base will lead to substantial, profitable subscriber growth.
[TrekCore]
---
Legends of Tomorrow
TV Line reports that the show is casting two major new characters for the show's second season. One is a "Han Solo-like" male who grew up in the shadow of his grandfather before developing powers and becoming a superhero. The other is an African-American woman who is also a member of an "elite paramilitary team living in the 1940s", looked down upon by her peers for her race and gender.
---
The Flash
Kevin Smith will return to direct an episode of the show's third season. [Comicbook.com]
---
Arrow
TV Line also reports that the show is looking to cast a new adversary for Oliver Queen, described as a man roughly in his 30s who could "just as easily shake your hand as your best friend or break your neck as your worst enemy — and you never know which one is coming."
---
Future Man

Derek Wilson has been cast in Seth Rogen and Evan Goldberg's Last Starfighter-esque comedy series. He'll play Wolf, a soldier from the video game that trains Josh (played by Josh Hutchinson) to save the world that has little faith in the human's ability. [CBR]
---
Agents of SHIELD
A synopsis for "Absolution" and "Ascension", the two-hour season finale, has been released. [Spoiler TV]
"Absolution"/"Ascension" – It's a showdown a season in the making as S.H.I.E.L.D. takes on Hive, and when his master plan is finally revealed, the team must spring into action. Who will live, and who will die? Things heat up in the exciting two-hour season finale of "Marvel's Agents of S.H.I.E.L.D."
---
Once Upon a Time
Edward Kitsis discusses Sam Witwer and Hank Harris' characters and their part in the season finale.
What's fun about those two characters is very similar to season 1, when we didn't know who Graham was, and we were guessing sometimes what character they are. The finale will work much like that, in that the question of who these two are will be part of what the story is.
[EW]
---
Powers
Here's a new poster for the show's incoming second season. [IGN]
---
12 Monkeys
A gallery of images from "Bodies of Water" has been released—head to the link to see more. [Spoiler TV]
---
Additional reporting by Gordon Jackson. Banner art by Jim Cooke.