Alan Tudyk wants in on the Booster Gold/Blue Beetle movie—but only if a Firefly costar joins him. Mark Ruffalo talks the Hulk in Thor: Ragnarok. Get a look at Killer Frost on The Flash. Plus, oodles of clips from Supergirl, footage from Ash vs. Evil Dead, and behind the scenes on The Shannara Chronicles. To Me, My Spoilers!
Booster Gold/Blue Beetle
Alan Tudyk has expressed an interest in starring in the heavily rumored team up movie as the Blue Beetle—as long as Nathan Fillion, who's expressed interest in playing Booster Gold, was joining him:
Well, that's great. If it's working with Nathan, I'm in. Also, being a bug for me? I'd like that. Roly-poly is nice. I'd like to be one of them. That's what we called them back in Texas, but they're almost a beetle.
[CBR]
---
Star Wars: The Force Awakens
Mike Quinn has confirmed that he will indeed reprise his role as Nien Nunb, Lando Calrissian's Sullustan co-pilot in Return of the Jedi. Quinn also noted that you can briefly glimpse Nunb in the recent trailer—he's one of several alien pilots running in the background of the shot featuring Finn looking out at the hustle and bustle of the Resistance's secret base. [Mike Quinn on Facebook]
G/O Media may get a commission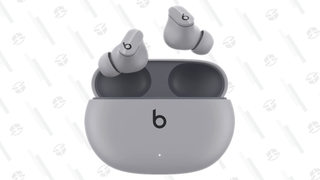 ---
Micronauts
Tom Wheeler has been hired to write the script for the movie adaptation of the Hasbro toy line. [CBR]
---
Thor: Ragnarok

Mark Ruffalo talks returning as Bruce Banner in the film:
I am excited to keep coming back to this role. I see a lot of space for it to grow. I feel like there's a lot of cool stuff to explore still, especially the relationship between Banner and Hulk. Hopefully, we'll see the two of them in a scene together. That would be cool!
[/Film]

---
High Life

Robert Pattinson's role in the project from Claire Denis has been revealed: he'll play "a prison inmate who has strong technological skills. He's enlisted for a space mission to seek out alternative energy sources in deep space". [The Improper]
---
Power Rangers
RJ Cyler has been cast as the Blue Ranger.
---
Gambit
Shane Black and Joe Cornish are also said to be in the running for the director job. [/Film]
---
Doctor Who
Given that Maisie Williams has a lot of filming commitments on Game of Thrones, you'd be excused for thinking her return would be a long-term prospect. But no.
Following her appearance in the recent two-parter (and confirmation her immortal character is hanging around in modern day London), it's been confirmed that Williams' character, Ashildr/Me, will be back later on in the current season of the show.
Speaking at London Comic-Con's Doctor Who panel Sarah Dollard, writer of episode 10, revealed that Williams will return in her episode, which also features the return of Joivan Wade's Rigsy, who appeared in last year's "Flatline". [Combom]
---
Scream Queens
Ariana Grande will reprise her role as Chanel No. 2 in the November 3rd episode of the show. [TV Line]
---
iZombie
Here's a synopsis for "Max Wager":
FORMER NBA CHAMP RICK FOX GUEST STARS — Liv (Rose McIver) unwittingly crosses paths with the most dangerous man in Seattle while investigating the murder of degenerate gambler Harry (guest star Ray Galletti). Detective Babineaux (Malcolm Goodwin) has a super-fan moment when he and Liv question NBA Hall of Famer Calvin Owens (guest star Rick Fox) at Harry's funeral. Meanwhile, Blaine's (David Anders) father (guest star Robert Knepper "Prison Break") makes a huge discovery, and Ravi (Rahul Kohli) delivers some bad news. Lastly, Evan (guest star Nick Purcha) has a big secret to share with Liv, and Major (Robert Buckley) continues to struggle.
[Ksite TV]
---
Game of Thrones
Gemma Whelan briefly touches on her return as Yara Greyjoy in season 6, and where the show goes now that it's "out" of book material:
Even when I said I'm going to Northern Ireland on Wednesday to you just now, I thought 'oh god, maybe I shouldn't say that.' You really watch your back on everything – 'don't say too much'. But at least it's been leaked that I'm going to be in it, so I can talk freely about that.

Yeah, they've sort of… not run out of books really, but they've liaised with George RR Martin who writes the books, and gone off on their tangent, with his approval. So that's why people are even more interested in spoilers. It's funny isn't it, there's no other show like it.
---
The Shannara Chronicles
Here's a video going behind the scenes on the show's production.
---
The Flash

Following her appearance on CBS' The Talk over the weekend, a clear picture of Danielle Panabaker as Caitlin's evil alter-ego Killer Frost (as she appeared in the season one finale) has been released. [TV Line]
---
Ash vs Evil Dead
Here's the (slightly NSFW) first four minutes of the show's first episode.
---
Supergirl
CBS has released a whopping total of 7 clips from tonight's official premiere of the pilot episode.
---
Additional reporting by Gordon Jackson and Charlie Jane Anders. Image: Doctor Who.