Lionsgate, Paramount and MGM are banding together to create a Hulu-style streaming service called Epix, promising new, pre-DVD-release films at 720p quality. The way they're going about it, though, is a little strange.
Epix is actually more than an online VOD project: it's a cable movie channel, destined, at least the studios hope, for bundling in cable packages. It's a non-premium channel, meant to be pitched to cable providers, not consumers. In other words, you can't just tack it onto your monthly bill—it'll either be part of your provider's plans or not.
The online component is secondary, but really much more exciting: people who have a subscription to the channel will be able to access the catalog online though a Flash interface. It'll stream in 720p, with bitrate tiers for different connection speeds. Epix hopes to install CDN hardware in partnered providers' networks to make sure download speeds are consistently high.
*It's that whole subscription part, though, that's worrisome: you don't just need to have the channel on your cable plan to access the online streaming service, you've also got to be on your cable provider's internet plan. That's fine, I guess, in places with homogeneous cable and internet markets, but bad news for anyone who lives at all outside grasp of the likes of Time Warner and Comcast, Epix's likely (or hopeful) partners.
G/O Media may get a commission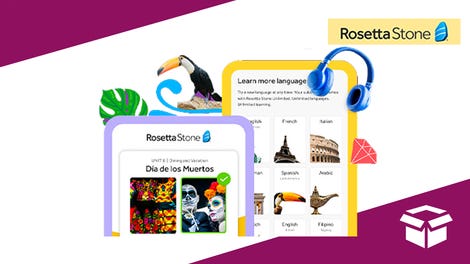 Extra 20% off
Rosetta Stone Lifetime Subscription - All Languages
Since the service is ad-free and packed full of premium content, free, wide availability would be a bit much to ask for. And honestly, the service sounds pretty great—it's just a shame this exciting new way of watching movies is so inextricably tied to the method it—or something like it—will one day replace. [Ars]