Matt Damon praises Neil Blomkamp's sci-fi epic Elysium. Does a casting call give away a huge Amazing Spider-Man 2 plot point? Len Wiseman's new Mummy movie is going full-on horror. Plus check out new trailers for Doctor Who's Christmas special!
Spoilers from here on out!
Top image from Star Trek Into Darkness.
Star Trek Into Darkness
When asked about the possibility of a major character dying, Spock actor Zachary Quinto wouldn't rule it out:
"There's reason to worry, let's say that much. The enemy we face in this movie, played by Benedict Cumberbatch, is entirely different than the enemies we've seen this crew face in the past. There's insidiousness and ruthlessness and a fierce intelligence to his character that almost infiltrates and undermines the connectivity of the crew to the degree that the stakes are much higher. It's much more urgent and there's a lot more at risk, so who knows?"
Of course, the last time they made a Star Trek II, a major character died, and it's not as though that lasted long. [MTV]
---
The Amazing Spider-Man 2
Some new casting call notices for extras have surfaced, and while it's mildly interesting that the movie is looking for "Men & Women, 20s-60s age range, all ethnicities to portray a Core Group of Scientists, Technicians, Engineers, etc.", the big takeaway is this particular casting call:
Background / Male or Female / All Ethnicities /18 – 70
Grant Wilfley Casting is seeking: SAG-AFTRA Men & Women, 18-70 age range, to portray Friends & Family Mourning at a Funeral/ Wake. The scene is scheduled to film February 14th, 2013. This is very featured & I will be submitting photos to the Director.
G/O Media may get a commission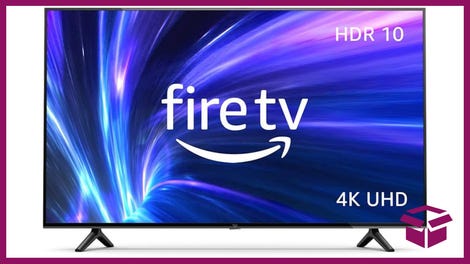 42% Off
Amazon Fire TV 50" 4K Smart TV
So then, there's going to be another funeral scene. The smart money here really has to be that this is Gwen Stacy's funeral we're talking about here, especially since Emma Stone has come this close to confirming that she's leaving in the second film. Still, that's totally unconfirmed, but we're definitely headed for more death in the sequel — and at least this particular death will be big enough that the movie will spend some time memorializing the character. [On Location Vacations]
---
The Wolverine
20th Century Fox has now confirmed the American release date for the new Wolverine movie will be July 26, 2013. [Coming Soon]
---
Elysium
Star Matt Damon talks a little about one scene for his upcoming hard sci-fi film by District 9 director Neil Blomkamp:
The concept of the movie is that Earth has been ravaged and Elysium is an orbital habitat, 120 kilometers up, where all the rich people have gone.

Leaving the poor slobs of the 99 percent to struggle pretty much on their own?
Right. We shot in that human-waste dump for two weeks. What you see on-screen is supposed to look futuristic, but it was actually just helicopters flying over us, kicking up dust that coats you and that you know is fecal matter. We were very careful, but it was unbelievably toxic. It's the worst location I've ever heard of and could have been worse only if we'd filmed in the world's largest waste dump, in South Korea. What was unbelievable and really sad was the ­giant community of people who are born, raised, live and die in that dump. They just pick through the trash.

What convinces anyone, let alone a movie star, to agree to shoot in such nasty conditions?
Shooting a big action set piece in a third-world dump was a great idea, visually and dramatically. We did it toward the end of the schedule, and everybody bought in knowing it would be tough but also knowing we would be happy we did it... Between the concept and the script, it's going to be really good. I genuinely believe the director, Neill Blomkamp, is the next guy — our generation's James Cameron. I hope I can work with him a lot more.
[Playboy — and yes, kinda NSFW, what with it being Playboy and all]
---
Oblivion
Tron Legacy director Joseph Kosinski gives the most detailed explanation yet for his new futuristic epic, which stars Tom Cruise as the last human living on a desiccated Earth:
"I started writing this small character-driven science fiction story that was in the vein of those science fiction films of the 1970s that involved this lone survivor among the ruins of civilization, like 'Omega Man' or 'Silent Running' - it was kind of in that vein. I thought if it was going to be my first movie it would have to be something very small and contained in order to even get a chance at pulling it off. So it's the story of a drill repair man, Jack Harper, who is one of the last human beings left on earth after a massive war, which was the result of an alien invasion. Even though humankind won the war, Earth was left in such a state that we had to look for another place to settle, and Jack is left behind to monitor and secure the resource gathering operation that's happening where we're gathering the last bit of energy out of the earth's seawater in order to move onto the next step."
He also discusses the look of the film:
"Visually, I always knew exactly what I wanted the film to look like. 'Alien' is one of my favorite movies of all time, but I feel like after 'Alien,' science fiction kind of went into the dark for a long time. It became about deep space and dark ship holds and it just went into darkness. I liked the idea of bringing science fiction out into the daylight again. So it is a daytime science fiction film where the world is kind of divided into two zones: the world above the clouds and the world below the clouds. The world above the clouds is where Jack lives with Victoria, his partner, in this operation, in the skytower which is 3,500 ft. above the ground, away from the dangers that live below, which is a very different world from the ground where Jack actually has to do his job every day. And that juxtaposition to me in concept lends itself into a visual juxtaposition as well, where you're gonna see technology set against a landscape that I feel is something we haven't really seen before."
There's more at the link. [MTV]
---
Tron 3
After months of inactivity, plans for the Tron Legacy followup have suddenly flared back to life, and returning director Joseph Kosinski is making the rounds talking up the new movie:
"We've got an idea for the next movie that's really exciting to me. I mean, obviously, the only reason to go back would be if we could do something spectacular and really push the ideas forward that we had established in 'Legacy.' We have an idea and an approach and a way into it that I'm really excited about, and now it's about execution on the level of the script. So working hard on that in the background, and hopefully that'll all come together. It's still the same plan in that 'Tron 3' would deliver on the promises set up at the end of 'Legacy' in different ways. You look at what happened in the closing scenes of 'Legacy'; I think it sets a clear direction for what could happen in the next chapter."
[MTV]
Elsewhere, Kosinski decides to wisely minimize expectations by comparing Tron 3 with the most beloved sci-fi sequel of all-time, then gives a sense of the in-universe time lapse between Tron Legacy and the new film:
"I've said it would have to be our Empire Strikes Back for me to come back and for me to pull the whole team back together. I think we do have that idea. We do have the idea that feels big and really blows the doors off this franchise. It's hinted at promises of something for two movies now, for thirty years, so it's time to deliver on that. But the script's got to be at a level that makes it worth going back for, because it's a lot of work to make a movie like this and it's a multi-year project. So we've got our writer Jesse Wigutow on it right now writing, and fingers crossed if it all comes together, as we hope it will, there could be another Tron in the next few years, and it's going to be awesome....I think time has passed. It feels like we're kind of real-time in step. So however much time has passed since Legacy came out would also have transpired in the real world. So it will still be contemporary. So let's say if the Tron sequel comes out in 2015, then four or five years have passed since the last movie."
There's more at the link. [Collider]
---
Transformers 4
New star Mark Wahlberg explains how he got involved in Michael Bay's (allegedly) final Transformers movie, as well as when it should start filming:
That's why Transformers came about, because we had such a great time working together [on Pain and Gain]. We kind of complemented each other throughout the entire process, what he does and what I do and what we were able to do together, and then after that I was like 'Dude we gotta work together again,' and he was like, 'Well I got a project, you interested?' (laughs) We're shooting Transformers in May, and then I believe we're gonna do Ted 2 right after."
[Collider]
---
The Mummy Reboot
New Total Recall director Len Wiseman says his next reboot, a reinvention of the sorta well-liked Brendan Fraser franchise, will shift the property's focus from action to horror:
"There was skepticism. The difference between the two, if The Mummy is to be the next movie for me, is that The Mummy is a completely different film. It is a modern day take. It doesn't have anything to do with the Brendan Fraser films, and it is not a remake of any kind.

The Mummy is one of Universal's long standing, iconic characters, well before the Brendan Fraser movies... This is such a different thing. What was attractive to me...There is still a script to be written, and all of that....But the pitch was to go with a much different tone. It was a Mummy like I'd never heard of before. Its nothing like what you would expect, at all, oddly. I was picturing Egypt, and the sand swept settings. The mummy wrappings. When I heard what they were wanting to actually do with it, it was shocking... It's horror. Its epic. It's more of a modern day version of what would happen if we came across a mummy in our world today. It is pretty fascinating."
[MovieWeb]
---
Sin City: A Dame to Kill For
24's Dennis Haysbert discusses the process of taking over for the late Michael Clarke Duncan as Manute in Robert Rodriguez and Frank Miller's Sin City followup:
"I haven't finished working out to the capacity that I need to, but he's going to be different. This is playing as a prequel, so it should work out. It's going to be my character, but I've spoken extensively with Frank Miller and Robert (Rodriguez) about what they want with the character and yes, it has to have some feel of what Michael did but I have to make it my own."
---
Doctor Who
Here are two trailers from BBC America for Doctor Who's imminent Christmas special, "The Snowmen." [Doctor Who News]

---
Fringe
Here's a promo for the next episode and tenth overall, "Anomaly XB-6783746", which airs December 21. [Fringe Television]

And here's a promo photo. [SpoilerTV]
Judging by some new set photos from Vancouver, Seth Gabel is in fact making a surprise return appearance as Lincoln Lee, quite possibly in the two-part series finale. Check out the photos at the link. [VanCity Filming]
Here are some behind-the-scenes set photos from the filming of the series finale. [EW]
---
Once Upon a Time
The twelfth and thirteenth episodes will reportedly be called "In The Name of the Brother" and "Tiny", respectively. [SpoilerTV]
---
Arrow
Here's a pair of promo for the midseason premiere, "Burned."

---
The Vampire Diaries
Here's a promo for the midseason premiere, "After School Special", which kicks things off again on January 17.

---
American Horror Story: Asylum
Dylan McDermott discusses his role as Bloody Face the Younger:
Well, 'Johnny Thredson,' obviously he's a troubled man; so where I hope he goes and where he goes are two different places, but I think he's got a sole purpose in life and really that is, he feels so scorned by his mother. Everything is about his mother. The reason he's doing all these horrible things is because he was rejected so harshly by his mother, obviously aborted. His father was a serial killer. His mother aborted him and he still lives. So his whole trajectory in life is really about her.

Is there anything you can tell us about what's coming up in the next three episodes that you're in?
I mean, I think we're going to look into what-he really is after some sort of closure with his mother. I think he can't understand, he can't wrap his head around why someone would want to throw him out, throw him in the trash. So I think we're going to peek into his psychological world in the next three episodes and then we're going to have closure with his character in the finale. But it's really-it goes into the psychology and the pathology of who he is. He's not just like a serial killer and out there on the run with no reason. I think we really get into the reason of "Johnny Thredson."
He also confirmed that he would be interested in returning for the third season. There's plenty more at the link. [Shock Till You Drop]
---
Teen Wolf
The fourth episode of the upcoming third season will reportedly be called "Unleashed." [SpoilerTV]
---
Beauty and the Beast
Here's a promo for the next episode and tenth overall, "Seeing Red", which begins the second half of the season on January 24.

---
Additional reporting by Amanda Yesilbas and Charlie Jane Anders.