A suspect held in a Manhattan jail on child pornography charges is the lead suspect in last year's leak of CIA hacking tools to WikiLeaks, reports the Washington Post.

Joshua Adam Schulte, charged in August 2017 with the receipt, possession, and transportation of child pornography, is believed to have supplied WikiLeaks with a cache of stolen Central Intelligence Agency documents, including a number of iOS exploits and others used to turn routers and televisions into surveillance devices.
The publication of the documents, which WikiLeaks refers to as "Vault 7," is said to have caught the clandestine agency off guard; its release is considered a huge embarrassment for the Central Intelligence Agency and a significant loss for its hacking arsenal.
More than a year ago, cybersecurity firm Symantec linked the CIA's tools to hacks targeting 40 targets in 16 countries. The CIA noted in a March 2017 statement concerning WikiLeaks that it is "legally prohibited from conducting electronic surveillance targeting individuals here at home."
A former CIA software engineer, Schulte is said to have fallen under suspicion a week after WikiLeaks published the trove. Authorities seized his passport and searched his Manhattan apartment. However, the Post reports that the search "failed to provide the evidence that prosecutors needed to indict Schulte with illegally giving the information to WikiLeaks." Instead, the Justice Department charged the 30-year-old with possession of child pornography, reportedly discovered on a server he built in 2009 while attending University of Texas.
G/O Media may get a commission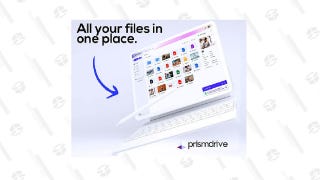 Save 97%
Prism Drive Secure Cloud Storage: Lifetime Subscription
Schulte is described by his attorneys as a computer scientist and analyst who interned at the National Security Agency and the CIA, where he was later employed for more than five years. His work was focused primarily on combating "domestic and international terrorism."
A complaint filed by an FBI special agent in the South District of New York states that from about 2009 to at least March 2017, Schulte received and attempted to receive child pornography by mail and via the internet. During a search of Schutle's apartment, the FBI discovered a 54-GB encrypted file, which they were able to decrypt using passwords recovered from the suspect's phone. The file contained over ten thousand files, "including images and videos, that appear consistent with child pornography," the special agent wrote.
Descriptions and titles of the videos included in the complaint reveal a wide range of material discovered in which children are apparently being sexually abused and molested by adults.
It remains unclear why Schulte has not been charged with involvement in the Vault 7 leak, though according to the New York Times, his attorneys have been pressing federal prosecutors to decide whether charges will be brought and asking the court to set a deadline. Prosecutors said last week they plan to bring a new indictment in the next 45 days, according to the Times.
[Washington Post, New York Times]