A Cleveland-area man acquitted of a felony charge for creating a parody account of his local police department has filed a lawsuit against the city of Parma, two of its police officers, and a third law enforcement official, alleging a violation of his civil rights.

Anthony Novak, 28, was arrested last year for creating a fake Facebook account called "The City of Parma Police Department."
Though it bore a striking resemblance to the actual Parma police page, Novak's account contained subtle differences and comically inaccurate claims, which his attorneys used to successfully argue that it was an obvious parody. A job listing posted by Novak, for example, "strongly" encouraged minorities not to apply. Another post claimed the department offered abortion services, and yet another boasted about a law against feeding the homeless. Where the real police wrote "We know crime" in its about section, Novak wrote: "We no crime."
An investigation was launched into the page almost immediately and Novak took it down less than 12 hours after it was created. But Novak was collared a few weeks later and slapped with a fourth-degree felony charge under Ohio's "Disruption of Public Services" statute. During a four-day stretch in the city jail, a SWAT team raided his apartment, confiscating his hard drives, two cellphones, a laptop, and—wait for it—his Xbox 360 and Playstation 4.

The police department further enlisted the aid of the Ohio Internet Crimes Against Children Task Force to go after Novak, though the charges brought against him had nothing to do with child pornography.

G/O Media may get a commission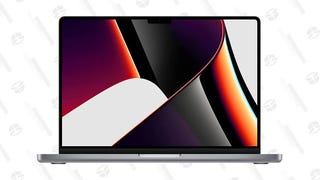 Save $300
2021 14" 1TB MacBook Pro
After a jury returned a "not guilty" verdict in August 2016, Novak sued the city. Among other claims, his attorneys argued that the statute under which he was arrested was overly broad and too vague, essentially granting authorities a license to arrest individuals engaged in First Amendment activities. The suit was reportedly dropped in January due to "deficiencies" in the complaint.
A new lawsuit, which seeks unspecified damages and the return of Novak's electronics, accuses the City of Parma and two police officers of "calculated and deliberate" retaliation against Novak in response to constitutionally protected speech.
"Mocking our government officials is a fundamental American right," the complaint says. "Yet on March 2, 2016, officers of the Parma Police Department launched a sham investigation against a citizen because he made fun of them on Facebook, abusing the State's police powers and enlisting a child-pornography task force to retaliate against and silence his criticism."
Novak is not the first US citizen to be arrested for creating a Facebook account satirizing public officials—nor is he the first to be acquitted. There's the infamous Peoria, Illinois, case, in which a man was arrested for creating a Twitter account mocking his town's mayor. The acquitted man was awarded $125,000 in damages and attorney's fees last September in a civil suit against the city for violating his First Amendment rights.

Gizmodo reported on Friday that a Florida man named Ernesto Orsetti was arrested last week after creating a Twitter account mocking a spokesperson for the Miami Beach Police Department. The department's police chief justified the arrest by arguing that Orsetti's account was "threatening to damage the reputation of our superb Public Information Officer, as well as the Miami Beach Police Department brand."