Even if you've been following our coverage of Marvel's Secret Wars event, it would be understandable if you're confused as to what the hell is actually going on in the Marvel Comics universe. Marvel understands, so it's releasing a handy guide to the event next month. The problem? IT'S JUST AS CONFUSING.
Header Image: Hawkeye #2, by Matt Fraction and David Aja
Titled The New York Bulletin Secret Wars Newspaper, the guide is being released the week before Secret Wars kicks off in May. It's meant to help you get to grips with the 40+ comic series the company will put out between May and December, after which the Marvel Comics universe will be rebooted into a new continuity. I would try to explain what this thing is, but... I'm not actually sure. Here's Marvel trying to do it for me, along with a preview of the cover:
The NEW YORK BULLETIN SECRET WARS NEWSPAPER is an actual, real newspaper featuring all the news you care about from the surface of Battleworld. New articles, new features, news from other domains – if it's happening on Battleworld, the New York Bulletin has the scoop!

Your number one source for late-breaking news from the brink of destruction, the NEW YORK BULLETIN SECRET WARS NEWSPAPER is coming to comic shops one week before SECRET WARS #1. From Greenland in the North to New Xandar below the Shield, our reporters have eyes and ears everywhere!
Who is the mysterious and "quiet" vigilante who leads the Inhuman rebellion? This tell-all expose will keep you up-to-date on Inhuman affairs! Homicide, mischief and mayhem! Scan the Police Blotter for a list of major crimes put to a halt by the Thors! Looking for a great vacation spot? Don't miss the new, expanded Travel section!

Plus, prepare for Secret Wars like never before with an exciting roadmap charting important moments, relevant stories, and can't-miss collections to get you caught up for the highly anticipated first issue!
Right, so can anyone make sense of what this actually is? Is it an actual newspaper? A magazine or a comic dressed up like a newspaper? Is it from a fictional perspective, or is it from a real-world one? Is it both? Is it all things, at all times, between now and the end of time itself?
G/O Media may get a commission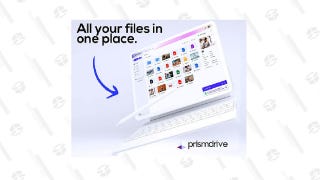 Save 97%
Prism Drive Secure Cloud Storage: Lifetime Subscription
Oh god, I don't know. I guess it's kind of perfect for Secret Wars, which is already starting to seem ridiculously convoluted to people not deeply entrenched in comic books, to have a 'Guide' that is just as confusing at first glance.
The New York Bulletin Secret Wars Newspaper is due out on April 29th. I'm pretty sure that's the only thing I'm entirely certain about in this entire post.
[Marvel]