Marvel has announced that it will remove some artwork from X-Men Gold #1, as well as take unspecified disciplinary action against artist Ardian Syaf, after it was discovered that he included coded references to an ongoing religious and political conflict in Indonesia.

Over the weekend, some Indonesian readers started pointing out how a few panels in the debut issue for the new comic series featured references to a currently political situation involving the Governor of Jakarta and the region's conservative Islamic population. Specifically, Colossus's shirt seen during a baseball match between the new members of the X-Men team, which read "QS 5:51," and a building labeled "212" above new X-Men leader Kitty Pryde's head (her character is one of the most prominent Jewish heroes in Marvel Comic's roster, a factoid that will become important shortly).
The current political situation in Jakarta, Indonesia, is very complicated, and not one that's been widely covered in the United States. Currently, Jakarta's governor Basuki Purnama Tjahaja, better known as Ahok, is currently on trial for blasphemy while also battling to keep his seat in a runoff election.

Tjahaja, who was elected in 2014, is Jakarta's first non-Muslim governor in 50 years (he's Christian) and the first ethnic Chinese person to hold the position. He's been relatively popular for his stance against corruption, including among the nation's moderate Muslim population. However, some conservative Islamists, largely led by the Islamic Defenders Front (also known as FPI), have argued that the world's largest Muslim-majority nation should not have a leader who isn't Muslim. They tried to block Tjahaja from becoming governor on the basis of his faith, and they've been accused of committing vigilante acts against religious minorities since the group's founding in 1999.
G/O Media may get a commission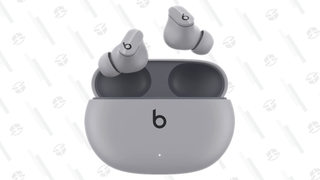 Last year, everything snowballed after an edited video surfaced of Tjahaja telling voters that his political opponents were using QS 5:51, a verse of the Quran, to lie to them. One translation reads: O you who have believed, do not take the Jews and the Christians as allies. They are [in fact] allies of one another. And whoever is an ally to them among you - then indeed, he is [one] of them.
The verse, much like some controversial verses in the Judeo-Christian Bible, has been interpreted in different ways. (Update: Ms. Marvel co-creator G. Willow Wilson has offered some insight into the verse's various translations and interpretations.) The FPI, specifically, has cited that Quranic verse in the past to defend their views that non-Muslims should not be leading their government. But, despite different interpretations of the text or the situation, many conservative and moderate Muslims agreed that Tjahaja had criticized the Quran.
Tjahaja has since apologized for his statement, but large-scale protests from the country's conservative Muslim population have called for his arrest on charges of blasphemy against Islam. The biggest one was on December 2, 2016, hence the term "212." There are fears these recent actions could put the country's secular government and overall foundations of pluralism at risk. In a public Facebook post, Syaf acknowledged the references to 212 and the Quranic verse in the comic book, and indicated he put them in after attending a 212 rally in Indonesia. (Update: In a later post, he didn't apologize for his actions, and encouraged people to buy the first edition of the comic book).
Following today's discovery of Syaf's messaging in his artwork for X-Men Gold #1 io9 reached out to Marvel Comics early Saturday morning for comment, but did not receive a reply—however Marvel has now released a statement to Comicbook.com regarding the issue in the wake of reactions to the news on social media:

"The mentioned artwork in X-Men Gold #1 was inserted without knowledge behind its reported meanings. These implied references do not reflect the views of the writer, editors or anyone else at Marvel and are in direct opposition of the inclusiveness of Marvel Comics and what the X-Men have stood for since their creation. This artwork will be removed from subsequent printings, digital versions, and trade paperbacks and disciplinary action is being taken."
It's unclear whether Syaf, who is a freelance artist, will continue his working relationship with Marvel. We've reached out to Marvel to clarify what kind of disciplinary action will be taken.
[Comicbook.com via Reddit]
Clarification: Article cited date of main protest as Dec. 12 instead of Dec. 2, this has been corrected.
Update: Syaf has posted a statement to his Facebook page, which begins "My career is over now. It's the consequence [of] what I did, and I take it." [Newsarama]
Update (4.12.17): Marvel announced that the company has terminated Syaf's contract, effective immediately, though the work he already did for the second and third issues of X-Men Gold will still be released (though I imagine it's being heavily scrutinized). Here's the statement in full:
[Comic Book Resources]
Marvel has terminated Ardian Syaf's contract effective immediately. X-Men Gold #2 and #3 featuring his work have already been sent to the printer and will continue to ship bi-weekly. Issues #4, #5, and #6 will be drawn by R. B. Silva and issues #7, #8, and #9 will be drawn by Ken Lashley. A permanent replacement artist will be assigned to X-Men Gold in the coming weeks.