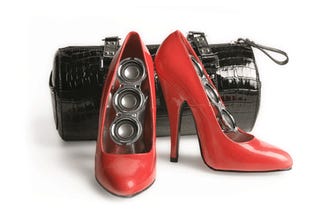 Jacob Mathew is a designer with a Vision: to not only fit speakers around/in all parts of your lifestyle, but to utilize these speakers in the art of massage. So he opened Soundsations, a "spa created to provide the music massage experience".
Here is a gallery of his Mathew Audio Collection. I generally prefer my massage with actual massage and my wine with actual wine, along with my hearing with functional hearing. But speakers in my stilettos? Bring it.
Gallery Home [Jacob Matthew]
Thanks Jacob!