"This time we mean it" was the last declaration Google made about their plans to open an eBook store, set to launch before then end of 2009. And hey, it looks like they did! Well, except for that 2009 part.
Google's come forth with a few more details about how their store, called "Google Editions" and now slated for the first half of 2010, will work. It'll open with a staggering 400,000 to 600,000 books to Amazon's 330,000 and Sony's 100,000 (though the latter is supplemented by nearly a million public domain books, courtesy of Google, of all companies). 55% of the fees, which will be set by publishers—Google's already got 30,000 partnerships in place, evidently—will be skimmed off the top, then given to retail partners. If this sounds weird, that's because it is—Google Editions isn't quite like the Kindle store in one major way. From Google 's Tom Turvey:
Google Editions allows retail partners to sell their books, especially those who haven't invested in a digital platform," he said. "We expect the majority (of customers) will go to retail partners not to Google. We are a wholesaler, a book distributor.
Another way it's not the Kindle store? From the sounds of it—and inline with what he heard before—it's a browser-based shop:
The books bought from Google, and its partners, would be accessible on any gadget that has a Web browser, including smartphones, netbooks and personal computers and laptops. A book would be accessible offline after the first time it was accessed.
G/O Media may get a commission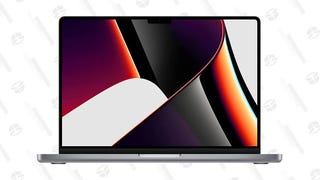 Save $300
2021 14" 1TB MacBook Pro
In-browser book buying with Google Gears support sounds like a nice feature to add to a book store, but what about the basics? ePub? PDF? I mean, they've got to be planning on including some kind of eBook format support, but they haven't mentioned any at all.
Perhaps the announcement of a certain Google Android-powered, dual-screen eBook reader would be a good chance to clarify. [AP]