It's a renaissance out there and 21st century artists have better be prepared. Whether your loved ones are aspiring creative professionals or just wanting to take the baby steps into digital art world, you'll find the tools for them here.
1. Adobe Photoshop CS5 Extended, $333: This is one of the most powerful tools out there and its capabilities are near endless. Whether your artist wants to get rid of planet-sized pimples, photobomb a picture with cigar guy, create an elaborate digital painting, or really anything his or her heart desires—Photoshop can do it all. [Newegg]

2. Corel Painter 11, $79: If your artistic pal's only intention is digital painting, take the cheaper and more focused route with Corel Painter 11. For the traditional artist moving digital, the toolset is perfect. Natural media brushes can have him or her drawing in believable charcoal, pencil, oils, acrylics, and even things as organic as watercolors— all without the aftermath of paint-stained jeans. [Amazon]

G/O Media may get a commission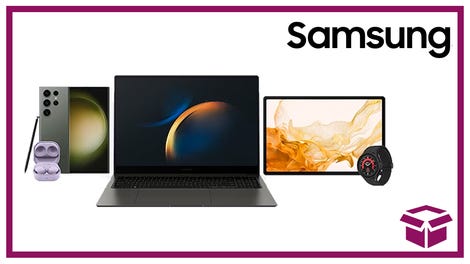 24 hour deals
Discover Samsung - Daily Deal
3. Wacom Intuos 4 Tablet (Wireless), $349: Wacom tablets are foreign tools to many people, but the moment they use one they will be overcome with feelings of regret for all those mouse-filled moments. They'll suddenly be able to control their computers with steady kung-fu accuracy as hundreds of programs are optimized for unlocking the tablet's potential in full with pressure, angle, tilt, and rotation sensitivity. This is a must have for anyone serious about digital art. [Buy]

4. Wacom Cintiq 21UX, $1,999: This is the mac daddy of the digital art world. A 21-inch digital easel with a sturdy metallic adjustable base, ergonomic hotkeys, and unprecedented control—it takes the technology of the intuos 4 but adds in the conventions of a touch screen to provide the most intimate interaction possible with a computer. Be sure to get your artist some glass wipes as he'll be drooling all over this magnificent beast of a machine. [Amazon]

Click image for full product details.
5. A Mac? Or a PC?, $-$$$: Let your budget and your dear artists OS preference guide you here, but know that all of the great software and accessories run flawlessly on both systems these days—so long as the systems are powerful enough. With Photoshop now supporting OpenGL and being optimized with its own 64-bit version, a powerful computer makes a world of difference. When going the PC route, definitely sacrifice convenience for price and buy parts to build rather than going for pre-built models—you'll wind up with a Mac Pro's power (or better) for less than half the price if you play your cards right. Fortunately for you, I have taken the liberty to play the right cards. Check out the break down in the image above. [Apple; Newegg]

6. iPad, $499-829: The iPad doesn't quite have the power or depth of a Wacom tablet and Photoshop but it is a slick and simple device that makes for the ultimate digital sketchbook. Ultra-portable and disguised as something people might actually use for work, iPads have a plethora of drawing apps. And nothing hones a person's drawing skills quite like sketchily (pun intended) drawing the old man sitting across from him in Starbucks. [Apple]

7. A Sketchbook, $20: Alright, no matter how tech-savvy and progressive someone may be, there's nothing quite like a nice personal sketchbook. People often roll their eyes at "green" products but sketchbooks are an instance I actually think offers a better recycled product even if your conscience doesn't need clearing. This brown recycled paper sketchbook offers a great surface and is a little less intimidating than the stark white void of normal paper. [Amazon]

8. Drawing Pencils, $9: To go along with that lovely new sketchbook be sure to pick up your artist friend a set of drawing pencils. Staedtler makes some damn fine drawing utensils and a set of twelve certainly won't break the bank. [Dick Blick]

The burning sensation that comes from holiday shopping isn't from rubbing against the unwashed masses at malls: It's trying to pick out presents for everybody on your list. Gizmodo's daily gift guides and best gadgets list are the all-natural, non-smelly cure.