Quicksilver will return for X-Men: Apocalypse. The IT remake changes studios. The cast of Arrow teases season three. And tons of news from The Vampire Diaries, Sleepy Hollow, and Person of Interest. Spoilers now!
Top image: Doctor Who
X-Men: Apocalypse
In an interview with Total Film, writer Simon Kinberg said that Quicksilver would "absolutely be back for the next X-Men movie." See the video below.
---
Sin City: A Dame to Kill For
Speaking with Entertainment Weekly, Jessica Alba talks about how her character, Nancy Callahan, has changed between the original movie and the sequel:
She was more naive in the first film. Ignorance was bliss. In this one there's no bliss and no ignorance. I wanted her to transition from being a victim to being someone who's in control of her own story. Sex is absolutely what helps sell this movie, which is fine by me.
[via Coming Soon]
---
IT
The movie re-adaptation of Stephen King's It has spent five years in development at Warner Bros., but is now moving out of the main Warner Bros. studio to its New Line Division. Apparently, Warner is trying to draw lines between what kinds of films the different divisions will produce, and New Line is being given the lead on horror. [The Hollywood Reporter]
G/O Media may get a commission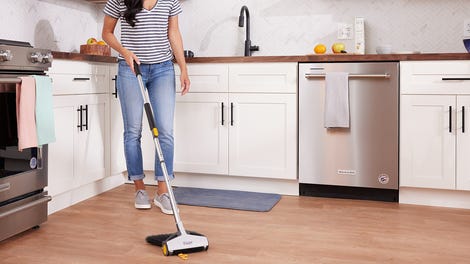 BOGO 50% Off
Flippr - BOGO 50% Off
---
Ninjago
The LEGO Movie spinoff is set to be released September 23, 2016. The director will be Tron: Uprising's Charlie Bean. Said Warner's domestic distribution president Dan Fellman:
Following the huge success of The Lego Movie, we are very excited to build on the Lego franchise. We know there are already Ninjago collectors who can't wait to see their favorite characters on the big screen. This promises to be a terrifically fun and thrilling entry into our Fall 2016 slate, with broad audience appeal.
[Deadline]
---
Big Hero 6
Disney's animated Marvel film has a new poster, plus a sneak peek at the trailer. [Slashfilm]
---
Jupiter Ascending
Here's an international trailer:
---
How to Train Your Dragon 2
Here's a "Dragon Races" featurette:
---
Doctor Who
At the Calgary Expo, Matt Smith declared his desire to return to Doctor Who:
I love the idea of other Doctors coming back. Also that gives me the opportunity to come back, which I totally will by the way! I'm just waiting for the next anniversary. I spoke to Steven the other day and said, 'What's the quickest one we can do?'
[DoctorWhoTV via Den of Geek]
There are a ton of set photos from the filming at the dunes at Port Talbot, and they show Peter Capaldi and Jenna Coleman in the orange spacesuits from The Impossible Planet, The Waters of Mars and Hide. Guest star Hermione Norris is also in the photos, distinguished by her grey spacesuit. Some of the photos posted to Port Talbot Old and New are here. And photos by Steven Price here. [Blogtor Who; Life, Doctor Who, and Combom]
---
Arrow
After last week's finale, TV Line got a few answers about what's up next for season 3 from the cast. Stephen Amell knows, but won't identify, season 3's big villain. But he did say that whoever it is wouldn't be "omnipresent" the way Slade Wilson was. He added that "It's going to be a little bit different than in Season 2."
As for Malcolm Merlyn and Thea, recently-promoted-to-regular John Barrowman said that "He's got to train [Thea] to be a powerhouse, to be a tough bitch. She's tough now, but she's got to be tougher."
And what about the hints that Laurel will follow in her sister's (and comic book counterpart's) footsteps and take over as Canary? Katie Cassidy merely says: "I do think the torch has been passed. I get that feeling, and I think everybody else gets that feeling," [TV Line]
EP Marc Guggenheim says that season three is themed around "rebuilding" and "Getting Queen Consolidated back is a piece of it." [TV Line]
---
Once Upon a Time
Executive producer Adam Horowitz is keeping quiet about whatever role Will Scarlet will have when he moves from the cancelled spinoff to the original Once Upon a Time:
It's too early for us to tease, but we think Michael is a fabulous actor and we have a way for him to fit into our group that's fun. He'll bring a new vibe and color to the show.
[TV Line]
---
Teen Wolf
Despite photos of Colton Haynes back on the set, it seems that he was just visiting friends and there are no plans for Jackson to return. [TV Line]
---
The Originals
Pheobe Tonkin is really excited for Hayley-as-a-hybrid:
I'm so excited, they've already fitted me for fangs. I've always wanted to play a vampire, so I couldn't be more thrilled.

It'll be interesting to see who she strikes up relationships with during this journey. Maybe she and Klaus could form an unexpected friendship.
[TV Line]
---
The Vampire Diaries
Nina Dobrev says she thinks Elena will figure out a way to be fine with Caroline's feelings for Stefan, saying:
It's going to be a little awkward, but let's be real, who is Elena to judge? She dated a brother, then dated his brother, then went back and forth. She can't say anything. She has no right.
[TV Line]
The loss of Damon also going to be a long journey for Stefan. Executive producer Julie Plec says that it's a "character-defining moment" and it will change Stefan "quite a lot." She went on to say that Stefan will confront the question of "At what point does he decide to give up or keep searching for answers?" [TV Guide]
---
The 100
Bob Morley says the action will continue to ramp up, while also saying that a Bellamy/Clarke romance isn't in the cards — at least yet:
A lot of people will search for that [element between the frenemies]. And it's there, but its not the ultimate goal for Bellamy. Survival is more important than romance.
[TV Line]
---
Agents of SHIELD
In addition to Triplett hanging around for season 2, there will also be fall out from Fitz's confession to Simmons. Says EP Jeffrey Bell:
Clearly, any time one person says something and a person doesn't reciprocate, it changes things. It's safe to say there will be consequences.
[TV Guide]
---
Sleepy Hollow
Season 2 will have Katrina shedding light on what the Horseman wants, along with flashbacks to Jeremy's life before we met him in season 1. [TV Guide]
---
Person of Interest
Jonathan Nolan previewed next season, with everyone having to go into hiding as normal people with regular jobs:
Now you've got to be Clark Kent — you've got to be the regular guy. Shaw's going to have a day job and co-workers, and so are Reese and Finch. That can be great fun and [is] also a grounded aspect of the show versus this titanic battle taking place around them.

Our Machine's in a lot of trouble. Samaritan's the bigger, tougher kid on the block. Root is going to be key to keeping our team alive and [focusing] on the question of how they put the genie back in the bottle.
[TV Guide]
---
Under the Dome
The new character played by Grace Victoria Cox will appear out of thin air and in the lake, where Julia is forced to rescue her. Executive producer Neal Baer says why she was in the water and what she was doing there will be revealed. [TV Guide]
---
iZombie
The show is recasting Peyton, who had been played by Alexandra Krosney. Peyton is the best friend of protagonist and med-student-turned-zombie, Liv. [Deadline]
---
Falling Skies
Here are the descriptions of the first three episodes of season 4:
Season premiere "Ghost in the Machine" (directed by Greg Beeman and written by David Eick, airs June 22): "On the outskirts of Charleston, just steps away from perceived safety, The Mason Clan and the remaining 2nd Mass suddenly find themselves under brutal attack by a new Espheni war machine – and a new, deadly creation unlike anything previously encountered. Divided like chattel and spread to the winds, The Masons must each forge new relationships and abilities to survive. Treva Etienne guest-stars."

"The Eye" (directed by Sergio Mimica-Gezzan and written by Carol Barbee, airs June 29): "The Espheni reveal their new plan to Tom, and he is faced with an impossible decision. Meanwhile, Weaver and Pope investigate a way out of the Espheni prison, while Matt struggles to hide his true allegiance from the "Team Leaders" at the Espheni Youth Camp. Elsewhere, Anne leads an exhausting search for her daughter Lexi, while Ben's concerns about Lexi's increasing powers uncovers a devastating secret she's been keeping. Treva Etienne and Robert Sean Leonard guest-star."

"Exodus" (directed by Mikael Salomon and written by Josh Pate, airs July 6): "Tom and the 2nd Mass hatch an elaborate plan to escape the confines of the Espheni Ghetto. Meanwhile back in Chinatown, after learning from Ben that Lexi has been keeping a deadly secret, Maggie confronts Lexi publicly. At the Espheni Youth Camp, Matt tries to talk Mira out of a dangerous escape plan. While trekking through the woods with her guerilla fighters, Anne has a flashback to her time in the Espheni Tower with Karen (guest star Jessy Schram), where a terrifying secret about Lexi is revealed. Treva Etienne guest-stars."
And here are some promos:
---
Salem
Go here for photos from episode 1.06, "The Red Rose and the Briar." [SpoilerTV]
Additional reporting by Charlie Jane Anders and Ryan Plummer