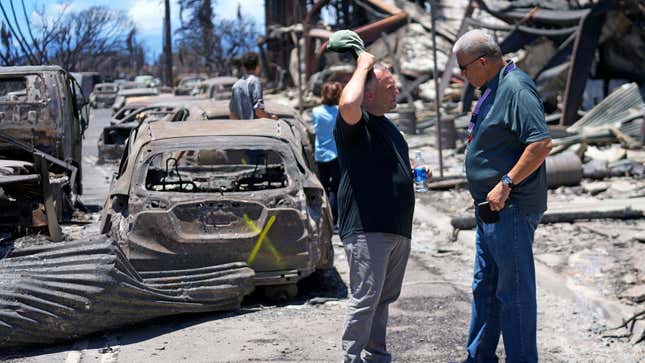 The devastating wildfires that have destroyed homes have now officially killed almost 100 people. The official reported death toll last Wednesday was 6 people. By Friday the count had risen to 55 dead. As of today, official reports say that 96 people have died.
The county estimates that about 4,500 people in West Maui are in need of shelter because of the extensive damage, the Associated Press reported. Residents are also struggling to keep the lights on. Sometime last week, over 14,000 customers were without power. Since then, some power has been restored to the area and a little under 4,500 are in the dark this morning, according to Poweroutage.us.
In addition to wildfire damage, and outages, tap water in many of the fire-affected areas in Maui is unsafe to drink. According to the County of Maui, local water is unsafe for a variety of daily uses. "Bottled water should be used for all drinking, brushing teeth, ice making and food preparation until further notice. Residents are unable to treat the water in any way to make it safe," a statement on the county's website read.
As of today, some of the smaller wildfires in Maui have been extinguished. Firefighting crews are still on the ground near fires that have yet to be fully contained including the Upcountry Kula fire wildfire, according to the County of Maui website.
Videos uploaded to Twitter show how residents have returned to homes that have almost entirely burned to the ground:
Other casualties of this fire include important historical sites that have been important to local communities for hundreds of years. This includes Waiola Church, which was established in the early 1820s and celebrated its 200-year anniversary earlier this year. The site is also the final resting place for members of the Kingdom of Hawaii's royal family.
Longtime residents and Hawaii natives worry that the fires could push them out permanently. The islands have become increasingly expensive and gentrified over the years as wealthy newcomers have purchased properties and increased housing costs. Longtime residents who have lost businesses and homes may not be able to afford to purchase a new home in Maui and may struggle to stay in the area. Hawaii Governor Josh Green told the Associated Press that he would work to keep Lahaina and overall West Maui affordable to longtime residents.
"We don't want it to be another example of people being priced out of paradise," he said, according to the Associated Press.
See photos of the aftermath of the fires and volunteer efforts in Hawaii:
Want more climate and environment stories? Check out Earther's guides to decarbonizing your home, divesting from fossil fuels, packing a disaster go bag, and overcoming climate dread. And don't miss our coverage of the latest IPCC climate report, the future of carbon dioxide removal, and the un-greenwashed facts on bioplastics and plastic recycling.