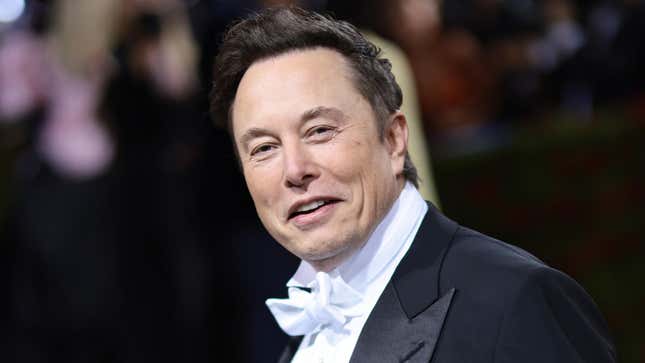 The Chief Marketing and Customer Experience Officer for McDonald's reportedly told other advertising heavyweights that Elon Musk's relentless shitposting in the name of free speech "is perpetuating racism." The Mickey D's exec is also concerned about the general chaos the Twitter CEO has caused and the threat he poses to the fast food chain's brand. The statements were made ahead of a major marketing conference next week where Musk will try to convince rapidly fleeing advertisers to return to Twitter. He's facing an uphill battle.
The Elon Musk Twitter Saga, Part 1 of Who Knows?
"For many communities, his [Musk's] willingness to leverage success and personal financial resources to further an agenda under the guise of freedom of speech is perpetuating racism resulting [in] direct threats to their communities and a potential for brand safety compromise we should all be concerned about," Tariq Hassan wrote in a leaked email exchange revealed by Semafor. "Further, all of us who lead our brand's investments across platforms were required to navigate a situation post-acquisition that objectively can only be characterized as ranging from chaos to moments of irresponsibility."
The leaked email thread included executives from McDonald's, Colgate-Palmolive, and the Albertsons grocery chain. Those executives are board members of MMA Global, the organization hosting next week's "Possible" conference. Colgate-Palmolive vice president and general manager of consumer experience Diana Haussling echoed some of Hassan's sentiments and expressed concerns about the "harmful and often racist rhetoric of Elon Musk."
"While I am a huge supporter of free speech and enterprise we can not ignore the impact of such hate speech," Haussling wrote. "I especially can't ignore it as a black woman."
Kristi Argyilan, Albertsons senior vice president of retail media, meanwhile, expressed concerns unhinged antics or statements by Musk at the conference could reflect poorly on the group's reputation. Twitter's VP of global sales and marketing, who was also on the email thread, didn't defend Musk and instead proposed each of the executives meet with her boss individually.
McDonald's, Colgate-Palmolive and Albertsons did not immediately respond to Gizmodo's requests for comment.
Elon and Twitter desperately needs advertisers
The advertisers' concerned messages couldn't come at a worse time for Musk and Twitter. Data shared with CNN earlier this year by SensorTower shows Twitter has 625 of the top 1,000 advertisers it had prior to Musk's takeover in September. That massive exodus reportedly resulted in a 60% decline in Twitter's monthly revenue from advertisers between October 2022 and the end of January. Advertisers have faced pressure from dozens of civil society organizations who called on them to cut ties with Twitter due over Musk's change to the site.
Musk badly needs to make amends with advertisers, especially given the lackluster reception to the company's mostly useless Twitter Blue subscription offering. The company reported holds around $13 billion in debt, which it began paying off in January.