Tuesday at CinemaCon kicked off with STX Entertainment, a company you may not have heard of, but you will. They released several small movies recently (including The Gift, The Boy and Hardcore Henry). And they gave us our first look at a very enticing 2016 slate, including a film called The Space Between Us.

Directed by Peter Chelsom (Serendipity) the film stars Asa Butterfield (Hugo, Ender's Game) as the first human being not born on Earth. He's the son of an astronaut who is part of the first efforts to colonize Mars, literally making him a Martian. For 15 years, NASA keeps him a secret from the world—but then he grows up, and realizes that Earth is something that's foreign to him.
In this time, he meets a girl online, played by Britt Robertson (Tomorrowland) and they quickly become friends. Some of the adults in charge of Asa's character (played by actors like Gary Oldman, B.D. Wong and Carla Gugino) realize that being born in space has made him fragile. Think Superman in reverse. Coming to Earth may kill him, but he wants to come back anyway.
The Space Between Us will be released sometime later this year. There isn't a trailer online yet, but STX debuted one at CinemaCon. Most of it starts with the set up I just mentioned. A near future where humans are ready to live on Mars, a boy is born on the trip there, and grows up on the Red Planet.
G/O Media may get a commission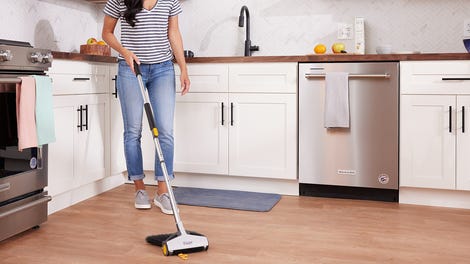 BOGO 50% Off
Flippr - BOGO 50% Off
From there, the trailer becomes more than a story about this human boy born on Mars. It's about him coming to Earth and discovering, at the age of 16, what it means to be an Earthling. Driving down the road, seeing hot air balloons, flying in a plane. He asks someone what his favorite part of being on Earth is. The gentleman responds, "Rain." Cut to a scene of it raining.
Also, the character escapes from captivity on Earth and goes on the run. NASA and the government are going after him but he goes looking for his one friend, Robertson's character, and they strike up a romance. He tells her he's from Mars, but she doesn't believe him. Later in the trailer when he's sick because of simply being on Earth, she believes him. The trailer ends with the girl telling the boy that her favorite thing about being on Earth is him.
The trailer for The Space Between Us makes it look like a space movie, a romance, a teen drama, a chase film and more all rolled into one. It also includes what, I think, are some major spoilers so it'll be interesting to see if this is the same trailer that gets released in the coming months. Either way, this could be a film to watch out for.