Emmanuelle wears a cyber-headset that lets her control someone else's body, so of course she uses it to turn a piano-player into her sex-puppet. Writer-director Rolfe Kanefsky's softcore porn films include mind-control, alien sex toys... and the invisible man. There's a whole subculture of scifi pervs for whom LA-based Kanefsky is their cinematic god, and we've got a bevy of his most perverted scenes below. Not safe for work, unless you work naked.
Rolfe Kanefsky is probably best known for his script Blonde And Blonder, which got made into a movie starring Pamela Anderson. He's also written (and in some cases directed) a ton of truly bizarre horror films, including Jacqueline Hyde (featuring one of the weirdest breast-enlargement scenes ever), Corpses (with Jeff Fahey), The Hazing (with Brad Dourif), and There's Nothing Out There. But along the way, he's found time to work on a huge number of scifi movies, and a whole community of perverted nerds worship him for it. On with the pr0n:
Here's a second clip from Emmanuelle: The Ultimate Attraction. Emmanuelle still has the headset that allows her to control the body of anyone who wears the matching necklace. (Kanefsky explained on the Erotic Mind Control Forum that the headband/necklace thing was originally intended to be a sort of Being John Malkovich riff.)
But now, being the wild experimenter that she is, she's decided to wear both the headset and necklace - creating an unstoppable feedback loop that somehow lets her absorb all the erotic energy from people around her. Yes. It gets better. So, suffused with all this pent-up ambient orgone stuff, she decides to have sex with her boy-toy, but that doesn't solve her problem. So she decides to download her sexual energy into the Internet. And because she downloads it via "an open signal," it goes everywhere, all over the world, driving everyone within reach of a net-connected computer into a sexual frenzy. The ensuing sexy global screw-montage (including stock footage from other Kanefsky classics) goes on for several minutes, but here's a bit of it:

One of the great things about the Kanefsky oeuvre is that you start to notice linkages across his different films. For example, that same necklace/headband pairing from the Emmanuelle movie turn up in his teen sex comedy, Pretty Cool. A dorky teenager manages to get his uptight teacher to wear the necklace, so he can control her body as long as he wears the headband. So of course he makes her go to a pool-shooting lesbian bar and play with her breasts in the bathroom. Here's what a strict teacher looks like trying to lick both of her own nipples at once.
Another Rolfe Kanefsky softcore epic is the Rod Steele, 0014 movie, You Only Live Until You Die. It's pretty damn goofy, but honestly still much better than Octopussy or either of the Timothy Dalton Bond films. Superspy Rod Steele gets hold of a device that drives anyone into a sexual frenzy if you point it at them. For reasons too complicated to go into, he thinks it's a listening device or something. Here, his fellow spy is posing as a sex worker to get answers out of someone... until Rod accidentally hits her with the horny-ray:
And then later, two evil female spies crash into Rod's hotel room dressed as maids, and they overpower him. They want to steal some of his sperm so their evil boss Tangerina can create a perfect clone of him and control whatever Rod Steele controls. But he turns the tables with his horniness ray. (I won't spoil the ending of Rod Steele, except that his extra-giant penis is crucial in defeating Tangerina and her evil hyperative-tongued snake.)
G/O Media may get a commission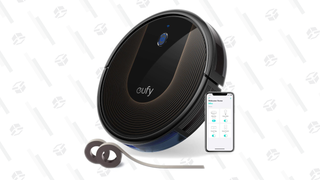 48% Off
Eufy BoostIQ RoboVac
And yes, Rolfe Kanefsky's soft-porn films borrow liberally from the erotic comics of Milo Manara, especially Click, where a remote control turns an uptight heiress crazy horny. If you got all excited when you saw Adam Sandler was making a movie called Click, and then felt let down, then Kanefsky's films are for you.
In another instance of linkage between Kanefsky films, the horny ray from Rod Steele somehow falls out of an airplane and winds up in the movie The Ultimate Attraction. It tumbles from the airplane and crashes into a gym, which is in danger of going out of business because of the big chains. (Just like the movie Dodgeball.) So the gym's enterprising employees use it to drum up business by making the gym more sexy. We already presented a fantastic clip from it here, but here's a moment where a gym bunny uses it to spice up the "orgasmic aerobics" class:
This is not really science fiction, but I have to feature a moment from Kanefsky's classic film Emmanuelle vs. Dracula. It would be hard for a movie to live up to that title, but somehow EvD succeeds. Dracula, for some reason, is a rockabilly hipster, and smoke comes out of the bottom of his pants when he uses his mind-control powers on women. (Sadly, you can't really see that in this clip.) Here he is, using his telepathic abilities to make an uptight woman orgasmic:
But we mentioned the Invisible Man, right? Another Kanefsky classic is called The Erotic Misadventures Of The Invisible Man, and it's loosely based on the Manara comic Butterscotch: The Flavor Of The Invisible. Misadventures includes so many fantastic moments that it's hard to choose just one to feature: like the scene where the invisible man beats up a mime, and everybody thinks the mime is just really talented. And the scene where the invisible man tries to spook an uptight hotel manager by convincing her the hotel is haunted, but instead he only makes her horny. But I like this scene, where the invisible man walks in on his lady friend getting happy with her pillow, and then she mimes having sex with him. (While another couple have sex wearing opera gloves. For some reason.)
Finally, there's the fantastic Sex Files: Alien Erotica II, where frequent Kanefsky star Gabriella Hall gets caught up in an alien pleasure machine (which knows how to plug itself into a standard 120-volt A.C. power socket) and it does indeed pleasure her. Yay!