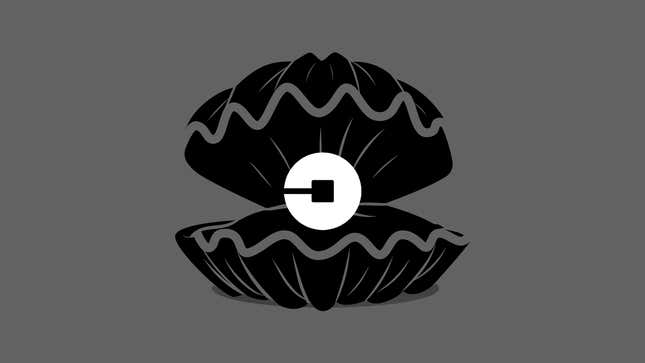 When General Motors acquired Cruise Automation in a deal worth more than $1 billion, Cruise transferred its patents directly to GM. When Google spun out its self-driving car experiment into a full-fledged company, it transferred its patents directly to its new subsidiary, Waymo. But when Uber acquired the self-driving truck startup Otto for $680 million, Otto's intellectual property got funneled to Uber through a shell company registered to do business in the Netherlands and located in Bermuda.
Caleb McLaughlin Wants to Play Static Shock
The shell company, called Apparate International C.V., appears to have been established specifically to manage the Otto acquisition. Otto transferred its patents to Uber through Apparate, and Uber has also used Apparate to move its own self-driving vehicle patents offshore. The company's name seems to be a reference to a spell invoked in the Harry Potter series that allows characters to magically and instantaneously transport themselves from one location to another. Uber said the person responsible for naming Apparate had since left the company and it could not confirm whether or not that employee was a Harry Potter fan.
"Of course, the obvious reason to have patents offshore is for tax purposes. It lets you shift profit offshore for a lower corporate tax rate. But I've had a bunch of clients who looked into the possibility of doing that and concluded it's more trouble than it's worth," said Charles Weiss, a partner at Holland & Knight who specializes in intellectual property. While companies often set up subsidiaries to manage acquisitions, Weiss added, it's less common for a company to set up a shell simply for holding its intellectual property.
A spokesperson for Uber told Gizmodo that Apparate International was formed to provide a more efficient global structure for Uber's autonomous vehicle business and, as such, Apparate functioned as the acquirer of not only Otto but of all autonomous vehicle technology purchased by Uber. Records from the US Patent and Trademark Office indicate that Apparate has not acquired patents from any companies other than Otto and Uber.
Uber and other major tech companies use C.V.s (commanditaire vennootschap, Dutch partnership companies) to reduce their US tax bills. The C.V. arrangement, often referred to as a "Dutch sandwich," allows companies like Apple and Google to shift some of their profits from heavily-taxed nations like the US to ones with friendlier tax policies, like the Netherlands. From there, the money is typically moved to the Cayman Islands or Bermuda, where tech companies can avoid corporate income tax altogether.
Like many of its peers in the tech world, Uber uses C.V.s to avoid paying high corporate tax rates. But in this case, Uber used Apparate International to acquire intellectual property that is now at the center of a lawsuit over automated vehicle technology.
When Uber announced its acquisition of Otto in August 2016, it seemed like an incredible victory for a young startup founded just eight months earlier by former Google employees.
But the acquisition has now been clouded by a lawsuit from Waymo, the self-driving car company now owned by Google's parent company Alphabet. Waymo claims that Anthony Levandowski, one of Otto's co-founders, stole 14,000 confidential files on his way out the door and then founded Otto as a smokescreen that would give Uber plausible deniability to get its hands on Google's intellectual property. (Uber vehemently denies that its acquisition of Otto was motivated by Google's tech and says that it forbade Levandowski from bringing Google documents to Uber.)
Levandowski resigned without notice from his job at Google last January. Just weeks later, on Feb. 24, 2016, Levandowski and Uber's then-CEO Travis Kalanick inked a term sheet, setting the Otto deal in motion. A due diligence investigation dragged on over the summer before the acquisition was finalized that August.
Documents Gizmodo obtained from Kamer van Koophandel, the Dutch Chamber of Commerce, show that executives from Uber and Otto established Apparate International on February 25, 2016—just one day after the Otto term sheet was signed. Like many C.V.s, Apparate is registered to do business in the Netherlands but claims to operate in Bermuda.
Uber's spokesperson said that the narrow timing of the formation of Apparate International with the signing of the Otto term sheet was merely a coincidence, part of a larger restructuring of Uber's autonomous vehicle business. However, US patent filings indicate that Apparate has never acquired intellectual property from any company other than Uber, Otto, or Otto affiliates.
Apparate International's Bermuda address is associated with Estera, an offshore management company. (Twenty-eight other companies listed in the Panama Papers are registered to the same address, indicating that Estera plays a recurring role in the management of offshore shell companies. Uber confirmed it retains Estera to manage its various C.V.s.) According to KvK documents obtained by Gizmodo this month, Apparate International had zero employees and more than $26 million in cash. An Uber spokesperson said that the $26 million value was no longer accurate. It claims to be in the business of "leasing of nonfinancial intangible assets" and "holding and financing" of patents and intellectual property.
Documents from KvK indicate that the company's management committee is filled by higher-ups in Uber's self-driving car unit, the Advanced Technologies Group, as well as Otto co-founder Lior Ron. The trustees named in KvK documents also include Jeff Holden, Uber's chief product officer; Sherif Markaby, Uber's former vice president of global vehicle programs who departed the company in April after helping jumpstart Uber's autonomous vehicle program, and Brian McClendon, a former Googler who worked as vice president of mapping at Uber during its acquisition of Otto and recently resigned.
Several executives listed in Apparate International documents did not respond to requests for comment about their roles in the shell company. McClendon told Gizmodo that he has not been an Apparate International trustee for more than a year. An Uber spokesperson said that Ron was not on the management committee when Apparate International was formed in February 2016 and only joined the committee in December after Uber's acquisition of Otto had closed. Ron is no longer on the management committee, Uber said, and its only remaining members are Rajiv Krishnarao, its director of finance and capital markets; Euan Guttridge, the technical program explorer of its autonomous vehicle unit; and Stephen Lesh, its chief engineer of vehicle programs.
Apparate International seems to have remained dormant until June 2016, when it acquired four patents from Uber. In September, a month after the Otto acquisition was announced, Apparate received two patents from Otto. And in November, Apparate received eight more patents from Uber. The patents all deal with lidar, technology that helps self-driving cars detect nearby obstacles, and other automated vehicle technology. (PatentVue first reported that Uber had acquired patents from Apparate International and provided details about the patents to Gizmodo.)
Putting their patents on a beach is one way companies save money on taxes. In these so-called "innovation box" or "patent box" schemes, companies move their intellectual property into offshore holding companies and then license the IP back to themselves. The licensing fee becomes a tax write-off in the US, while the profit generated by the IP goes to a shell company conveniently located in a country with lower corporate tax rates.
"Offshoring of ownership of IP is one of the most important tools in the corporate tax avoider's toolkit because it enables profits to be siphoned out of high tax jurisdictions to low tax jurisdictions like Ireland or the Netherlands," Ed Kleinbard, Robert C. Packard Trustee Chair in Law at the USC's Gould School of Law, told Gizmodo.
This kind of patent game has been played best by Pfizer. In its annual report on offshore tax havens used by Fortune 500 companies, the Institute on Taxation and Economic Policy notes that Pfizer hasn't reported any federal taxable income in eight years, in part because of its effort to offshore its patents. "The company can transfer patents for its drugs to a subsidiary in a low- or no-tax country. Then when the U.S. branch of Pfizer sells the drug in the U.S., it 'pays' its own offshore subsidiary high licensing fees that turn domestic profits into on-the-books losses and shifts profit overseas," ITEP reports.
Weiss, the Holland & Knight partner, explained how offshoring arrangements typically work. Say your company develops a pill that nets $100 in profit. All of that money is subject to the US corporate tax rate—at 35 percent, one of the highest in the world. But if your company transfers the patent overseas and licenses it back at a royalty of $15, your company will only pay US taxes on the remaining $85 dollars, saving you a lot of money longterm.
"I save on my US taxes and I've converted from the US rate of 35 percent to the Irish rate of 10 percent. I've now saved a boatload of taxes," Weiss explained. The sticking point as far as the Internal Revenue Service is concerned is that royalty rate—it's supposed to be a fair price, not a sweetheart deal. In order to do it right, he added, "you can't be too greedy."
In order to stop companies from using offshore shell companies to avoid taxes, ITEP recommends that the US enact policy to stop companies from moving their patents into overseas shell companies. "This common practice allows companies to legally book profits that were earned in the U.S. to the tax haven subsidiary owning the patent," ITEP writes.
Uber followed the traditional formula in transferring its patents overseas. But what Uber did next left many of the tax experts consulted by Gizmodo stumped.
Instead of leaving the patents with Apparate International in Bermuda and licensing them back to itself at a fee that could double as a tax write-off, Uber transferred the patents back to the US. Bizarrely, Uber transferred eight of its patents to Apparate International before transferring them back to Uber the very next day. The rapid-fire transfers occurred just days after Google began private arbitration proceedings against Levandowski, claiming he used confidential salary information to recruit Google employees to work at Otto.
An Uber spokesperson said the sudden transfers of its patents were arranged during modifications to its corporate structure and to simplify the filing of foreign patent applications. The transfers separated the economic and legal interests represented by the patents, allowing Uber to legally control its autonomous vehicle IP while leaving the potential economic boon it could generate offshore. Uber declined to comment on the expected tax benefits of sheltering its self-driving patents in Bermuda.
But tax experts said that offshoring patents for self-driving car technology, which is years away from commercial use, is a savvy tax scheme likely intended to maximize Uber's eventual profit once autonomous vehicles finally hit the market. Uber anticipates that, over time, its autonomous vehicle project will become a vital part of its business model. Kalanick has described self-driving cars as "existential" to Uber's survival.
Remember that royalty fee Weiss described? The IRS determines whether it's fair based on the royalty costs of other similar technologies. But the value of new technology like self-driving cars is still speculative—which means that Uber may get to set generous royalty rates for itself.
"The products don't exist today; they won't exist tomorrow; they may not exist five years from now and they may not exist ever. So the value of these patents today in terms of transfer price can be relatively low," Weiss said. "If the product takes off and it's wildly successful, a lot of money changes hands."
Uber's dealings with Apparate are now the subject of scrutiny in Waymo's lawsuit, as Waymo tries to definitively prove that Levandowski stole its trade secrets and transferred them to Uber.
Waymo is seeking to uncover details about Uber's dealings with Apparate International. In subpoenas issued to Levandowski and to Stroz Friedberg, a firm Uber hired to conduct due diligence on Otto during the acquisition process, Waymo has sought "all documents and communications regarding your ownership of, relationship to, and/or involvement" with Apparate International. A judge ruled that Levandowski, who has asserted his Fifth Amendment rights against self-incrimination in the case, doesn't have to turn over the documents. Stroz Friedberg is fighting Waymo's subpoena. Uber's spokesperson said the company was not aware of any Apparate International documents being shared with Stroz Friedberg.
Levandowski's history of getting involved in mysterious side projects during his time as a Google employee might have given Waymo reason to worry that its intellectual property was being laundered through a shell company.
Google started worrying about Levandowski's careless attitude towards trade secrets began in 2013, when a supplier tipped off Google that it had received an order for a custom part that looked suspiciously similar to Google's own. The order came from Odin Wave, a company registered by Levandowski's personal lawyer and managed by one of his close friends, Ognen Stojanovski. (Levandowski denied any connection to Odin Wave, according to court filings). Odin Wave changed its name to Tyto Lidar in 2014.
Levandowski formed the company that would become Otto on January 15, 2016, weeks before he resigned without notice from Google. Uber says that it initially considered licensing technology from Otto before deciding to purchase the startup outright.
Otto bought Tyto in May 2016, after its acquisition talks with Uber were already underway. Once Otto owned the company Google had long believed was associated with Levandowski, it started accumulating Tyto's patents.
Otto collected the patents from Odin Wave and Tyto, occasionally passing them through Pouch Holdings, an LLC registered to Stojanovski. The patents were transferred from Otto to Apparate in mid-September 2016, and then transferred again in November, this time to Uber. Uber declined to comment on Levandowski's history with Odin Wave and Tyto.
More details about Uber's involvement with Otto and Appparate are expected to come to light as the case progresses towards an October trial.