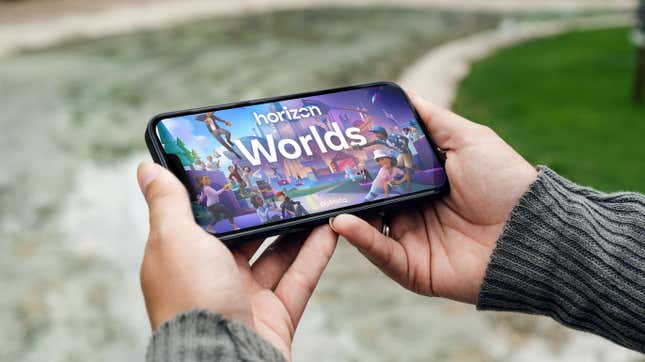 After reports revealed that Meta was planning on opening Horizon Worlds to teens, two democratic senators are now encouraging the company to reconsider. Meta's virtual reality video game platform is currently 18+, but internal documents previously indicated that Meta was planning on enticing kids to join in on the fun(?), probably to bolster its wavering user base.

In a letter addressed to Mark Zuckerberg, which was dated yesterday but announced today, Massachusetts Senator Edward J. Markey and Connecticut Senator Richard Blumenthal expressed concern over Meta's reported plans to open up the user base of Horizon World to users as young as 13 years old. The senators' concerns run the gamut of teen users experiencing bullying and harassment on Horizon Worlds, suffering from eye strain and nausea, and how Meta may be collecting underage users' data.
"Inviting young teens into this environment, therefore, poses serious risks," Markey and Blumenthal write. "As our constituents grow increasingly concerned about the effects of online platforms and social media apps on teens' well-being, your plans to imminently pull these young people into an under-researched, potentially dangerous virtual realm with consequences for their physical and mental health is unacceptable."
Markey and Blumenthal cast further doubt on Meta's ability to protect young users, citing an exploit in Facebook's Messenger Kids app, which allowed underage users to talk to strangers. The senators also cite a report from The Wall Street Journal that claims Meta was aware of just how impressionable teen users on Instagram were, with internal research revealing that 32% of teen girls reported that Instagram made them feel worse about their bodies. Markey and Blumenthal write that Meta has a "documented track record of failure to protect children and teens."
Meta did not immediately return Gizmodo's request for comment on the letter.
Earlier this month, The Wall Street Journal reported on an internal Meta memo, which reportedly outlined plans to revamp Horizon Worlds, including opening the platform up to users age 13 to 17. Horizon Worlds was previously only available to those 18 or older, and the extension into teen territory could happen as soon as March. While not confirmed, this effort is likely an attempt to fix Horizon World's user retention problem.
Last February, Horizon Worlds hit 300,000 users, a reported ten-fold increase in around three months. The company's initial goal was to hit 500,000 monthly active users, which was then revised to 280,000. However, Horizon Worlds eventually fell to 200,000 users, with internal documents indicating that most users fail to return to the platform after a month—when the novelty has mostly worn off.