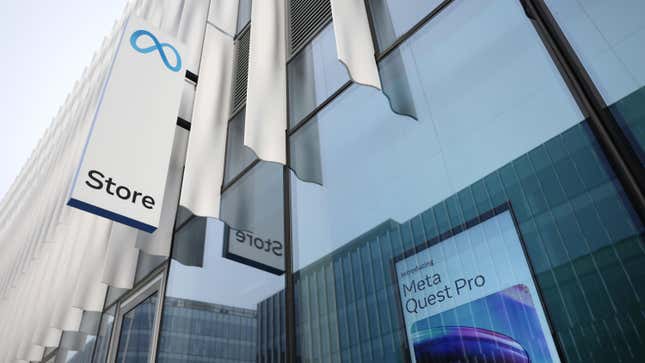 Meta has once again taken up the scythe and struck a wide swathe of staff from its field of developers. The first in what's expected to be a total of 10,000 job cuts at the company is expected to impact teams for Facebook, WhatsApp, Instagram, and in the company's Reality Labs division working on its virtual reality tech. However, CEO Mark Zuckerberg's "year of efficiency" layoffs have also hit members of Meta's gaming studios working on VR titles.
Making the Facebook Papers Public
Meta owns nine separate game studios, having acquired four late last year. Staff at two of those studios, Ready at Dawn and Downpour Interactive, have already hinted that Meta is in the middle of reducing headcounts. Colin McInerney, a designer at Ready at Dawn, tweeted Wednesday that he and many others at the game studio received the boot. Daan van Zelst, a level designer at Downpour, also hinted that there were major cuts happening at the studio. Other members of the Downpour team also hinted at Wednesday being "the toughest day" of their careers.
Reports from Tuesday hinted that Meta wasn't going to target its game studios with layoffs, but as evidenced by now-fired staff that wasn't the case. Business Insider previously reported that the gaming section of Reality Labs was getting even more attention and resources. According to three anonymous sources, while the games studios were "safe," the cuts were supposed to hit other teams working on Facebook and in the RL division.
Bloomberg reported based on an internal memo that the cuts were going to impact its social media apps as well as Reality Labs. This initial set of 4,000 cuts is just the first part of Meta's second round of massive layoffs since last year. Zuckerberg previously promised the company wouldn't need more cuts after its initial 11,000 job cuts last November. Zuckerberg's previous statement about the layoffs mentioned there would be cuts in April and May. Insider's sources said the next round of layoffs could take place on May 22.
As part of these layoffs, Meta is also reportedly planning to relocate all its Instagram staff based in London. According to Bloomberg citing an anonymous source, Instagram chief Adam Mosseri is relocating back to the U.S. after he moved to the UK last year, and he's taking all the staff not laid off Wednesday with him. The full move reportedly won't take place until the company consults with the UK government.
Meta declined to comment on these ongoing layoffs.
Downpour is the studio working on Onward, a VR first-person military simulator. Meta, then Facebook, acquired the company back in 2021. The studio released its 1.10 update for Onward this past February. Ready at Dawn worked on Echo VR, an arena sports-styled game. In February, Meta announced Echo VR's servers would shut down this coming August, with Meta's Chief Technology Officer Andrew Bosworth citing dwindling player counts.
The memo cited by Bloomberg mentions that those remaining on these decimated teams will be reassigned. While Meta isn't the first big tech company to massively reduce headcounts over the past few months, its recent flip-flopping from focusing on its "metaverse" initiatives to artificial intelligence has put a major onus on the Reality Labs division. Bosworth recently told Nikkei Asia that the company is working more on the "commercialization" of AI this year.
Update 04/19/23 at 1:25 p.m.: This post was updated to include Meta declining to comment and more information about a planned relocation of London-based Instagram staff.
---
This article is part of a developing story. Our writers and editors will be updating this page as new information is released. Please check back again in a few minutes to see the latest updates. Meanwhile, if you want more news coverage, check out our tech, science, or io9 front pages. And you can always see the most recent Gizmodo news stories at gizmodo.com/latest.