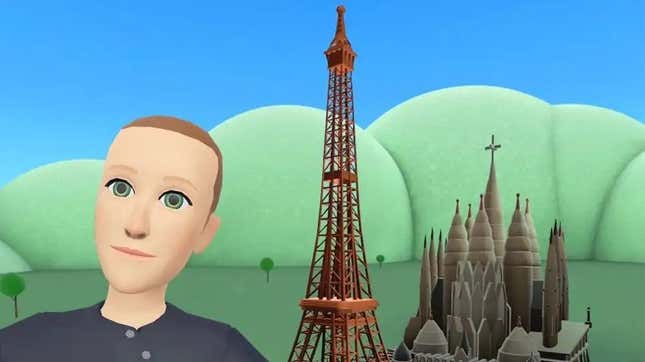 With the rise and proliferation of advanced, large language model chatbots like OpenAI's ChatGPT, everyone and their mother seems to be talking about AI. Tech companies from Microsoft to Google to Amazon to Snapchat to LinkedIn are either rushing to create their own, comparable text-generating tech or incorporating ChatGPT into their products. Meta, the parent company of Facebook, Instagram, and WhatsApp is no exception.

Mark Zuckerberg's tech behemoth released its own research-focused, large language model last month. Just days later, the company announced it would soon be incorporating AI into its consumer-facing products. Now, the CEO has stated that AI won't just be a facet of Meta's work going forward, it will be the focus. Meta will be moving its primary goalposts from filling up a sparsely populated virtual world into the increasingly crowded terrain of generative AI.
Under Zuckerberg's so-called "year of efficiency" company-wide reorganization, Meta's "single largest investment is in advancing AI and building it into every one of our products," he wrote in an official update released Tuesday. "We have the infrastructure to do this at unprecedented scale and I think the experiences it enables will be amazing," he added. The announcement came in the same letter in which the CEO confirmed Meta would be cutting 10,000 of its employees.
For the past few years, the biggest chunk of the company's research and development spending outside its direct family of apps has been in its unsettling and uninspiring virtual reality sector. Meta's expensive VR headset line and VR game platform/Second Life-dupe, Horizon Worlds, have taken priority and execs have hyped them as the company's future.
G/O Media may get a commission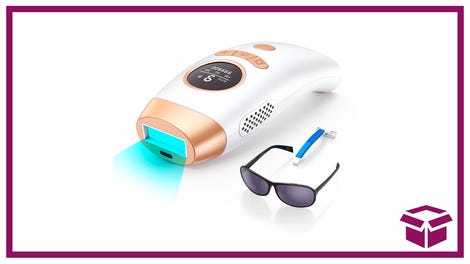 58% Off + Coupon
IPL Hair Removal Device
In the not-too-distant-past, Zuckerberg has made sweeping claims about its VR. Just a couple of months ago, the CEO said the metaverse would somehow become "as important as smartphones." He's also pitched the VR tech as the future of work, though employees who've been forced into it don't seem to like it very much. In 2021, Meta went on a hiring spree, bringing on thousands of employees to build out its virtual reality offerings. The company's 2022 year end financial report revealed that it has been spending more than $1 billion per month on its metaverse and other VR work.
Now though, that balance seems liable to shift. In a way, Meta has effectively said: 'Friendship ended with metaverse, now AI is my best friend.' Though, the company has claimed it won't be abandoning its virtual reality projects entirely. "Our leading work building the metaverse and shaping the next generation of computing platforms also remains central," Zuckerberg wrote in the Tuesday letter.

However, if "efficiency" is truly the aim (and if it wants to appease its investors), the company will likely have to cut back on VR spending to make room for its newly central AI mission. Though maybe there's room to grow AI and VR together. Potentially, with a generative AI push, Horizon Worlds could finally, actually get legs.
Want to know more about AI, chatbots, and the future of machine learning? Check out our full coverage of artificial intelligence, or browse our guides to The Best Free AI Art Generators and Everything We Know About OpenAI's ChatGPT.