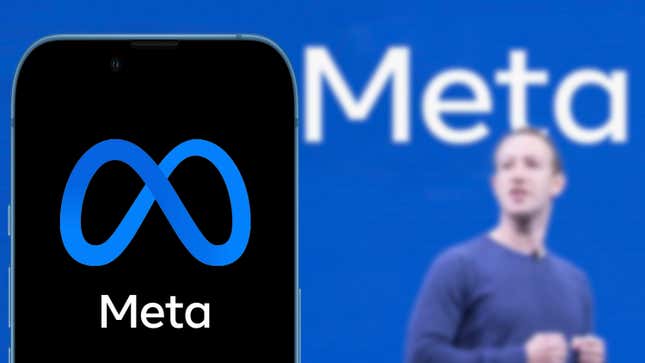 It seems like just yesterday that Meta was emphasizing the importance of slow and responsible AI development, and rolling out its large language model only to eligible researchers. But actually it was Friday. Now, just four days later, the company has seemingly abandoned the "AI for researchers alone" tack and outlined plans to integrate generative artificial intelligence across its platforms.

Hey Google, Where Did My Watch's Battery Life Go?
Mark Zuckerberg says AI will soon be coming to WhatsApp, Messenger, Instagram, and Meta's other various social media services. The tech CEO announced the creation of a new team, focused on bringing generative AI into the fold and "building delightful experiences around this technology into all of our different products," in a Monday afternoon Facebook post.
"We're creating a new top-level product group at Meta focused on generative AI to turbocharge our work in this area," Zuckerberg wrote. "We're starting by pulling together a lot of the teams working on generative AI across the company into one group."

From Instagram filters to advertisements to video to text generation—Meta has vague and sweeping plans to hop on the generative AI-bandwagon along with other tech heavy hitters like Google with Bard, Microsoft with Prometheus—and smaller companies vying to maintain relevance like Snapchat.
Eventually, Zuckerberg noted that Meta's platforms will have fully developed "AI personas" that can "help people in a variety of ways," whatever that means—perhaps some updated version of a Clippy-esque app mascot. Yet the longest term goals are a far way off, according to the CEO. "We have a lot of foundational work to do before getting to the really futuristic experiences," he wrote.
Gizmodo reached out to Meta for more specifics on the new AI team and the timeline for the company's various platforms to begin incorporating generative AI, but the company declined to share further details. Asked about its approach to responsibility and cross-platform AI integration, a Meta spokesperson wrote, "Helping to ensure that generative AI technology is inclusive and representative of all our users and does not cause undue harm is of paramount importance to build trust and adoption in these new technologies," in an email to Gizmodo.
Zuckerberg's tech behemoth went through a rocky 2022, but came out of the other side exceeding financial analysts expectations and impressing investors with its "year of efficiency" rhetoric. Yet still, the corporation's future feels in flux. Meta has been continuing to invest big on the metaverse. Throughout last year, the company lost more than $1 billion per month on its virtual reality venture—still with little to show for it besides legless, soulless avatars.
In an investor call earlier this month, Zuckerberg indicated the company would continue its metaverse push, while also exploring artificial intelligence. "The two major technological waves driving our roadmap are AI today and over the longer term the metaverse," he said. "We're focused on: AI, including our discovery engine, ads, business messaging, and increasingly generative AI, and the future platforms for the metaverse," he added.
Maybe the expansion to emphasize AI could be an alternate path forward for a company which has felt more than a little stuck for some time. Or maybe Meta is a little late to a rapidly saturated, generative AI market. Either way, I'm not sure the world needs whatever additional robot personas Zuckerberg has up his sleeves. 
Update 2/28/2023, 3:10 p.m. ET: This post has been updated with comment from a Meta spokesperson and additional information from a Meta earnings call.