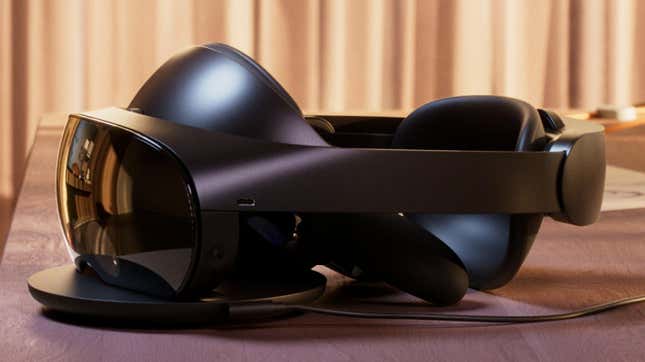 Sorry to all those folks who shelled out for that big expensive Meta Quest Pro headset when it launched for $1,500 in October. A little under a half year after release, Meta has decided to slash the price of its most-recent VR offering by over a third.
In an extremely terse post to his Instagram channel today, Meta CEO Mark Zuckerberg wrote Friday morning that the company would cut $500 from the price of the $1,500 Meta Quest Pro VR headset. In addition, the company would further drop the 256GB Quest 2 headset back down to $429, just $30 more than the 128GB version. The Zuck said this was "so more people can get into VR." These price changes will go into effect March 5, according to a blog post.
"Our goal has always been to create hardware that's affordable for as many people as possible to take advantage of all that VR has to offer," the company said in its Meta Quest Blog.
Why is Meta slashing the price of its Meta Quest Pro?
The Meta Quest Pro was originally aimed at VR enthusiasts and professionals, with features like full-color passthrough for some limited augmented reality capabilities, alongside a bigger screen size, eye tracking, and a beefier processor. It released in October to decidedly mixed reviews. It soon became clear the device's main issues were its price compared to its capabilities. Though it's relegated to play on consoles, the PlayStation VR2 also features eye tracking, a wider FOV, and higher-res OLED lenses, all for barely more than a third of the Pro's price. The VR2 does have black and white passthrough, but the device is billed mainly for VR gaming rather than as a kind of alternative to a desktop screen, like the Quest Pro was.
Competition might be getting Meta spooked, as the new price point drops it down to just $100 cheaper than the recently-announced $1,099 HTC VIVE XR Elite headset. The new higher-end device similarly has full-color external cameras to see users' surroundings and hand-tracking capabilities.
This week, Meta's "leaked" VR roadmap showed that the company is planning for several more headsets in the near future, though these new devices are much more geared to a kind of mixed reality experience that combines AR and VR capabilities. The Meta Quest 3 is expected to cost "a little" more than the 128GB Quest 2 when it releases sometime later this year, though the company expects it to be more powerful and thinner overall. It should also have some passthrough capabilities, which would make the Pro's previous price point even more of a hard bargain.
Another two devices, codenamed "Ventura" and "La Jolla," are supposed to be a kind of mid-ranged headset alongside a more higher-end device, respectively. Ventura could be out by next year, with La Jolla following along afterwards.
Meta raised the price of both versions of the Quest 2 headset last year after spending so much time touting it as the cheapest available headset around. Now that other companies are coming out with similarly-priced headsets, Meta might be hoping its expanded feature set will help it win over the crowd even as it continues to pour billions into its hopes for the "metaverse."

"Like you, we're in this for the long haul," the company wrote in its release.
The roadmap mentioned Meta has sold nearly 20 million Quest units combined, so far. In the meantime, Meta's "Reality Labs" team, focused on its metaverse gear, lost $13.7 billion in 2022. Meta has talked about 2023 being "a year of efficiency," so it may need to move more headsets until it's finally ready to release the next iteration of its VR tech. It remains to be seen if the company can again excite a waning customer-base about a supposed metaverse amid new fascinations like the AI craze.