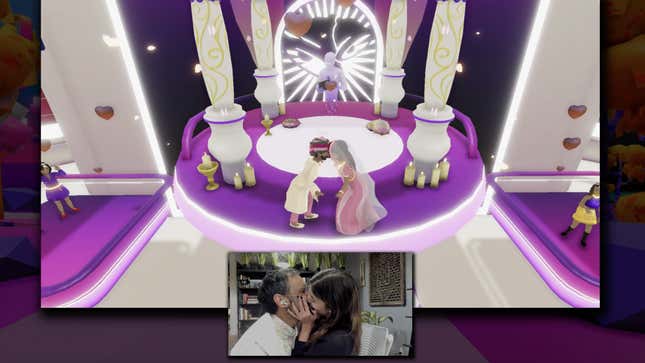 "And I heard, as it were the noise of thunder, one of the four beasts saying, Come and see. And I saw…" —Revelations 6:1-2
They Got Married in a Taco Bell in the Metaverse
In the beginning (2022), Taco Bell held a contest. Two lovebirds would have the chance at winning the "uniquely Taco Bell experience" of being the first people married at a Taco Bell in the metaverse. A lucky California couple named Sheel and Amruta won, and in February 2023, they got hitched in paradise. I was there.

The wedding was flashy, funny, and genuinely touching in its own way. It was also the most surreal experience of my life. Their holy matrimony was the perfect illustration of what the metaverse really is—and what it feels like to be alive at this moment in history as the world wobbles on its axis and we all wonder what can possibly come next.
The Taco Bell wedding was a paradox. For starters, it wasn't at a Taco Bell. A digital space on the internet is not a restaurant. There are digital Cool Ranch Doritos Locos Tacos, but your avatar cannot eat them. But what's weirder is that it wasn't really in the metaverse, at least, not the way most people think of it.
The wedding took place within a video game called Decentraland. You can play games, meet friends, dress up your character, and buy a virtual house using real money, but there's no easy way to visit Decentraland in three-dimensional virtual reality. You go there in an app or your web browser. Someone made a glitchy, unofficial client that runs Decentraland with VR headsets, but it's more trouble than it's worth. Decentraland calls itself the metaverse, though, and so do lots of other people. Corporations like Taco Bell do, too. Plus, it looks just as ridiculous as what Mark Zuckerberg is promoting. I'm willing to call it the metaverse if you are.
But the Taco Bell wedding in the metaverse was a real wedding. When Sheel and Amruta's avatars kissed, reflecting a real life kiss by the couple, the licensed officiant pronounced they were legally married. As their digital lips met for the first time as newlyweds, Taco Bell's signature gong sound rang out in celebration.
They Got Married in a Taco Bell in the Metaverse
They Got Married in a Tacobell...in the Metaverse
I tuned in at 10 PM on a Friday from Brooklyn, late because the wedding happened on West Coast time. As I dialed down the brightness on my laptop's screen, what looked like dozens of guests mulled around outside the digital Taco Bell. Some were friends and family calling in from as far away as India, but many of were random Decentraland users logging on for the event. Floating paper lanterns made out of Taco Bell take-out bags lit the way through a surreal neon forest, with hot sauce trees and bushes with nacho cheese for leaves. As we waited for the wedding to start, people made their avatars break-dance and strike poses using Decentraland's built-in emote reactions.
The wedding wasn't just Taco Bell themed, it was also a traditional Indian ceremony, hosted by actor Kal Penn, whose bearded Decentraland character ran around in a red tuxedo. Immediately, things got weird. Sheel burst onto the scene atop a purple elephant in a procession called a baraat escorting the groom to the site of the wedding. You can't ride on things in Decentraland, so Taco Bell had to work with the platform to create a brand new feature for Sheel's entrance. High on his elephant, Sheel used his avatar's "make it rain" emote to toss dollar bills into the virtual crowd.
"If I could make my avatar cry, I would," Kal Penn said.
Hearing the couple talk about their excitement, and the tech-support hoops Taco Bell jumped through to get their families on-boarded on the metaverse, it was clear the soon-to-be-newlyweds thought the whole thing was funny. But it was meaningful too. "I think it's both," Sheel told me in a Zoom call. "Taco Bell as a brand is sort of like us, we don't take ourselves too seriously."
The Taco Bell Wedding in the Metaverse Wasn't Just a Stunt
I should acknowledge what the Taco Bell wedding in the metaverse was: an advertisement. It was a PR event tailored to incredulous journalists like me in hopes we would write about it. I took the bait, and here you are reading the words "Taco Bell" over and over. Getting hungry yet? Maybe I'm a sucker, but I would do it again, because to me, this cultural episode was so much more than a marketing gimmick.
This was not the first wedding in the metaverse, nor was it the first wedding at a Taco Bell. There have been weddings on metaverse platforms since at least 2021, and a lucky 777 people have been married at the romantic real-world Taco Bell Cantina in Las Vegas, according to the company. But Sheel and Amruta's wedding was still special in a uniquely 2023 fashion.
After three years of pandemic, an American insurrection, and the biggest war in Europe since 1945, the world has been through so much tragedy and ecstasy that it takes a hell of a lot to impress people. What's a Taco Bell to do if it wants to earn a little publicity? You invent a new category. You, a brand, take something that already exists, and by the power of your brand, you declare that it is a new thing and you are its master. Like the wedding itself, the metaverse as a product exists more as corporate promotion vehicle and a sinkhole for corporate money, less so as a product that people use in their everyday lives. So who's to say you can't pull a little stunt there?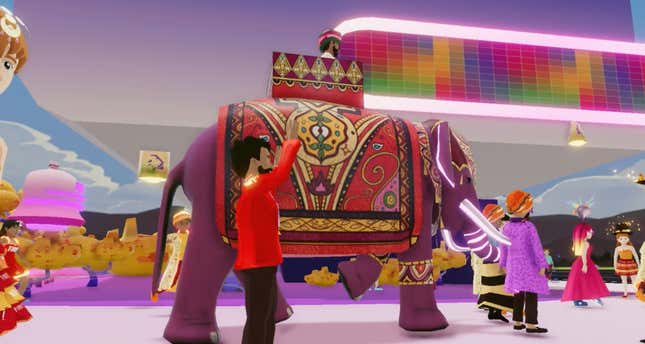 In that sense, the Taco Bell wedding was the ideal representation of the metaverse. When Mark Zuckerberg announced he was changing his company's name to Meta, he said he would build "an embodied internet where you're in the experience, not just looking at it." Zuckerberg promised "you will be able to teleport instantly as a hologram to be at the office without a commute, at a concert with friends, or in your parents' living room to catch up."
If that's the metaverse, we're nowhere near it, and yet Zuckerberg will tell you that it's a real place that you can visit right now. The metaverse is a weird half-representation of itself—it's Schrödinger's platform, it exists and doesn't exist at the same time, depending on how you look at it. On Meta's Horizon Worlds, you will find none of Zuckerberg's futuristic, life-replacing simulations. This is no "alternate reality." Instead, it's a boring video game that's in such early stages the characters don't even have legs yet. No matter which metaverse platform you use—and there are many, including Decentraland—you'll find much the same.
Who better than Taco Bell to adopt this system, a restaurant where the food is not Mexican but "Mexican inspired?" Just like the metaverse itself, the only thing the Taco Bell wedding embodied was its own inconsistency. It was an unfulfilled dream fueled by hype that could only be successful if you leaned into and celebrated its shortcomings. And lean in we did.
Dancing Hot Sauce, Baja Blast, and Vows Written By ChatGPT
Over on Twitch, the party was just getting started. "The bride has arrived, y'all, let's go!" said Twitch streamer LEGIQN, who partnered with Taco Bell to provide the only official way to watch the wedding outside of Decentraland. In the event's single normal moment, a breathy love song tailor-made for weddings played as Amruta walked down the aisle. That sense of regularity faded as she approached and then floated next to the groom, her feet glitching awkwardly along the way—Decentraland still hasn't figured out stairs.
"This is a place for positivity right now," LEGIQN said, headphones on and dressed in a taco-print blazer. "I've been cradling chalupas for 17 hours waiting for this to begin."
LEGIQN, also known by his real-world handle Jordan Payton, is a Twitch streamer with a following of 263,000 people. He entertains them nightly with highly-produced videos, cracking jokes, talking to fans, and sniping people on Fortnite and Call of Duty. That is to say, he's exactly the type you want commentating on your virtual wedding. "Taco Bell is in the chat guys," he told his viewers. "Chat, this is happening. This is a real wedding, like they're for real gonna be married after this is done."
If you were watching along at home, it would have been difficult to hear what Kal Pen, the bride and groom, and the officiant were saying, because LEGIQN spoke through every minute of the ceremony. He shouted out his followers and made up little songs, proclaiming his love for Taco Bell as he showed off his avatar's various outfits. LEGIQN was doing his schtick, exactly what Taco Bell paid him to do.
Sheel and Amruta's avatars faced each other across the sacred fire that is the cornerstone of Hindu and Jain weddings, only this one was made of Taco Bell's signature Fire Sauce. Their characters stood beneath a metaverse mandap, a four-pillared structure that serves as the focal point for the ceremony.
The nuptials had none of the quiet spectacle you would expect at a regular wedding, because so many of the people in attendance were using Decentraland's applaud feature, filling the hall with the sound of clapping. "@tacobell is so goated for this," one user said.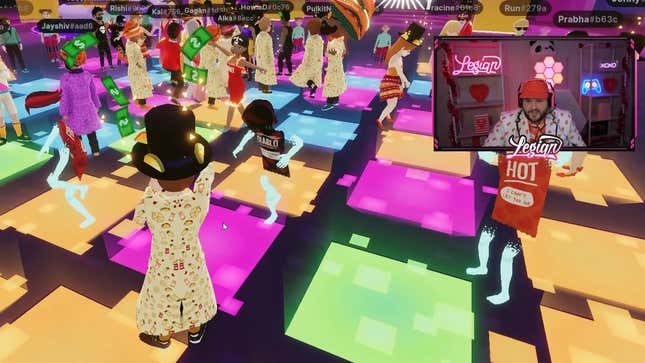 Suddenly, a platform lifted the couple into the sky, floating in stuttering jerky movements as the system lagged. In real life, it would have been amazing. At some point, though, I realized the whole thing was mostly a per-arranged cut scene; Sheel and Amruta didn't seem in control of their movements.

Floating above the crowd, they exchanged vows. Sheel said his were written with help from ChatGPT.
"I promise to always keep your phone charged," Sheel said. "I promise to help you look for your AirPods every single morning… I promise to be your human gravity blanket whenever you ask for it. I promise to laugh at your jokes… I promise to never let our love become stale, and to always keep everything spicy and exciting. I will cherish and adore you for all eternity and spend all my days with you by my side."
"I would have expected to get married in some boring predictable way, like in person, and without the involvement of any restaurant chain," Amruta said. "I love you in this world, in our 'real world,' and in any other metaphysical realm that may come. I can't wait to spend the rest of my days with you, in this Taco Bell metaverse and beyond."
They promised to love and support each other. The officiant pronounced that they were married.
The second the ceremony was over, Kal Penn started interviewing the couple. "The smiles on your faces tell me everything, how do you feel?" said Penn, who, unlike the rest of us, could see the couple's actual faces. "I'm super stoked," Sheel responded. Amruta paused. "It's real," she said. "We're married."
A portal opened up that you could click to travel to the reception hall, where hot sauce packets with arms and legs danced to a cheerful beat, and a disturbing DJ avatar with the Taco Bell logo for a head pumped its fist at the crowd. Attendees could swim in a nacho cheese fountain and use an interactive Baja Blast dispenser, which made a soda float next to your head.
We watched Sheel and Amruta's avatars take to the floor for their first dance. Nearby, a QR code was available to scan to order actual Taco Bell delicacies, assuming there was an establishment near your physical body. There was even a promo code for a free Mexican Pizza if you spent $15.

A thrill was in the air. Amruta was about to throw the bouquet over her shoulder, and in a one-time minigame, attendees could compete to catch it. Whoever clicked first got the prize.
"Yes, bouquet time, this is what I've been most excited for," LEGIQN said, adopting a serious tone. "This is where my gamer skills come in." He got ready, focusing his screen on Amruta's character with a look of total concentration, finger on the trigger of his mouse.
He did not win. Instead, the spoils went to a user called "Bleace." Later, I spotted Bleace standing frozen in the cheese fountain.
Taco Bell's Metaverse Wedding: A Simulacrum of Our Time
You might think a review of the Taco Bell wedding in the metaverse would be a snarky, jaded piece of writing. But there was little to mock. Everyone seemed well aware of the absurdity of the whole exercise. Yet they realized that's what made it such a delicious, uncanny thing. There was no awkward justification, none of the corporate egotism of prior metaverse brand stunts like Gucci's hollow experiment on Roblox—NFT purses later resold for over $3,000 worth of virtual "Robux" currency—or Chase's stomach-churning metaverse bank, where you can do no actual banking.
Taco Bell knows its audience, and everyone involved with the Taco Bell wedding in the metaverse embraced the event with full-fledged enthusiasm, from the guests, to the bride and groom, to the corporate chaperones who organized my attendance.
The predominant cultural movement of our time is "post-irony," a sensibility that flourished on the internet and bled into the physical realm. Just like the world bending of the metaverse itself, the lines between irony and earnestness have blurred to create some unrecognizable third thing. Our conversations, art, and entertainment are a dizzying mix of in-jokes and total sincerity. There's a subtle hint that we're all winking at each other. We're no fools, but at any given moment, no one seems to know if they should be engaging with what's going on, let alone how to respond to it. So we welcome the preposterous and often grotesque nature of our new reality. We get married in kitschy places and laugh. What else is there to do?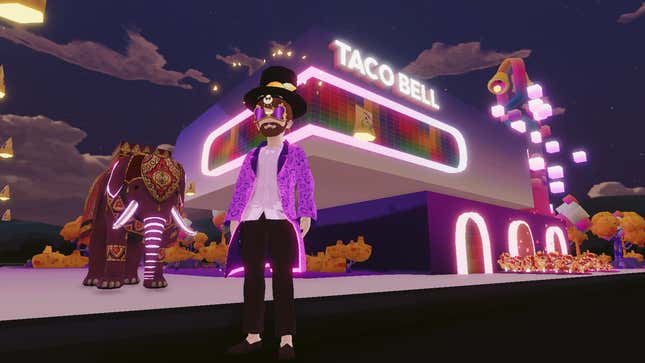 So it went with the wedding. Taco Bell was both a corporate partner and a foundational piece of the bride and groom's relationship. Sheel and Amruta had their first date at the Taco Bell Pacifica, a wood-paneled franchise location with ocean views just south of San Francisco. "It's a stunning place," Sheel told me over zoom. "It's the best Taco Bell in the world, in my opinion."

As the Taco Bell wedding in the metaverse drew to a close, I shut my laptop and stumbled out into the real world. There's a Taco Bell just a few blocks from my apartment. I walked in, ordered a Black Bean Mexican Pizza, and sat down in a plastic booth. It was close to midnight. Behind the counter, a tired looking Taco Bell employee sighed while he worked the grill. As I waited for my food, I thumbed a packet of Fire Sauce and watched as the cook flipped Crunch Wraps and stuffed tacos into bags. After a moment, it wasn't enough to hold my attention. I pulled out my phone and got back on the internet.
The metaverse was all the tech world could talk about in 2022. My inbox was full of pitches from PR representatives who couldn't wait to tell me the news about their company's new metaverse play. One startup even took me for a ride in a metaverse platform built specifically to use in cars, promising a "revolution in in-car entertainment," which amounted to a novel way to babysit your kids with VR headsets on long drives.

But the hype machine moved on. These days it's all about AI, and the metaverse isn't anything you'd call a success. Meta's stock has plummeted by nearly 50% since the company changed its name in October 2021, and today Horizon Worlds has been such a flop that Meta orders its employees to spend their work hours hanging out on the platform. Augmented and virtual reality tools may change the future of computing, but it's not clear whether the "metaverse" will ever be a part of our lived experience. One thing is for certain: the first chapter in the metaverse's history is over, and it didn't have a happy ending.

Weeks after the nuptials, I logged back in to Decentraland for one last visit. You can go to the metaverse Taco Bell yourself if you head to the location -95,126 in the game's coordinate system. Sheel's elephant is still outside, where it waits alone for all eternity. I got myself a Baja Blast and watched the hot sauce packets dance to a song that no longer plays, egged on by the still pantomiming DJ. I fired up the bouquet toss minigame. There was no one else there. I caught it.