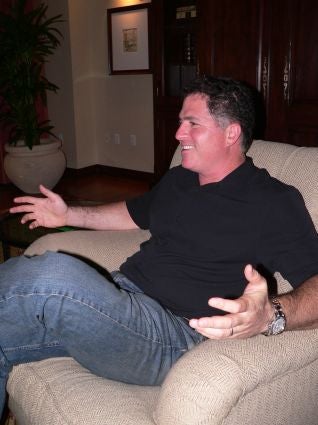 In a roundtable discussion with journalists this past weekend, Michael Dell boldly said that the XPS line of Dell computers would still remain separate from the recently acquired Alienware branded computers. I previously thought that these machines were essentially the same damn thing, but according to Dell, they have different targeted audiences. I'll just let the ever so sexy Dell explain it in a completely confusing business-y sense. And I say Dell is sexy in a completely heterosexual manner, ladies.

"XPS is really targeted at a first-to-market cadence with the key inflections, in terms of processor and video and other key ingredients," Michael Dell told reporters. As processors, graphics cards, and other components continue to be updated in four- and six-month intervals, he said, the buildouts of desktops and notebooks under the XPS brand will continue to be refreshed. "It'll be refreshed at a very, very fast rate - quite different from other product lines that we have. We're selling hundreds of thousands of computers to big, mega-corporations; they do not want them to change like that. They want a high level of consistency. This market [XPS] is totally different."

Hrm. Makes sense, right?
A chat with Michael Dell: Alienware and XPS to stay separate [TG Daily]