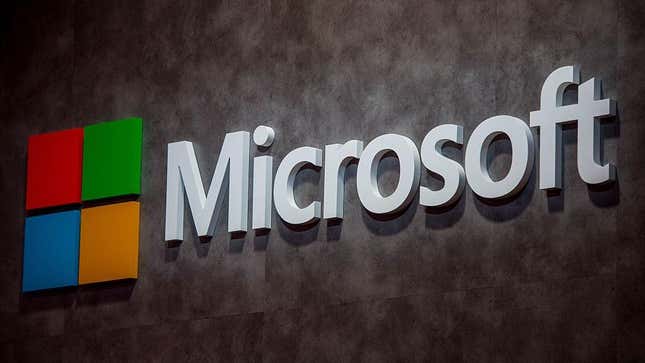 Microsoft is set to slash thousands of position, with many of those cuts expected to begin this week amidst hiring freezes and previous layoffs thoroughout the company. The official confirmation comes one day after multiple reports claimed the layoffs would include Microsoft's engineering and human resources departments. The job cuts are just the latest in a series of layoffs in the technology industry.
The company confirmed it is laying off 10,000 employees in a security filing saying the decision is in response to "macroeconomic conditions and changing customer priorities." Microsoft reported the layoffs will be completed by the third fiscal quarter of 2023.
Microsoft Satya Nadella issued a memo to staffers on Wednesday, citing recessions in some areas of the world and the expectation of a recession in other areas.
Despite a Microsoft spokesperson calling the layoffs a "rumor" in an email to Gizmodo yesterday, Nadella said in the memo, "We will treat our people with dignity and respect, and act transparently. These decisions are difficult, but necessary." He continued, "They are especially difficult because they impact people and people's lives – our colleagues and friends. We are committed to ensuring all those whose roles are eliminated have our full support during these transitions."
The company currently employs more than 220,000 people, but Sky News first reported that Microsoft plans to cut about five percent of its staff. The layoffs would be the largest round of cuts for the company in the past year and was initially thought to amount to a loss of roughly 11,000 jobs.
Business Insider reported ahead of the announcement that one person familiar with the matter said Microsoft could potentially cut its recruiting staff by up to one-third. They added that the company may take a year or two before it begins hiring at the same rate prior to the layoffs.
The company first announced plans to lay off less than one percent of its workforce in July of last year, but in August it ended the contracts for hundreds of recruiters and talent-acquisition staff early. Two months later, 1,000 Microsoft employees from the Xbox console gaming division, the Strategic Missions and Technology organization, and other units were laid off, Business Insider reported at the time.
A Microsoft spokesperson told the outlet, "Like all companies, we evaluate our business priorities on a regular basis, and make structural adjustments accordingly." They added, "We will continue to invest in our business and hire in key growth areas in the year ahead."
The newly reported layoffs are just the latest in a significant number of job cuts in recent months, following Amazon's announcement that it plans to cut 18,000 positions. Meanwhile, the cloud software giant, Salesforce, announced it is cutting 8,000 jobs, and Facebook's parent company, Meta, has cut its workforce by about 11,000 jobs.
Morningstar analyst Dan Romanoff told Reuters, "From a big picture perspective, another pending round of layoffs at Microsoft suggests the environment is not improving and likely continues to worsen."

Updated: 1/18/2023 at 12:10 p.m. ET: This article has been updated with confirmation of the layoffs.