We're at Microsoft's mystery "event" in Los Angeles today, where if the rumors are true it will announce its own tablet in short order. But will it be the next Xbox, or the next Zune? We'll soon see. Stay tuned.
So far, it's still a lot of tech press milling around and looking for seats. There's no signage that would give up information about what Microsoft's about to announce; the company's kept this whole thing under pretty serious wraps. Ballmer's merry crew is clearly ripping a page directly out of Apple's playbook, which is fine as long as they produce something impressive enough to justify the hype.
Although in fairness, a great way not to get a ton of media coverage is to hold your event exactly when everyone on the East Coast is commuting home.
G/O Media may get a commission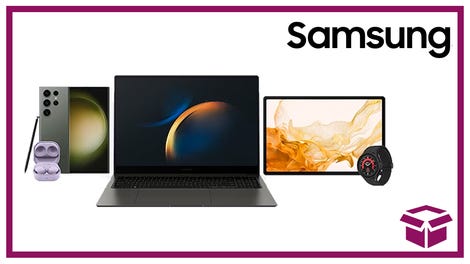 24 hour deals
Discover Samsung - Daily Deal
Let's assume that it is a tablet for a second, and not Steve Ballmer soliciting wardrobe advice for two hours. Several folks have been pointing to the Zune as an example of Microsoft's hardware ineptitude, but that's not entirely fair. The Zune was trying to enter a PMP market that had already started crashing to the ground. A much more apt comparison might be the Xbox, where Microsoft took losses for years to get a foothold in the highly competitive console market. Which they won!
(For those wondering, yes the event was supposed to start 10 minutes ago, but Microsoft is running behind. Like they are with tablets in general, right?!)
The tech journos have entered the arena; now it's just a matter of time until the event starts. For those curious, the music selection is some sort of trance shit.
In case you were wondering if there were fancy pants alcoholic drinks at the door, the answer is yes, and they are Basil Cucumber Lemonade Belvederes. So is Microsoft trying to get the press drunk before showing its wares? I guess so!
And now the music has swapped to Fun's We Are Young. Which I recognized from shopping at Safeway.
So we're already at a little after 4 PM Pacific time, and given that Microsoft has scheduled press followups just after 5, we're looking at no more than an hour for the entire event.
And Steve Ballmer just walked onstage. He's saying how much Microsoft and the industry have changed over the past still years, but "Windows is the heart and soul of Microsoft." Windows powers over 1 billion PCs, from home desktops to NASA.
"With Windows 8 we have reimagined the product." That's for sure!
Microsoft designed Windows 8 for a world where most PCs are mobile, says Ballmer. (That sounds like a hint.)
Today, we want to add another piece," says Ballmer, "to that Windows 8 story." Yep, it's a hardware announcement.
And we're watching a video about the history of Microsoft's hardware.
"We believe that any intersection between human and machine can be made better when all aspects of the experience, hardware and software, are considered and working together." He's noting how the combination of Xbox and Kinect came together to really work together.
And now Ballmer is saying that Microsoft's OEMS will ship 375 million Windows PC next year. Making it the largest non-phone platform.
"We wanted to give Windows 8 its own companion hardware innovation" he says. Something new, different, and a whole new family of computing devices from Microsoft. Here we go.
It's the new Microsoft Surface, and it's a tablet that looks to be about 10 inches. Ballmer is holding the tablet in his massive hands, and he's brought out Steven Sinofsky to tell us all about it.
It's a tablet that's a great PC, and a PC that's a great tablet, says Sifosky. It's 9.3 mm, with a USB 2 port, 22 degree beveled edges, and has a full magnesium case. It weighs less than 1.5 pounds. PVD finish case. 10.6 -inch display. Dual 2x2 antennas that Sinofsky claims give the best WiFi reception of any tablet today, and it has a stand built into the device.
Oh... and we had out first demo bug, just as Sinofsky was telling us how movies and entertainment do so well on the Surface, it crapped out. Bue hey, now he's showing off a Windows 8 version of Netflix.
It also has a cover, that clicks into place. Sinofsky is very impressed with this. The cover is less than 3 mm. And it folds out to reveal a full multitouch keyboard that features a trackpad and Metro keys. It has a built in camera, that aims up at 22 degrees when the stand is down to get "everyone" in the frame, says Sinofsky. It also has dual array mics and speakers.
And now Michael Angiulo is onstage to show us Surface for Windows 8 Pro. (Wait, a second product? Yes.)
It's less than 2 pounds and 14 mm. It also has a ClearType display with full HD (Sinofsky's was ClearType HD). It also has the 2x2 antennas for the best wifi performance "no matter how you hold it." Powered by IvyBridge processor, and uses less power than today's Core i5, says Angiulo. It has Perimeter venting, a groove that goes all the way around the case, so you can never block the vent with your hands.
Now Angiulo is showing off writing on the tablet, it looks great, he says it's at 600dpi. It also has something called "palmblock" so that when you use digital ink, and move a pen close to the screen, it ignores touch input so you don't mess up what you're doing with your hands. It also has a Displayport, which is great news if you want to use it for heavy duty image processing.
And now Angiulo is showing off something called TypeCover, which is a full keypad, and it completes the Surface line. So that's Surface for Windows RT, Surface for Windows 8 Pro, and two covers (which will come in multiple colors).
(People are going wild cheering. Man, I hope that's not the press.)
And now it's a video on the history of Surface...
Microsoft is noting that the Surface is "perfect" evidence of this is that it sits in your hand comfortably all day. It's meant to make the hardware fade away to the background. The lines are also part of that. The lines are "seamless." But its vision of the product was also to bring creativity and productivity to transition it to the state of "getting things done." The kickstand was a huge challenge for this, especially getting it completely flush when closed. Microsoft really hammered on sound, getting the opening and closing sound of the kickstand perfect. The VaporMg case (pronounced "vapor mag") is molded to .65mm to make it so flush that even a piece of tape would make it bulge, says Microsoft.
And now we're talking about TouchCover. Panos Panay notes that the Surface knows what's connected to it. TouchCover is 3mm thin, which he says is usually at odds with a great typing experience. Panay says they wanted it to feel just like a book, you can't close it wrong. "This spine feels like a book," he says "when you carry it with your other books you'll think it's a book." He also says TouchCover is number two after his wife. (Er. Okay!) TouchCover has an accelerometer and is aware of when its folded back.
Now Panay is demonstrating typing with the TouchCover. It can tell the grams of force you are pressing down with, so that it does not inadvertently fire when you put your fingers down. Pretty slick! The keyboard measures 10x faster than any keyboard in use today, he says.
And here comes pricing!
Surface for Windows RT will have "comparable" pricing to other 32 and 64 GB ARM tablets. Windows 8 Pro will come in 64 and 128 GB products and also have "comparable" pricing. No firm ship date, but the Pro Surface version will ship 3 months after RT. That's a tease.
And Ballmer's back, baby. He's going to let us touch the Surface. And oh, boy, are we going to touch the Surface.
Now there's something awful playing that makes my head and heart hurt. I think it may be Skrillex.