Mobinnova's élan is the first of Nvidia's dirty dozen to show its face, and it's a pretty one: a nine-inch, sub-two-pound fanless netbook that measures in at about .8-inches thick, and boasts the full battery of Nvidia's exciting Tegra features.
First, let's revisit some of Nvidia's Tegra platform claims, filtered through an actual ODM:

# 5-10 hours of continuous HD video playback on a single charge (dependent on screen usage).
# Up to 24 days of continuous audio playback on a single charge (if screen not in use while listening to audio).
G/O Media may get a commission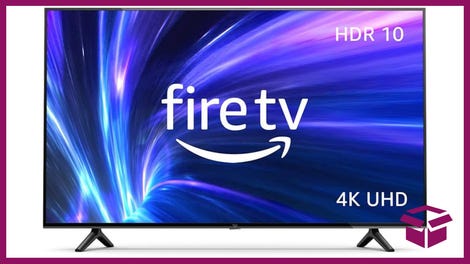 42% Off
Amazon Fire TV 50" 4K Smart TV
Aah. These amazing audio playback figures count on the netbook essentially being out of use, with the screen—and probably Wi-Fi, speakers, etc—switched off. The same goes for the 5-10hr HD video playback claim, which seems to invoke a situation in which a netbook is connected to an external display via HDMI, not a typical usage scenario. Additionally, there's no information about the capacity of the device's battery, which appears to be integrated in the élan's monster hinge. So these aren't the most useful (or really, honest) metrics to advertise with, but I'll let that go for now, because, well, Tegra is young, and this thing is pretty.
The élan will run what sounds like a custom Linux distribution, when it comes out—a detail that is conspicuously absent from this release, as is any indication of price. [Slashgear]
A NEW ERA IN MOBILE COMPUTING

MOBINNOVA UNVEILS THE "élan" WITH HOURS OF HD MULTIMEDIA AND INTERNET POWER "ON THE GO"-COMPUTEX

The Book-Size élan Powers Up Easily, Provides 5-10 Hours Continuous HD Video Playback, 24 Days Audio Playback, Internet Browsing And Graphics Never Seen On A Mobile Computing Device

June 2009, Taipei, Taiwan-A mobile computing revolution arrives June 2, at the Computex 2009 show in Taipei, where content providers, carriers and consumers get their first look at what may be a whole new category of high performance communication devices. The élan is first in Mobinnova's line of ultra-portable computing devices powered by the NVIDIA® Tegra™ Computer-on-a-Chip. The 2 lb. élan is like a netbook in that it's small, has a keyboard, and offers easy access to the Internet. However that's where the similarities end. The élan powers up instantly, connects directly to a 3G wireless network, offers hours of continuous use, full page web browsing, and delivers graphics performance never seen before on a mobile computing device–all packaged in Mobinnova's stylishly thin design. "This truly portable device is a pleasure to hold and to use. It offers 720p high-definition video playback, full Internet browsing and an impressive battery life," says KC Kuo, Chairman and CEO of Mobinnova. "We like to say it 'runs on fun'. It's a real game changer."

The size of a hardback book and weighing less than 2 lbs., the Mobinnova élan is compact, quiet and cool. "It's the most powerful mobile Internet device you can easily pack in your purse, backpack or briefcase. You can use the élan for hours, even days between charges," says Mike Holland, Vice President of Business Development for Mobinnova. You can also use it anywhere–on a plane to Nepal, at a café in Paris, on the sidelines of a soccer game, in a college dorm room, or sitting in bed. "The élan's advanced power management means hours of viewing pictures, HD videos, Internet browsing, and reading and responding to email," says Holland. The Mobinnova élan offers:

* 5-10 hours of continuous HD video playback on a single charge (dependent on screen usage).
* Up to 24 days of continuous audio playback on a single charge (if screen not in use while listening to audio).
* 8.9 inch screen size provides a rich viewing experience and full page web browsing.
* Ultra-light, compact design at 1.84 lbs (836g), 9.1 inches (232mm) x 7.3 inches (186 mm) x .8 inches (20.5 mm).
* NVIDIA Tegra-based platform that supports accelerated Adobe® Flash® animations and 720p high-definition video playback.
* Both Wi-Fi and 3G wireless connectivity, enabling you to check your email, social networking accounts, and do internet searches wherever you are.
* An innovative 3D graphical user interface.
* QWERTY keyboard and touchpad.
* Ability to view Microsoft® Office® and Adobe® documents.
* A webcam for sharing video.
* Fast, high resolution photo rendering, upload, and download.
* Fanless operation for a quite, cool experience.
* Advanced power management, allowing the élan to draw as little as 50mW during typical operation and 150mW during video playback, a fraction of most devices on the market today.

Mobinnova's élan is the first in a family of mobile devices based on the Tegra platform from NVIDIA, the inventor of the GPU. Also being shown at Computex is the Mobinnova T8, which combines the same powerful platform with a 10.1″ touch screen, GPS, and HDMI and VGA video output. "Mobinnova has designed several interesting Tegra-based, mobile Internet devices that will surprise the market with their sleek, lightweight design and long battery life," said Mike Rayfield, General Manager Tegra Business at NVIDIA. "Tegra adds the secret sauce to deliver a desktop-like Internet experience and cell phone-like battery life in these new designs." "The Mobinnova élan and T8 answer the portable communications challenge," says Mobinnova's Chairman and CEO, KC Kuo. "We are honored to partner with NVIDIA to create products that make people's lives easier, more productive, and more enjoyable."