Nvidia is using Computex to herald the arrival of their system-on-a-chip Tegra platform, but it's not the most explosive debut. They've announced 12 netbook and tablet products from relative unknowns, and bizarrely altered their claims about the platform's capabilities.
Don't get me wrong—I'm dead excited about the Tegra—but these names don't really get my blood flowing:
* Compal Communications, Inc. CN88 (netbook)
* ICD Ultra (tablet)
* Inventec Applications Corp. Rainbow (netbook)
* Mobinnova Mabo (tablet)
* Mobinnova ViewBook N910 (netbook)
* Pegatron Vivid (netbook)
* Wistron M5 (netbook)
But I suppose they're more proof-of-concept products than anything else, and besides, these aren't likely to be much more than reference designs for OEMs. But still! 30 hours of HD video! 130 hours of audio! Cut to the current press release:

* Listening to music for 25 days straight on one charge
* Watching 1080p HD video for up to 10 hours
* Playing video games at 46 frames per second
G/O Media may get a commission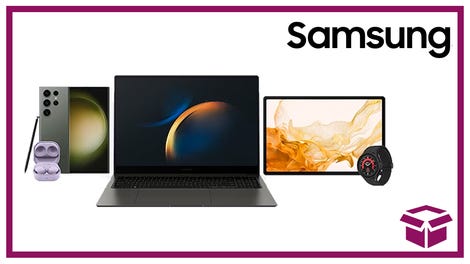 24 hour deals
Discover Samsung - Daily Deal
I guess 25 straight days of audio playback would help mitigate the thirding of HD video playback if they were believable, or even comprehensible. But 25 days of playback? Without a screen? In a lab? On Mars? With a 30-cell battery? Through headphones? And what on earth does "46 frames per second" gaming performance mean? In Doom II? Crysis? Addictinggames.com? We'll have to wait for the dust to settle on this one.
But let's focus on the positive: probably great battery life, HD video playback, including Flash, and decent gaming performance. We'll get back to you when someone has run a Tegra device properly through its paces, and when a manufacturer with a history of actually releasing products in America gets on board.
UPDATE: In the face of my "pooh-poohing", PC World's Mark Bachman makes a good point:

Recall that Acer, Dell, HP and others don't actually build PCs any more; they use a network of Taiwan and Chinese ODMs to build them, and, increasingly, design them. Getting the Taiwan ODMs to back Tegra is a sly way to encourage OEMs to ship them.
This is true, but all that ODM enthusiasm doesn't yet have direct consequences for most consumers. The big Tegra story will be when an OEM with any footprint in America actually bites. [Nvidia]