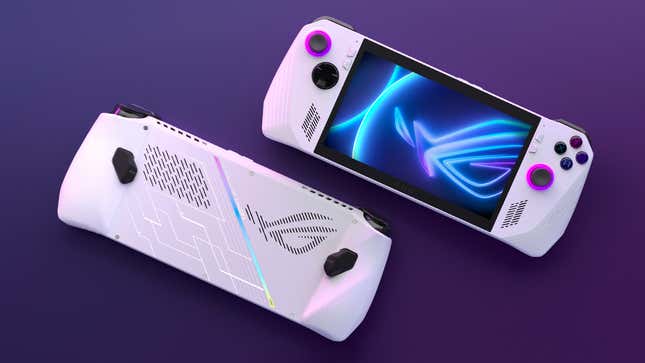 Most companies will avoid making real product announcements on April Fools' Day, as the news will inevitably get buried under a mountain of pranks from companies incorrectly assuming they can be funny. But not Asus. It used April 1 this year to announce its first handheld gaming device, leaving fans wondering if it was real... until Asus confirmed the ROG Ally this morning on Twitter.
Asus ROG Flow Z13 Gaming Tablet Review
Unlike recent handhelds from Logitech and Razer, which are primarily designed for use with either game streaming services or Android mobile games, the ROG (Republic of Gamers) Ally sounds like it's being positioned as a handheld gaming PC, similar to the approach Valve took with its Steam Deck. At least, that's if we go off the limited specs and features revealed during a somewhat unhinged announcement video Asus shared on YouTube on April 1. (Why are there zombies at the end?)
What we do know is that the ROG Ally will be a Windows gaming handheld powered by a custom-made AMD APU (accelerated processing unit, or a processor with integrated graphics capabilities). For reference, the Steam Deck also uses a custom AMD APU, although we wouldn't be surprised to see the Ally boasting more recent tech, as Valve's APU uses a Zen 2+ processor and RDNA2 graphics, which are a few generations behind. Boasting, "Full HD gaming," the Ally's screen will probably max out at a 1080P resolution, and the handheld looks to feature a pair of quiet cooling fans to maximize performance while ensuring the device doesn't get too warm to actually hold.
The ROG Ally will play AAA games natively from various game libraries, and while it will inevitably require performance tweaks and compromises for certain games to play smoothly in handheld mode, the device can be docked and connected to the ROG XG Mobile eGPU, allowing more demanding games to be played in full quality on a larger screen at greater resolutions.
Details on when the Asus ROG Ally will be available or how much it will cost haven't been disclosed yet, but Asus' tweet this morning is pointing interested gamers to a landing page on Best Buy's website, where they can sign up to be notified when the handheld is ready for pre-order.

Aside from out-of-the-box eGPU support, what seems most noticeable here is that the handheld appears to be a touch smaller than the Steam Deck, and bears the same type of over-the-top branding as ROG laptops. We'll see how well it can compete with other Steam Deck alternatives like the Ayaneo Geek when we can actually hold it in our hands, hopefully without being interrupted by zombies.