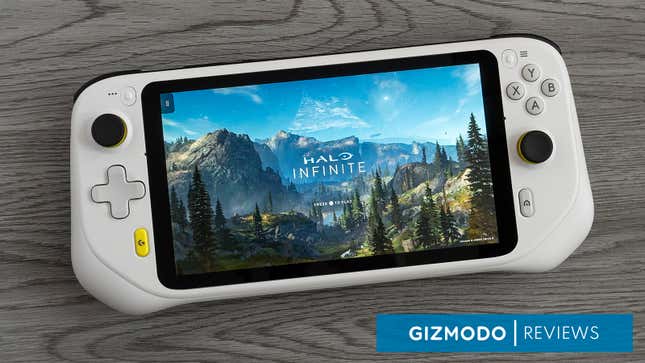 The Logitech G Cloud is one of the first handhelds specifically designed to play AAA games by streaming them from the cloud, or from a nearby console. Because of that, it doesn't need AAA specs itself. Instead, it's put that budget into being one of the most comfortable big screen portables I've ever used, with a long battery life when cloud gaming. But while game streaming is still in its infancy, a $350 handheld that can't play much else is a tough sell when Valve's $399 Steam Deck is roughly the same size and doesn't need a constant stable internet connection to be a handheld gaming powerhouse.
Anyone who's ever used game streaming services like Xbox Cloud Gaming or Nvidia GeForce Now on their smartphone or tablet already understands why the Logitech G Cloud exists. As capable as mobile devices might be (many are better at running hardware locally than the G Cloud), touchscreens, clamp-on controllers, and even wireless gamepads just don't offer as polished an experience as a portable device purpose-built for gaming. Meanwhile, the G Cloud is only a little smaller than the Steam Deck, but is lighter and has a better screen.
Still, while the Logitech G Cloud delivers some excellent hardware on the outside, its internals under-deliver for anything other than streaming games through a reliable wifi connection. That makes its $350 price tag feel especially steep when Valve is delivering all of that, and much more, in a handheld that costs just $49 more.
Wonderfully Designed on the Outside
I've been obsessed with handheld gaming devices since the original Game Boy's debut, and I can confidently say the Logitech G Cloud is the most comfortable handhelds I've ever used.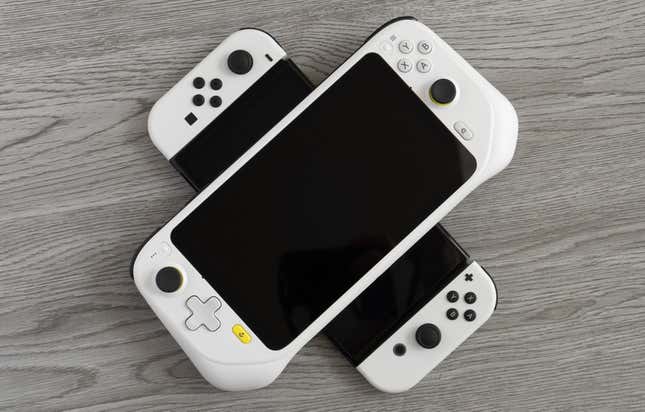 It definitely falls on the larger side of the size spectrum for a handheld, but also feels similar in size to the Nintendo Switch, and most of us are now accustomed to bigger portables anyway. It's a bit smaller than the Steam Deck, and at around 460 grams, the G Cloud is quite a bit lighter than Valve's handheld, too.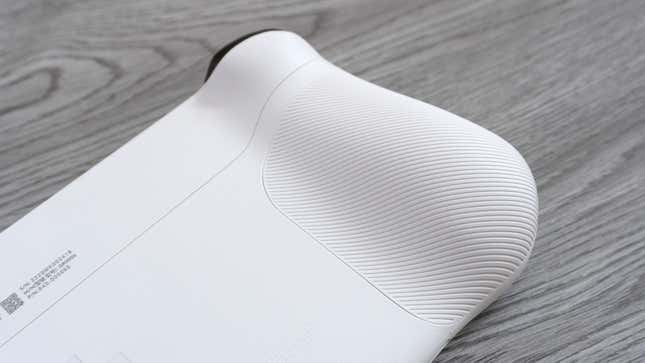 Unlike the Switch, which has a very flat design overall, the Logitech G Cloud mirrors the Steam Deck, with protruding grips on the back of each side that make it feel like you've actually got something to hold onto. A fine pattern of grooves is also etched into the plastic housing, providing a satisfying amount of grip. It does makes the handheld harder to slip into a pocket, but that's a worthy trade-off, since I actually want to play the G Cloud in hand, while I only remote the Switch from its dock when I absolutely have to.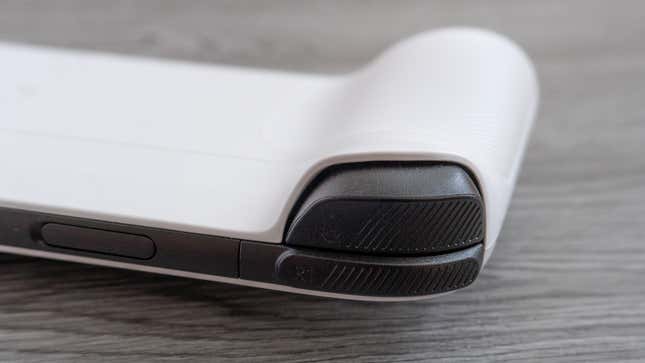 You don't get as many buttons on the G Cloud as you do on the Steam Deck, but it does include two pairs of shoulder buttons on the top edge. The thinner buttons are very clicky, with a minimal amount of travel, whereas the larger buttons offer much more travel and serve as analog inputs, ideal for genres like racing games. They don't look like triggers, but they effectively replace them here.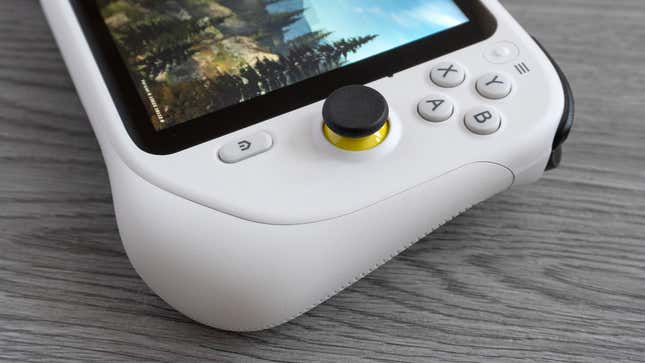 The pair of asymmetrical analog joysticks feel great, but the action buttons, laid out in an Xbox controller-style arrangement, feel like they bottom out too far into my presses, ending up almost flush with the surface of the device's face when fully pressed. I prefer buttons that stick out a little farther, but that's just my preference—the G Cloud's buttons never felt like they affected game play.
On the bottom edge of the Logitech G Cloud, you'll also find an analog headphone jack, a USB-C port for charging, and a pair of slits for the device's analog speakers, which actually sound quite good. With some handhelds, I stick with headphones all the time, but on the G Cloud I'll only switch to them when I'm playing late at night. On the front of the handheld, you'll also find a home button for escaping whatever app you're using, a pair of multifunction buttons next to each top corner of the screen, and a green Logitech button that sometimes serves as a back button, but most of the time leaves me confused about its reason for existing.
Overall, the G Cloud's hardware feels really fantastic and solid, but there are two things I don't entirely love.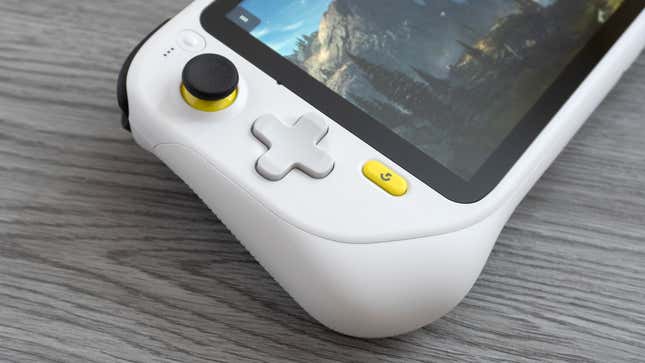 The D-pad on the left features a contoured design, and while it works fine for most games, it doesn't work as well for titles where you need to be able to quickly rock the pad in a semi-circle to pull off certain moves. If you're a Street Fighter devotee, you won't be happy. As far as I'm concerned, Nintendo perfected the D-pad with the SNES' gamepad, and there's no reason to ever deviate from that.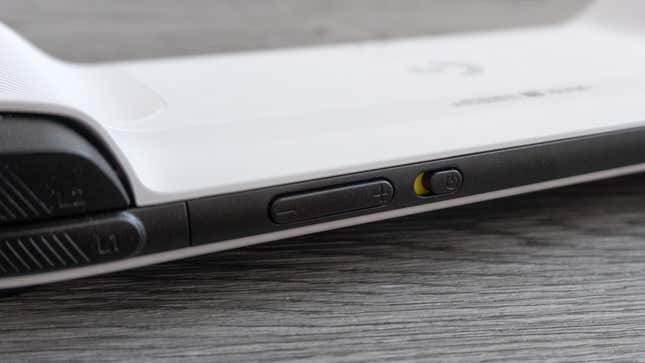 On the top edge of the handheld, between the shoulder buttons, is a volume rocker, a microSD slot to expand the G Cloud's 64GB of built-in storage, and a slider used to sleep, power down, or restart the device. I find it awkwardly positioned and sometimes hard to reach, given it has to be pulled to the side to activate. Yes, you can wake the handheld using other buttons and even put it to the sleep using on-screen controls, but I would have still preferred a simple, pressable button up top.
Stick With the Default Android Experience
The Logitech G Cloud runs Android 11, but when setting up the device, you're given the choice to use it in "Tablet Mode" or "Handheld Mode," which is recommended for gamers.

The "Handheld Mode" tailors the user interface so that it can be easily navigated using the G Cloud's gaming controls, with minimal touchscreen interactions. It looks and feels similar to the on-screen interface of a video game console like the Xbox Series X|S, and automatically arranges apps in a row of icons based on when you last used them (or you can pin your favorites to a smaller persistent bar below that for quick access).
If you're new to Android, "Handheld Mode" might be less intimidating, but everyone else will want to stick with "Tablet Mode." It might be slightly less pretty, but it gives access to all of the very useful swipe gesture shortcuts that Android is known for. For some reason, in "Handheld Mode," those are all disabled, which makes it hard to quickly jump between apps or even navigate the UI of certain apps. Thankfully, the G Cloud doesn't lock you into one or the other; you can hop back and forth between those two modes relatively easily.
Gaming on a Cloud
The most compelling reason to drop $350 on the G Cloud is to stream games to its beautiful, seven-inch, 1080p screen, and for the most part, it does that just fine.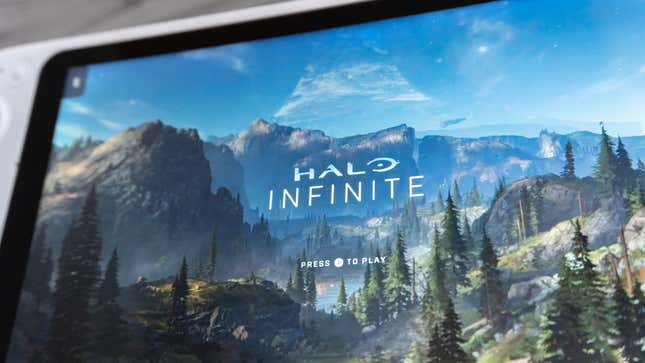 The novelty of playing Halo Infinite on a handheld, streamed from the Xbox Cloud Gaming service, without having to spend hours downloading and installing it, still hasn't worn off for me. For the most part, I found the performance good, even on wifi 5, which doesn't get close to the top speeds offered by my gigabit connection at home. But occasionally, the graphics in High on Life (tested before all the Roiland fallout) would dip to what looked like an overly compressed YouTube video. (The Xbox Cloud Gaming service is also still limited to 720P resolutions.) But controls always felt snappy and responsive.
Performance was slightly better using remote play with my Xbox Series S console. Graphical performance with Hot Wheels Unleashed wasn't as good as it is on a TV physically connected to the console, but with the G Cloud, I did find myself playing my Xbox a lot more, simply because it was now always in reach. And I think that's the biggest appeal of the device. It improves accessibility to consoles that are usually locked into a home entertainment system. Just keep in mind that results with game streaming will vary depending on your wifi network, your home internet speeds, and even where you live in relation to a company's servers. If you're up in Alaska, now might not be the best time to jump into cloud gaming with both feet.
It's obvious that Logitech focused on game streaming with the G Cloud, but I don't entirely understand why it didn't choose to equip the device with support for wifi 6 and 6E to help maximize its streaming performance for those who've already upgraded their wireless networks, or to simply help future proof the hadheld. The same goes for its complete lack of a SIM card slot. You can only enjoy game streaming with a reliable wifi connection, which means you'll either be stuck at home, or you'll have to tether to a smartphone while out and about, at which point you should probably just play on your smartphone.
That said, for those tired of the Steam Deck's somewhat less colorful 1280 x 800 display, the G Cloud offers a distinct advantage.
Android Gaming Struggles
Battery life is where the Logitech G Cloud more definitively towers over other handhelds, boasting up to 12 hours on a single charge. (Streaming games is very battery friendly, but playing games locally will knock down battery life significantly.) Unfortunately, those impressive specs are also a result of the device using a somewhat dated Snapdragon 720G processor. (It was popular back in 2021 on value-focused mid-range smartphones.) Yes, it means the G Cloud can be passively cooled without the need for battery-draining fans like the Switch and Steam Deck use, but that processor choice also hampers the handheld's native gaming performance.
Those looking for the ultimate Android gaming machine will want to look elsewhere. The mindless pick-up-and-play games you might sporadically enjoy on your smartphone run fine, but some more demanding Android titles, including Fortnite and Genshin Impact, will struggle to run without occasional hiccups and stutters with graphics settings are maxed out. Even more frustrating is that some of these games don't automatically work with the G Cloud's controls, and Logitech doesn't currently include any touchscreen mapping software to solve that. This is something Razer recently added to its Kishi V2 smartphone controller software, and it's included on the Razer Edge (a review on that is incoming). For the G Cloud, you'll need to seek out a third-party mapping app in the Google Play Store to solve this on your own.
As it is, though, you might be surprised to find your brand new dedicated gaming device actually runs some games more poorly than your phone.
Secret Retro Gaming Superpowers
One area where the G Cloud shines (that Logitech doesn't promote in any way) is as a retro gaming device. The use of Android 11 makes it incredibly easy to find and install a host of emulators for countless different systems.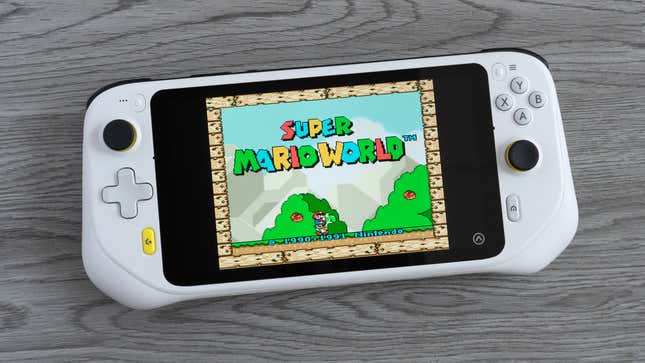 Many of the dedicated handheld emulators we've reviewed in the past struggle to play games from systems newer than the original Sony PlayStation. You can often play some Sega Dreamcast or Nintendo 64 titles on them, but with compromises to performance, including reduced frame rates. They're playable, but they don't play great.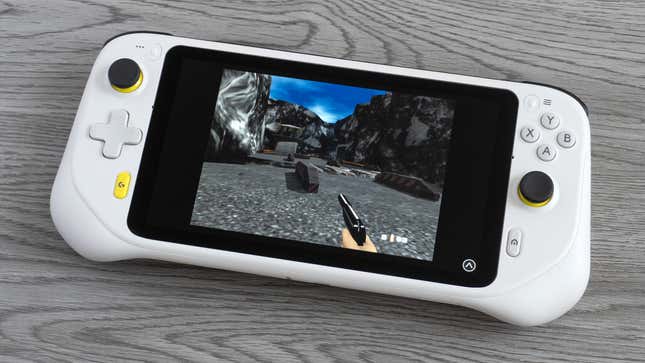 But the G Cloud is a solid retro gaming machine, even if it's not the most capable one you can buy. Super Mario World looks absolutely beautiful on that 1080P screen, in all its pixelated glory, and the N64's GoldenEye 007 plays wonderfully. As is the case with emulation in general, some games from specific systems will perform better than others do, but the cutoff for playable games on the G Cloud is somewhere around the Nintendo GameCube and the PS2. If you want to emulate titles from more recent and more powerful systems, the G Cloud isn't the way to go.
A Tough Sell
I still find it hard to wrap my head around the fact that I can play AAA titles like Halo Infinite, and even Microsoft Flight Simulator, on a handheld device while lounging in bed. It seems like the inevitable future of gaming, and if you've got a fast wifi connection at home, the Logitech G Cloud will give you a solid experience there. But the problem is, that's really it. The G Cloud is not a standout device for Android gaming, nor is it the best retro gaming handheld you can buy. The Valve Steam Deck can do everything the G Cloud does, but will also play AAA titles natively without being completely dependent on fast wifi, for just $49 more. It's just a better investment overall, especially if you spend a lot of time away from home or in an airplane. Let's not forget that this is a portable, after all.
Pricing is an issue that's going to plague other game streaming handhelds, too, including the Razer Edge. Valve is in a fortunate position to be able to subsidize the Steam Deck's hardware, because while it's not limited to Steam, it is nonetheless a gateway to the company's Steam store (which generated about $10 billion in revenue last year). Razer has an exclusive partnership with Verizon, which is no doubt helping to subsidize the price of the Edge, but even as it debuts with the new Snapdragon G3x Gen 1 gaming processor, its performance will also struggle to compete with the Steam Deck, as both handhelds start at $400.
Without a gaming store or even a game studio of its own, Logitech's only stream of revenue here is the G Cloud itself. Maybe one day the company could secure an exclusive partnership with one of the game streaming services to make the $350 device more appealing, but I just can't see that happening. Thankfully, we have already seen Logitech discount the G Cloud on a couple of occasions, and at the time of writing, it's currently on sale for $300. But even that feels pricey for its limited capabilities. If Logitech can manage to get the device below $250, it would potentially be a far more tempting package. But at $350, it's just not ready to face its competition.