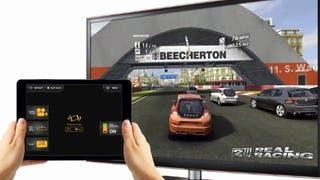 The rumors were true: Two of the most hated companies in America have teamed up to stream games to your cable box. If you pay for Comcast's fancy X1 service, you could soon be playing titles like Plants vs. Zombies, Real Racing 2 and NBA Jam on your TV without so much as a disc or a download.
Ever heard of GameFly? It's what Netflix used to be, but for video games: mail-order disc rentals for Xbox, Playstation and Nintendo titles. It's neat, but slow. Today, the company launched something a little faster: GameFly Streaming, a cloud gaming service for the Amazon Fire TV.

Through a cheap set-top box or a simple PC software client, OnLive streaming games can deliver the latest system-melting titles to crappy hardware you already have. The service's secret? Cloud rendering.