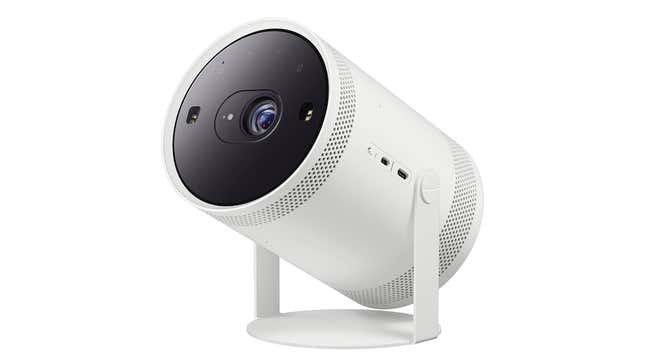 There's no better way to play video games than lying down. That can be hard to do when the TV is situated straight ahead. But with Samsung's new Freestyle Gen 2 projector, you can lay on your back and indulge in your favorite cozy game projected on the ceiling above.

Hey Google, Where Did My Watch's Battery Life Go?
Samsung's Freestyle Gen 2 projector, is available for preorder starting today. It's the successor to the company's original Freestyle projector showcased at CES 2022, and it's called that because it's small and light enough that you can place it almost anywhere your heart desires. This second-gen release has a little more memory this time, so it can finally access Samsung's Gaming Hub, which is free. The Hub lets you play various cloud gaming suites, including Xbox Game Pass, NVIDIA GeForce Now, and even Amazon Luna. All you have to do is pair a compatible Bluetooth controller.
The Freestyle Gen 2 projects a 1080p resolution display from 30-100 inches across any wall, even inside a tent. Accessing the gaming features still requires an ample wifi connection, which could make it hard to use in the tent example. But it weighs less than two pounds, which makes it an easy-to-carry afterthought wherever you go. It also works off of a USB-C-connected portable battery. And if you're in an Apple household, it's compatible with Apple AirPlay 2.
The second-gen Freestyle features access to all the other apps available in Samsung's TV ecosystem. You can access the most popular streaming apps, including Hulu and Disney+. It also comes bundled with Samsung's ad-supported TV service, called Samsung TV Plus, which offers many of the same free streaming channels as the Paramount-owned Pluto TV.
We have yet to go hands-on with the product, though the prospect of playing cloud games projected anywhere indoors is exciting. However, the price tag of the Freestyle Gen 2 stings a bit: $800 for the device alone, sans any accessories or subscriptions you might need. It stings a little less if you think of it as a portable, 360-degree swiveling TV monitor.