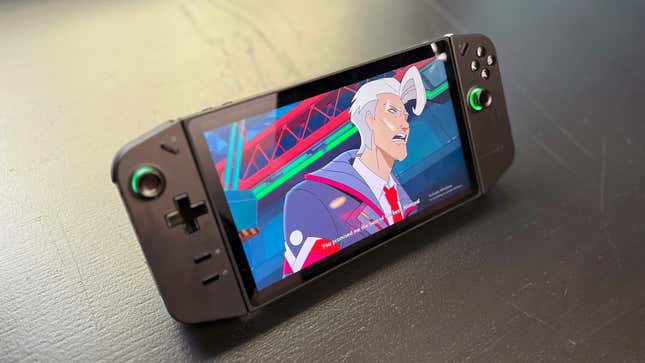 Playing full-featured PC games in the palm of your hand has long been a dream for PC gamers. Yes, there were expensive specialty machines that could do it, or you could try streaming to a handheld device via a cloud gaming service like GeForce Now, but it wasn't a mainstream, easy to use solution.

Hands-on: Lenovo Legion Go
Read more: Lenovo's Legion Go Is a Gaming Laptop in Handheld Form 

Then in February 2022, Valve (owner of the popular Steam PC gaming storefront) released the Steam Deck. It was big, clunky, and limited in what games it could run easily, but it was a way to play most, if not all, Steam games on a 7-inch screen. Players quickly devised ways to play games from other game launchers, like Xbox Game Pass and the Epic Game Store, and the Steam Deck became a cult hit and usually sold out for its first several months of existence.
Since then, similar devices have been teased and leaked, and the Asus Ally made a splash by taking the Steam Deck look and feel, making it sleeker and more sophisticated, and running Windows 11, rather than Valve's proprietary SteamOS. It also had a nicer screen and more powerful CPU/GPU combo.
Now it's Lenovo's turn, and the new Legion Go goes one step further, combining features from all our favorite handhelds. It has one of the trackpads from the Steam Deck (but not two), it runs Windows 11, like the Asus Ally, and it has detachable controllers, like the Nintendo Switch. In my brief hands-on time with the system, it really felt like a conglomeration of features from several different devices.
I'm personally most excited about the larger 8-inch 144Hz screen with a higher 2560x1600 resolution – the Steam Deck is just 1,280x800 and locked to 60Hz.
Above is a spec comparison between the Legion Go and the Steam Deck, and you can read our full hands-on coverage of the Legion Go here, and see more photos of the device in action here.
Hands-on: Lenovo Legion Go
Hands-on: Lenovo Legion Go