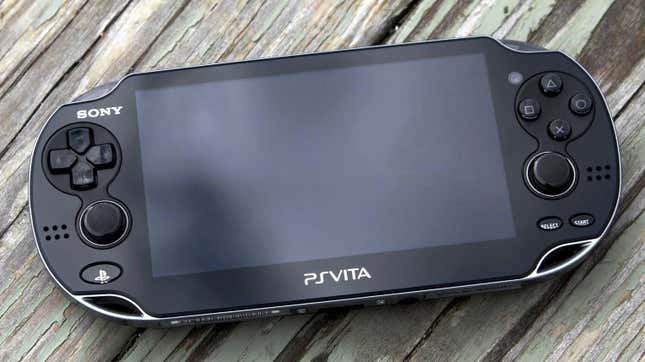 The handheld console market is growing faster than Wario at an all-you-can-eat pasta buffet, but the major legacy console developers are unwilling to capitalize on it. Even the Nintendo Switch is getting a bit long in the tooth at this point, meaning we're now seeing competition in the form of devices like the Steam Deck and the Razer Edge. Sony currently has a golden opportunity to make a statement in the gaming handheld market, if only it can follow through rather than "phone" it in.
On Wednesday, Tom Henderson's Insider Gaming filed a report claiming Sony is working on a kind of PlayStation handheld codenamed "Q Lite." The report is light on where the information is coming from, though Henderson mentions such a device would include an 8-inch screen allowing for 1080p adaptive streaming up to 60 FPS with Remote Play. The device would require a constant connection to the internet and to a PlayStation 5.
We're taking this latest rumor with a heavy dose of salt. A Remote Play-only device would need to be relatively cheap to stand any chance in today's market, especially given that phones and competing devices like the aforementioned Edge can already do Remote Play and then some. If the rumor bears fruit, Sony's new handheld would be less of a successor to the poor PlayStation Vita, which could play games using the device's own power, and more of a sidegrade to existing controller hardware, just so happening to have a screen built-in (sounds familiar).

Because Remote Play already allows users to stream to their phones or laptops, the best one could hope for from a Remote Play console is a lightweight device that's essentially a PlayStation controller with an attached screen, which would at least have some ergonomic benefit. But even there, there's already the $100 PlayStation Backbone controllers, which essentially turn a phone into a Sony game streaming device.
Even still, that required PS5 and internet connection is a real sticking point—a Sony cloud gaming handheld could maybe fit into the emerging high fidelity handheld market if it could do more than Remote Play, and it's awkward to have a handheld that's not exactly portable. But this isn't the first time we've seen Sony hardware limit itself in this way. Despite it being one of the best examples of mid-range VR gaming, the PlayStation VR2 is tethered to the PS5, even more so than its predecessor. We would love to hook Sony's latest VR device up to a PC, but the company has done everything it can to stop us.
Nintendo released the Switch more than six years ago, and in that time neither Sony nor Microsoft has really tried to jump on new portable console trends. Even with the proliferation of cloud-based gaming and modern handheld gaming PCs, we still haven't seen the largest console designers attempt anything like the Logitech G Cloud. Instead, we have companies like Razer, Asus, Abxylute, and Ayaneo all trying to fulfill a very evident demand for high-fidelity portable gaming.
Oh, and of course, there's the Valve Steam Deck, an affordable device that can play games without needing the cloud (although it can cloud game, too) and that has only gotten better and better since last year's release as users expand the device's capabilities with additional plugins and emulators.
We've been paying attention, though, and have our own list of what we'd like to see in a new Sony handheld. In the past few years, Sony has ported multiple exclusives to PC, including major hits like Horizon: Zero Dawn, Marvel's Spider-Man Remastered, and God of War. Sony's premiere studios have spent a lot of time scaling these games to run at both higher and lower settings, and users can already play each of these games on a Steam Deck without having to worry about a wifi connection. If Sony can backport these settings into the console versions of these games, it has a big opportunity for a competitively priced handheld, a kind of Vita sequel with native PS4-era support and the ability to play PS5 games in a lower graphical mode.
In short, we would love to see a Sony-designed Steam Deck-alike. Sony's DualSense is a well-designed controller, and it would be great to see the same form factor in a device that can be taken on the road without requiring users to remotely access their console at home. It would also make sense, as Sony doesn't make money on PlayStation hardware sales, but on PlayStation game sales— it's difficult to see how a Remote Play handheld would contribute to software sales.

All this is to say, Sony has a better opportunity than both its two major competitors. Time will tell if it has any real plans to make a statement or be left behind trying to capture what your phone can already do.
---
Want more of Gizmodo's consumer electronics picks? Check out our guides to the best phones, best laptops, best cameras, best televisions, best printers, and best tablets. And if you want to learn about the next big thing, see our guide to everything we know about the iPhone 15.