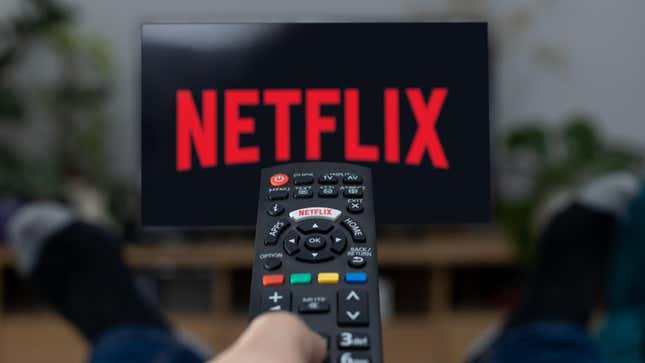 Higher quality TV and movies? No. A standard of not cancelling shows after a single season? Nah. Mobile games on your TV? Yup. That appears to be Netflix's plan after a developer found some hidden code while digging through the platform. The company's actually been offering games on mobile since 2021, but given paltry player numbers, the effort to bring them to TVs, where most subscribers actually use Netflix, might be the best way to remind people that they're even there.

Asus ROG Flow Z13 Gaming Tablet Review
App developer Steve Moser—who shared his findings with Bloomberg—found some sneaky lines of code during some digging into Netflix's back end. One line of the code allegedly read "A game on your TV needs a controller to play. Do you want to use this phone as a game controller?," indicating that a user's smartphone would serve as the controller for a game hosted on Netflix's interface.

Currently, Netflix's gaming service is relegated to mobile, and while there's critically acclaimed titles like Teenage Mutant Ninja Turtles: Shredder's Revenge and Immortality in there, you can only get at them either by stumbling on Netflix's games on your phone's app store or through a single row in the Netflix app. As such, it's easy to miss out on this side of Netflix entirely. According to recent data, only one percent of subscribers are playing games on Netflix.
Netflix started dipping its toes into gaming in July 2021, when the company officially announced its intentions to enter the gaming sphere. Four months later, Netflix snatched up Night School Studio, an indie game developer with a few notable games like 2019's Afterparty and 2016's Oxenfree, which bares a plot that's strikingly similar to that of Netflix's flagship show, Stranger Things.
That same year, Netflix also released games like Into the Dead 2: Unleashed, Stranger Things 3: The Game, and Card Blast on iOS devices, and since then has released well over two dozen mobile games. This past October, Netflix acquired Spry Fox as its sixth in-house video game studio purchase in a little over a year.
It's not nearly as robust a service as Xbox Game Pass or even competitor Amazon's Luna, but the library's breadth and quality is roughly on par with Apple Arcade and is admittedly a nice bonus on top of your subscription that's easy to miss, if a confusing direction for the company—we're not sure anybody should subscribe to Netflix for the games, at least right now.

By putting its games on TVs, Netflix could boost their discoverability and maybe make its gaming branch more of a legitimate selling point. The code's reference to using a phone as a controller does imply that the move would still be limited to Netflix's current mobile game lineup, which would still leave it behind more robust console selections from competing game services, but would also keep the service lightweight and allow it to be played across more platforms, as it does not currently rely on streaming from the cloud. We are curious, though, if Netflix will allow for more traditional controllers in games that support them.
Netflix and Moser did not immediately respond to Gizmodo's request for comment.

Update 3/30/2023 at 11:40 AM:

Moser replied to Gizmodo's request for comment with the following, explaining how he found the code he shared with Bloomberg.

"I have a custom script I run to extract details from iOS and iOS apps to help me find hidden changes that haven't been released yet because the features are still being worked on."

He added that "typically cloud gaming providers require users to own a PlayStation or Xbox game controller and a box or dongle hooked up to their tv in order to play cloud based games but this feature would open up cloud gaming to users who just have a smartphone and a smart tv."

While we're not certain that these games would use cloud streaming, ports, or would simply be casted from your phone, but given that Netflix's current game lineup was built for mobile, it does present a possible solution for playing them on a television.