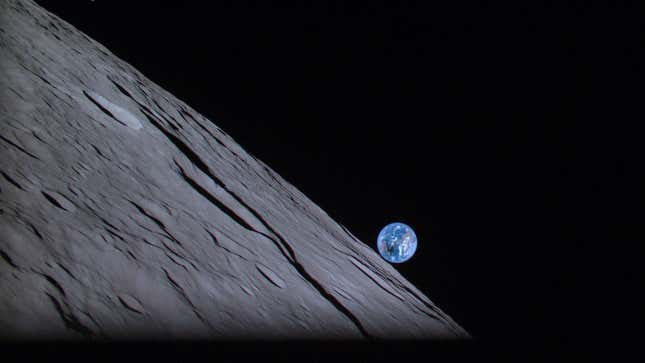 Following Tuesday's failed attempt to land on the surface of the Moon, Japan's ispace said its lunar lander may have unexpectedly accelerated on its way down before crashing on the lunar surface.
Astronomers Could Soon Get Warnings When SpaceX Satellites Threaten Their View
The Hakuto-R Mission 1 lander (M1) was scheduled to touchdown on the Moon on April 25 at 12:40 p.m. ET. "Shortly after the scheduled landing time, no data was received indicating a touchdown," ispace wrote in a statement. "ispace engineers monitored the estimated remaining propellant reached at the lower threshold and shortly afterward the descent speed rapidly increased."
Tokyo-based ispace officially declared its first mission a failure, although engineers are still analyzing the data collected before communication with the spacecraft was lost. Based on the data acquired so far, however, the company believes M1's altitude measurement system miscalculated the distance to the surface during its landing attempt. As a result, the lander may have failed to reduce its speed during its descent towards the lunar surface.
"It apparently went into a free-fall towards the surface as it was running out of fuel to fire up its thrusters," Ryo Ujiie, chief technology officer at ispace, explained during a news conference on Wednesday, according to Reuters.
Hakuto-R M1 launched on December 11, 2022 on board a SpaceX Falcon 9 rocket from Cape Canaveral Space Force Station in Florida. With its inaugural mission, ispace was hoping to become the first private company to land on the Moon. There has been one previous attempt by Israel's private Beresheet lunar lander, which tried to land on the Moon in 2019 but ended up crashing on its surface.
The M1 lander was meant to initiate a new era for commercial space ventures, delivering payloads to the Moon on a regular basis as the industry tries to establish a lunar presence. ispace's lunar lander was carrying both commercial and government-owned payloads to the surface of the Moon, including a two-wheeled transformable robot by the Japanese space agency and the Emirati-built Rashid rover. After the failed landing attempt, ispace's shares fell by 20% to mark the its stock's worst performance since going public earlier this month, Bloomberg reported. 
ispace is working on follow-up missions, taking lessons learned from its debut mission. "We believe that we have fully accomplished the significance of this mission, having acquired a great deal of data and experience by being able to execute the landing phase," Takeshi Hakamada, founder and CEO of ispace, said in the company's statement. "We are already developing Mission 2 and Mission 3 concurrently and have prepared a foundation that can maintain this continuity."
Other companies are now hoping to be the first to land on the Moon. Pittsburgh-based Astrobiotic is gearing up to launch its Peregrine lunar lander sometime this year as part of NASA's Commercial Lunar Payload Services. Peregrine is packed with 24 different payloads from three national space agencies, as well as payloads from commercial companies. Similarly, Intuitive Machines' Nova-C lunar lander is aiming to land on the Moon's south pole. The commercial lunar lander is scheduled for launch in June 2023, carrying payloads from NASA in addition to its private cargo.
The commercial race to the Moon is back on with new contenders vying for a dusty landing spot on the lunar surface. But as this latest episode attests, the Moon continues to be an unwelcoming host.
For more spaceflight in your life, follow us on Twitter and bookmark Gizmodo's dedicated Spaceflight page.