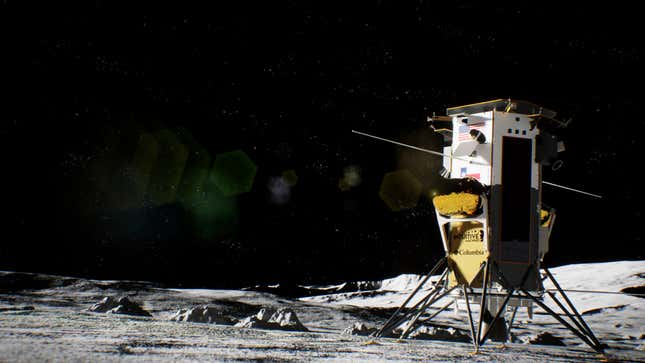 NASA is "redirecting" a private partner's first mission to the lunar south polar region, and with very little time to spare. The company, Texas-based Intuitive Machines, is handling the new assignment with grace, saying it's a "significant win" for the Artemis program.  
The revised landing is a part of Intuitive Machine's IM-1 mission to land the company's Nova-C lander on the Moon's surface after being awarded a NASA contract to do so in May 2019. The original plan was to land Nova-C on Reiner Gamma, one of the Moon's mysterious lunar swirls, which is located on the west side of the Moon when viewed from Earth. Now, Nova-C is slated to land in the Moon's south pole region, which could hold a wealth of scientific information to study before a crewed Artemis mission reaches the area later this decade.
Intuitive Machines was expecting to launch its lander in March, with the machine reaching the lunar surface in April. The stationary lander is still slated to launch atop a SpaceX Falcon 9 rocket from Cape Canaveral in Florida, but the launch date has not yet been announced. That said, it'll probably be in May given the revised timeline of a June landing. That's not a lot of time for Intuitive Machines to adjust, but the company seems unfazed by the sudden change in geography.
"Redirecting Intuitive Machines' IM-1 mission landing site is a testament to our collective commitment to supporting NASA's Artemis Program and advancing lunar exploration for the benefit of humanity," said Intuitive Machines co-founder, president, and CEO Steve Altemus in a press release. "The Company is honored to accept the historic and scientific responsibility of bringing the United States to the lunar South Pole Region for the first time ever."

NASA awarded Intuitive Machines a $77.5 million contract in 2019 to bring Nova-C to the Moon by July 2021. The initial landing location, Reiner Gamma in Oceanus Procellarum, was chosen because of its flat topography. As NASA's goals of the Artemis missions became clearer, the space agency decided to change the landing location and push the Nova-C landing to June 2023.
Nova-C will carry five NASA payloads and will operate for one lunar day collecting scientific data on the area; the machine—a tall hexagonal cylinder propped by six legs—is expected to last about 14 Earth days during this brief sunlit period. The resulting data could prove useful for the future of the Artemis missions, the third of which is scheduled to bring a crew to the Moon at some point later this decade. 
More: Rolls-Royce Nuclear Engine Could Power Quick Trips to the Moon and Mars