It wasn't the change that anyone was expecting. When Friday's rumors of a resignation within DC Comics' upper management hit the nets, everyone was thinking executive editor Dan DiDio. But instead, it was Senior VP of Business Development John Nee. Shockwaves felt around the industry tended to be of the confused, "Who is John Nee, and is this important?" flavor. Under the jump: Answers to those two questions.
The rumor about a resignation were made public by writer Warren Ellis, in one of his Bad Signal mailings early Friday morning:
If what I just heard is true, then it's going to be a really

interesting day in the comics news business... If it's not, well, I just wasted seven seconds of your time. You'll live.
As he had predicted, the news broke on Comic Book Resources, where Rich Johnston shared the following:
I understand that last week, John Nee handed his resignation in to DC Comics. As of today, however, he was still working at the company offices.
G/O Media may get a commission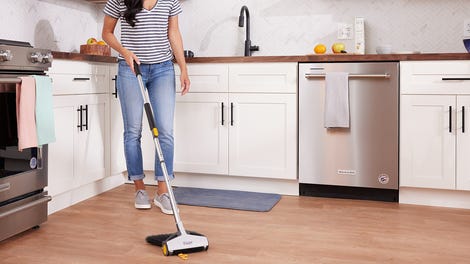 BOGO 50% Off
Flippr - BOGO 50% Off
DC themselves refused to comment, but Nee's resignation was claimed confirmed for the site by "independent sources." Online reaction to the news was mixed; IDW Publishing's Scott Dunbier, who had worked with Nee at DC's Wildstorm imprint for years before resigning himself last year, posted that
John Nee is an honorable man and my friend. I hope he is happy and successful in whatever he does.
while "Tom Power" (presumably a pseudonym) left the following comment at Newsarama:
Nee's departure won't even be noticed by readers and consumers, but it will buoy the spirits of everyone who had to work under him. Nee was known for his being tone deaf to the feelings and sensibilities of others; what he probably saw as being forthright and outspoken was regarded by people with actual human emotions as a form of Tourettes and a total lack of empathy. Knowing people who worked under him at DC as I do (and having interacted with him on various bits of business over the years), I feel safe saying that he won't be missed.
So, who was this apparently divisive figure?
John Nee came to DC through Wildstorm, the one-time independent studio headed up by 1990s superstar artist Jim Lee purchased by DC late in 1998, where he was VP General Manager for the imprint until his promotion last year to Senior Vice President of Business Development for all of DC Comics. During his time in both roles, he was responsible for the expansion of DC's international publishing programs, as well as the creation of DC's CMX manga imprint, the long-coming Sony/DC Comics MMO, DC's participation in online/cell publisher Flex Comics and - maybe most importantly of all - Lego Batman.
While his stepping down from his current position may not have an immediate effect for fans, it's still unknown what it may mean for the publisher itself; in response to Publisher's Weekly's Heidi MacDonald calling the resignation "capp[ing] off what had to be considered a week of bad news and turmoil for DC," Warren Ellis wrote (in another Bad Signal mailing):
Sadly, I don't think that does cap off the week for DC. I don't think they're going to have a very good day at all, tomorrow. I hate this, really.
Despite that Friday mailing, nothing was announced on Saturday or Sunday... Not that that stopped the rumor mill. Almost everyone assumes that Nee's resignation is part of larger changes, and while the nature of those changes varies depending on who you listen to (Most outlandish take: Nee has resigned in preparation for Jim Lee to leave his own post at DC and start up another independent publisher. Most plausible: Nee has resigned to facilitate a series of sideways moves that will slide Dan DiDio out of the Executive Editor position and someone else in), very few people believe that Nee's resignation is as simple as it seems on first inspection.
Dan DiDio's appearance at this weekend's HeroesCon has done little to inspire confidence in his staying power; although he told fans at the DC Nation panel that such rumors "come with the job" - not that they're helped when Jimmy Palmiotti teases the crowd with a "no comment" when asked if he wanted DiDio's gig (He's since made it clearer that he was joking and doesn't want the job) - others felt that he seemed very worn down and defeated:
DiDio stayed pretty gruff throughout the State of the Industry panel and dodged moderator Tom Spurgeon's questions about the past week at DC, marred by Chuck Dixon's acrimonious exit. Not inspiring anyone, at one point DiDio said, "We have the same characters... There's only so much you can do with them. You've seen it all, you've heard it all."
I mean, it's honest, but, man. Talk about a buzzkill.
It will, it seems, be another very interesting week for DC Comics.