Charles Roven says the DCEU will lean on flashbacks and flashfowards in future films. Oliver dons his original costume for some reason in new Arrow photos. Get another look at the Predator cast. Plus, mysterious casting for Preacher season two, and one final look at the last episode of The Vampire Diaries. The spoilers, they're calling to you!
Star Wars: The Last Jedi
Following the showing of footage at a recent Disney investors call, /Film has a more extensive write-up of what was shown to investors beyond what might be Luke's seemingly first spoken dialogue since Return of the Jedi. Aside from the important line, scenes shown included:
A shot of Rey training with her lightsaber as Luke looks on
Poe in his X-Wing, and scenes of "Fighters flying through a line-up of the Resistance fleet"
Finn onboard a First Order ship in an officer's uniform—joined by Kelly Marie Tran's character in a similar getup
More shots of Rey activating her lightsaber and spinning it around
Glimpses of Chewbacca, Captain Phasma, and Leia
Head on over to the link to read more. [/Film]

---
Dumbo
Danny Devito is in talks to play the circus owner, Medici, whose business is taken over by the film's villain, a richer and more corrupt circus owner named Vandemere. [Deadline]
---
Aladdin
A casting call for Aladdin and Jasmine has been released for Guy Ritchie's live-action adaptation—calling for Middle Eastern-descent actors who can sing and dance.
G/O Media may get a commission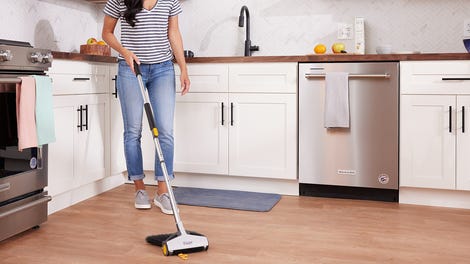 BOGO 50% Off
Flippr - BOGO 50% Off


---
James Bond 25
According to the Daily Mail's Baz Bamigboye, longtime franchise writers Neal Purvis and Robert Wade have once again been hired to write the script.—which isn't too surprising, as Bond 25 will be their seventh script in a row since The World is Not Enough.
---
Jason Bourne
Matt Damon told the Toronto Sun, "it would have to be a pretty incredible story to get us all back on the horse" when it comes to another entry in the franchise:
This last one didn't do as well as the one we did 10 years ago, so maybe people are done with the character. Look we all love working together and those movies are a lot of fun to make so we sure would be happy to do it. If we can figure out a good story.


---


Justice League
Producer Charles Roven says the DCEU will rely heavily on flashbacks and flash-forwards to feel earned, going forward.
For example, the Justice League movie will take place in a universe that's post-Batman v Superman, just like Batman v Superman takes place in a universe that's post-Man of Steel. When we're dealing with either The Flash or Aquaman, since they will take place in a universe that has happened after Justice League, the characters and the world will be informed by the movies that preceded them, except that there's flashbacks or whatever within those particular movies, [and] flashforwards within those particular movies.

When we talk about who Arthur Curry is, and we talk about the universe when that movie starts in terms of him and where he is, obviously Atlantis exists and has existed before the timeline of his movie, but both [Justice League director] Zack [Snyder] and [Aquaman director] James [Wan] collaborate on what the look of both movies will be.
---
Alien: Covenant
A new Walter-centric TV spot asks, "How dangerous is the acquirement of knowledge?" Given the events of Prometheus, I would suspect the answer is "very."
---
The Predator
A new cast photo gives us our first look at the film's team of "stone killers," and a first look at Alfie Allen's character. [Coming Soon]
---
Preacher
Noah Taylor, Pip Torrens, and Julie Ann Emery have been cast in undisclosed roles, but will become series regulars in season two. Malcolm Barrett, Ronald Guttman, and Justin Prentice are set for currently undisclosed but recurring roles as well. [Deadline]
---
Powerless
Powerless is on the bubble, according to NBC Entertainment's Jennifer Salke at a recent INTV conference:
[Powerless] did not open to the most exciting numbers which was OK because we thought it would be viewed by a digital audience really strongly. We're still looking at it. I just wish it was performing better, but we haven't made decisions. We're going to continue to air it and we're behind it.
---
The Flash/Supergirl
Entertainment Weekly has some incredible details on the musical crossover, "Duet"—mainly, what songs we can expect to see in the episode. Firstly, Melissa Benoist will perform a solo rendition of Moon River, while Jeremy Jordan, Carlos Valdes, and John Barrowman will perform a cover of Jackie DeShannon's Put a Little Love in Your Heart with choreography from Glee's Zachary Woodlee.
While the episode is mostly comprised of cover songs, two original numbers have been written—the previously reported Running Home to You, to be performed by Grant Gustin, and a tap dance duet called Super Friends, written by Crazy Ex-Girlfriend's Rachel Bloom.
---
Once Upon a Time
Regina's evil doppelganger is set for a massive comeback, according to actress Lana Parilla:
Right now she's a snake, but she's not a snake for long. She comes back, and Episode 14 (airing March 26) is a big Evil Queen/Regina episode. There's a big standoff between them, and there are a lot of words exchanged. A lot of words are exchanged! It was quite challenging, and also a lot of fun.
[TV Line]
---
iZombie
According to TV Guide, the love triangle between Peyton, Ravi, and Blaine will not be permanently resolved this season—but instead, because it's a television show on The CW, there will be drama, because "One of them does something so shocking that [Peyton] may never be able to look at him the same way again."
---
Arrow
Pictures from the seemingly flashback-heavy "Kapiushon" have been released, and—oh god, no, sorry. I can't carry on. Look how pointy his hood looks. Head on over to the link to see more. [Coming Soon]


---
The Vampire Diaries
Finally, here's an extended trailer for the series finale, "I Was Feeling Epic."
---
Additional reporting by Gordon Jackson. Banner art by Jim Cooke.